What is the world we want to see in 2050? That is the question posed by One Earth, a new initiative of the Leonardo DiCaprio Foundation that lays out a global vision for an abundant and thriving planet.
One Earth (OE) sees a not-so-distant future when humanity and the natural world coexist in harmony. Instead of pockets of nature in a human-controlled world, we envision a thriving wilderness dotted by green cities of the future. By 2050, more than two-thirds of the world's population will live in cities, creating an unprecedented opportunity to protect our natural resources, while providing access to clean air and water, healthy food, and sustainable livelihoods for all people.
With contributions from scientists around the world, OE Campaign has developed a bold, new plan that tackles three of the world's greatest problems —climate change, biodiversity loss, and food and water security. It seeks to ensure the resilience of our biosphere through a three-pillar strategy: 100% clean, renewable energy; conservation of 50% of our lands and oceans; and a shift to regenerative, carbon-negative agriculture globally by 2050.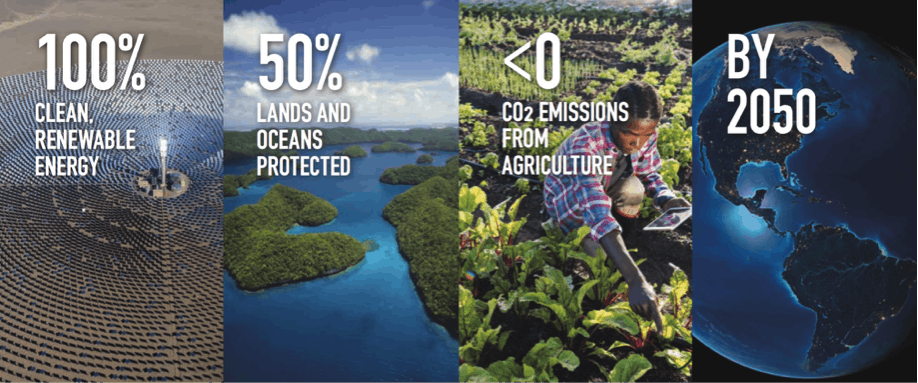 The science tells us that not only is it possible to accomplish these goals, but we must if we are to stay below the dangerous tipping point of 1.5°C in global temperature rise. The OE Climate Model is the first to show the enormous social, environmental, and economic benefits of a rapid transition to 100% renewable energy combined with a portfolio of Natural Climate Solutions (NCS) that achieve an estimated 500 billion tonnes of negative emissions, enough to bring our climate back into balance.
One Earth adopts a big data approach to solving the crisis we face. Scientists around the world are collaborating on one of the largest geospatial computations conducted in the environmental sector, incorporating a wide range of data sets to create a global map called the OE Safety Net, which shows how we can secure the integrity of our biosphere. The map is organized by 190 bioregions: groupings of terrestrial, freshwater and marine ecoregions that allow for an analysis of the interdependencies between energy production, environmental conservation, and food and water access in each region.
One Earth Pillars
Through three pillars of action, we can rebalance the climate and support the achievement of the Sustainable Development Goals.