One Earth Project Marketplace
In order to solve the climate crisis, we must dramatically increase the amount of funding going to local nonprofit organizations and community leaders who are working around the world to implement renewable energy, nature conservation, and regenerative agriculture projects. To achieve the 1.5°C goal of the Paris Climate Agreement, it is estimated that we need to triple current levels of funding to $1.5 trillion annually. It could take considerable time to increase flows of private and public to this level, and we simply don't have time to wait.
Philanthropy can step in during this critical decade of 2021-2030, playing a key role in accelerating the climate action needed to limit global temperature rise to 1.5°C. But unfortunately, philanthropic capital is sitting on the sidelines. Globally, less than 2% of all philanthropic dollars support organizations that work on climate change and environmental issues. Approximately 0.5% of philanthropy goes to environmental initiatives in the Global South, and only 0.2% goes to women-led environmental initiatives. Given escalating risks from climate change and biodiversity loss, it is clear that this dynamic must change.
Scaling Climate Philanthropy
One Earth is on a bold mission to 10x climate philanthropy by 2030, filling the funding gaps urgently needed by communities on the frontlines of the climate crisis, with a special emphasis on initiatives led by women, Indigenous peoples, and leaders of color. Building upon a far-reaching network of field experts and grassroots leaders, One Earth has developed an innovative approach to climate philanthropy that weaves together scientific collaboration, impactful grantmaking, and inspiring media. It's an approach we call Philanthro-activism. Guided by the science of a 1.5°C pathway, philanthro-activism directs the resources of philanthropy to the activism of communities doing the work on the front lines of climate change.
One Earth sees an opportunity to scale climate philanthropy by democratizing access to innovative and impactful projects around the world, enabling funders at all levels to directly contribute to communities and grassroots leaders who are working to provide access to renewable energy; to protect and restore vitally important ecosystems; and to support farmers in the transition to regenerative, climate-friendly agriculture. To meet this need, and in response to rapidly growing interest in climate philanthropy, One Earth launched the Project Marketplace, a first-of-its-kind online database of vetted projects currently seeking funding, contributed by a network of partners across these three pillars of action.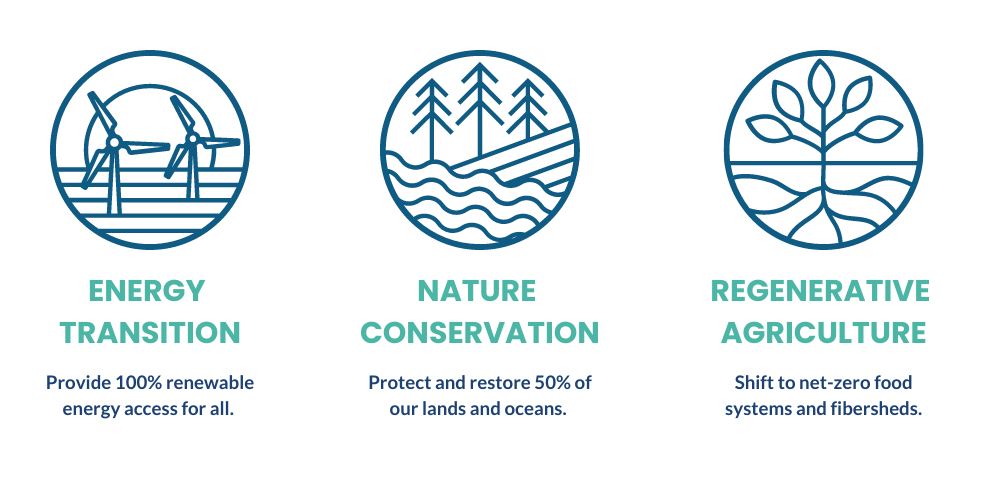 The Project Marketplace Framework
The projects are organized in 14 distinct biogeographical realms based on the Bioregions 2020 framework.
Arctic America
Northern America
Central America
Southern America
Oceania
Arctic Eurasia
Western Eurasia
Central Eurasia
Eastern Eurasia
Southern Eurasia
Afrotropics
Indomalaya
Australasia
Antarctica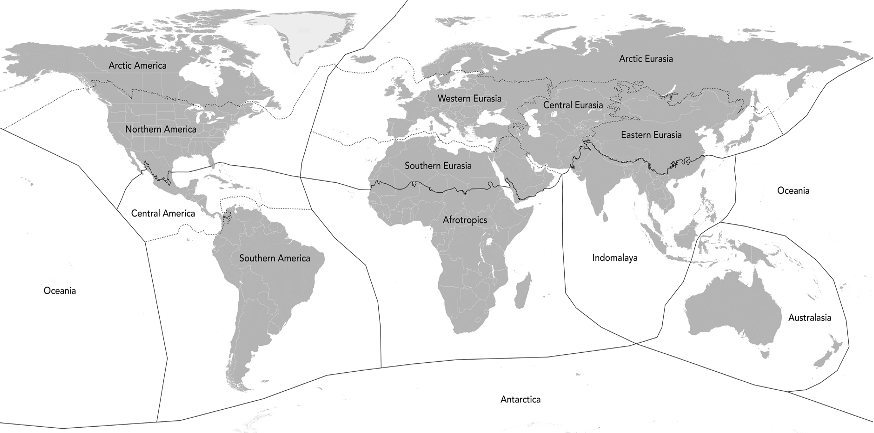 Individuals can browse or filter projects by category, region, and keyword, such as "Women." The top-level categories are Renewable Energy Transition, Nature Conservation & Restoration, and Regenerative Agriculture. Projects are classified into three major status levels -- Urgent, Seed, or Active. An Urgent project is a specific need in response to a significant ecosystem threat or in response to a recent or ongoing natural disaster. A Seed project requires some initial capacity to get a new initiative to a full project proposal stage. Most projects are classified as Active, with clear and specific objectives, dedicated staff, and programmatic funding needs.
Each project is sorted into one of five funding level brackets, designated by the '$' symbol.
$ under 25k
$$ 25k - 100k
$$$ 100k - 250k
$$$$ 250k - 1M
$$$$$ over 1M+
At the moment, One Earth is not accepting unsolicited proposals given the large volume of projects currently submitted through our network of expert nominators. Typically, a Sponsoring Organization, once accepted as an official One Earth partner, can submit one or more projects for consideration. Sponsoring Organizations have a 501(c)(3) or equivalent charitable status and are able to receive and manage funds directly as the principal implementing organization of the project or as a channel to deliver funds to one or more implementing organizations.
Submitted projects are taken through an extensive vetting process to determine their suitability for One Earth's Project Marketplace and potential impact. And once projects are formally accepted, the One Earth team works with each partner to develop key assets that are helpful in clearly communicating to prospective donors the desired outcomes and long-term vision for the project. These can include editorial, photography, video, and social media assets. While being accepted onto the Marketplace is not a guarantee of funding, it offers a powerful way to attract and drive new philanthropic capital to critical local solutions that are central to solving the climate crisis, protecting nature, and creating a vibrant future for all.
Our mission is to drive more interest and support to all the projects listed in the Marketplace. All projects indexed on the website will be featured across our One Earth media properties, email newsletters, and exclusive events. Our goal is to help our partners reach a broader audience of potential climate funders. One Earth currently reaches 4.5 million people per month through our online and social media channels, and our work has been featured in The New York Times, Forbes, The Guardian, Science Advances, CleanTechnica, BBC, Mongabay, Dell, and Fast Company.
Project Vetting Policy
The One Earth Project Marketplace was born of the knowledge that on-the-ground organizations that are actively implementing climate change solutions receive less than 2% of philanthropic support, despite the fact that they are tangibly reducing the causes of climate change and creating resilient models for adaptation. Our goal is to increase support for these projects while ensuring that donations are truly impactful with our rigorous vetting system.
In addition to more than 20 years of experience brought to the grantmaking process by members of the One Earth team, many of the projects on the Marketplace are already well known to us or have been vetted and referred by trusted partners with whom we have well-established relationships and collaborations - such as previous grantees, scientists, NGOs, universities and partner foundations. In addition, our intake process requests information from each project organization that allows us to evaluate their financial standing, their carbon mitigation, and their partnerships with community members.
At One Earth, we understand that smaller grassroots organizations do not have the capacity to market themselves to typical streams of income, nor do they always have the same level of certifications. We, therefore, take extra steps to ensure that even if these types of verification are not readily available, we can work with the organizations to confirm their impact. This includes sourcing references or evaluating their mission through our own decades of experience in grantmaking.
All of our grantees, including those through the Marketplace, are run through a due diligence process that requires:
Confirming their organization's nonprofit status or fiscal sponsorship
Checking for sanctions in their country
Checking C Level executives and board members in an OFAC screening
Confirming that they are on no watchdog terrorist lists
Careful consideration of their financial reports
Cursory searches for scandals or negative press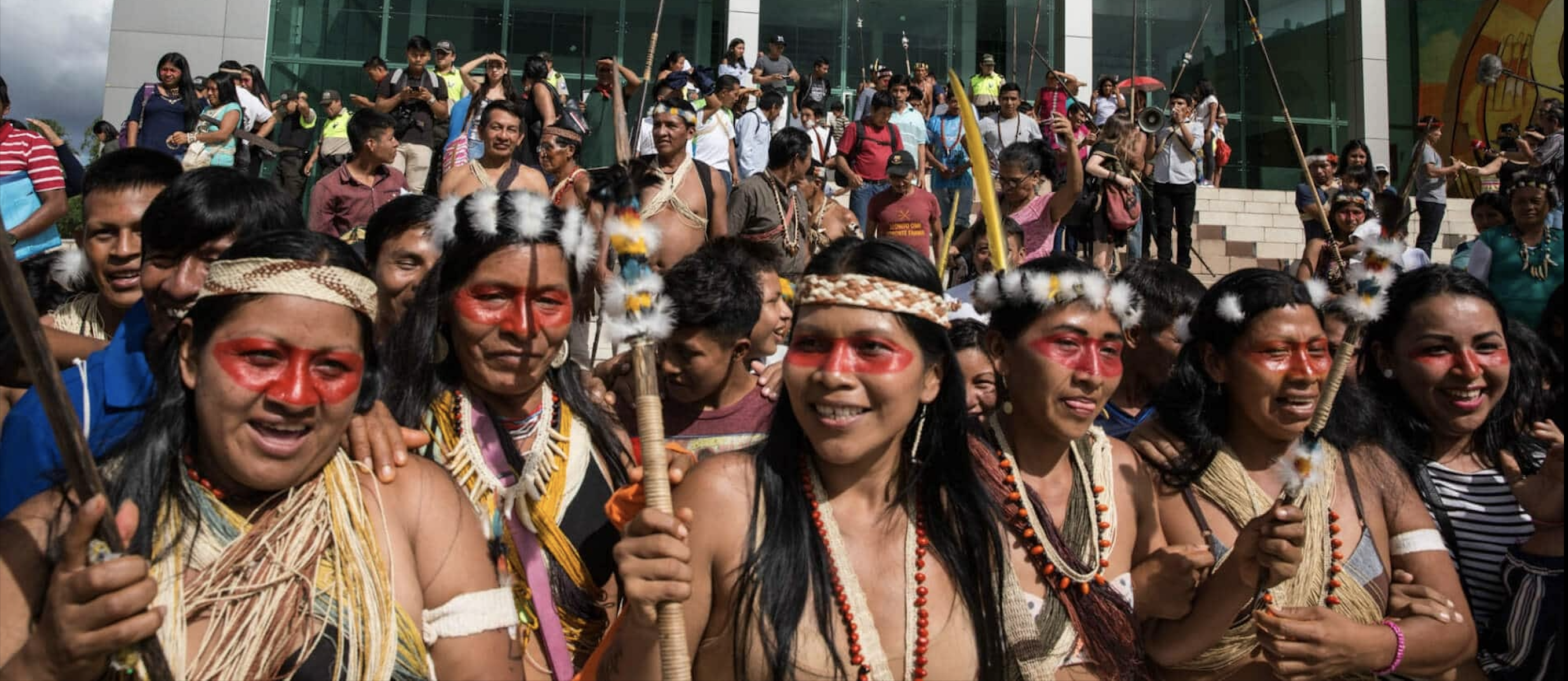 Prioritizing Local Partnerships and Community Leaders
Global collaboration is key to solving the climate crisis. We don't have offices in the places we work but support partner organizations, individuals, and communities around the world that are implementing on-the-ground climate solutions. We work with more than 80 partners in over 50 countries, developing and replicating best practices that can be tailored and implemented locally. We believe that the best people to protect local ecosystems, environments, and communities are the leaders who live there.

Over a quarter of the land that contains 80% of the world's biodiversity is owned and occupied by Indigenous peoples. Indigenous peoples and local communities around the world are nature's most committed, capable, and effective stewards. They drive sustainable solutions for land and water management through their engagement and partnership with governments, corporations, and others in planning and decision-making processes. One Earth works with local communities and Indigenous leaders to secure the safety of their territories and develop sustainable plans for their lands and seas.

By working together, we can bring our global climate back into balance and preserve the biodiversity of our shared planet.
Explore the Project Marketplace
Philanthro-activism Partners
Our Philanthro-activism Partners are a global network of nonprofit organizations that have contributed critical climate solution projects to the One Earth Project Marketplace.
---