Enhancing Community Resilience to Climate Change Through the Conservation of Vulnerable Coastal Ecosystems in Yap, Micronesia
The Tamil people of Micronesia have experienced flooding, erosion, sea-level rise, and drought-driven by climate change, in addition to saltwater intrusion into freshwater sources and taro patches. Water security is further impacted by poor water management, high dependence on the watershed, and the lack of alternative water sources. Many local wells are degraded or contaminated by sedimentation from erosion. To address these threats, the Tamil Resources Conservation Trust (TRCT) developed and adopted its first management plan in June 2013 that outlined key actions needed to respond to this crisis.
Due to the high dependence of Tamil residents on their marine and watershed ecosystems for subsistence and livelihoods, TRCT led a project to promote the establishment of a watershed protected area and the construction of a community nursery to enhance food security and restore degraded watershed areas. Its goals are to:
Increase ecosystem restoration by another 15% by 2025
Increase sustainable use of natural resources by conducting at least 2 socio-surveys by 2025
Increase Awareness building and education by an additional of 8 outreaches to the public by 2025
Increase Climate-resilient food and agriculture practice by 15% by 2025
Under TRCT, Tamil declared their first Watershed Protected Area in 2017, with 320 acres of watershed protected by traditional council members and subsequently to be recognized by state law. TRCT aims to maintain or re-establish traditional land and water management practices that help to conserve ecosystems with importance for water security. The community nursery helps to support food security by preserving the diversity of local crops, providing planting material for watershed and coastal revegetation/restoration projects to reduce impacts from coastal flooding and erosion. A Marine Managed Area was declared in 2014, with 1,682.91 hectares of Tamil coastal marine area protected. Further, by diversifying the local food supply, the community is adapting and becoming self-reliant in response to the impacts of climate change. In Yap, the rights to land and coral reef resources are preserved in the traditional governance system, which is recognized constitutionally.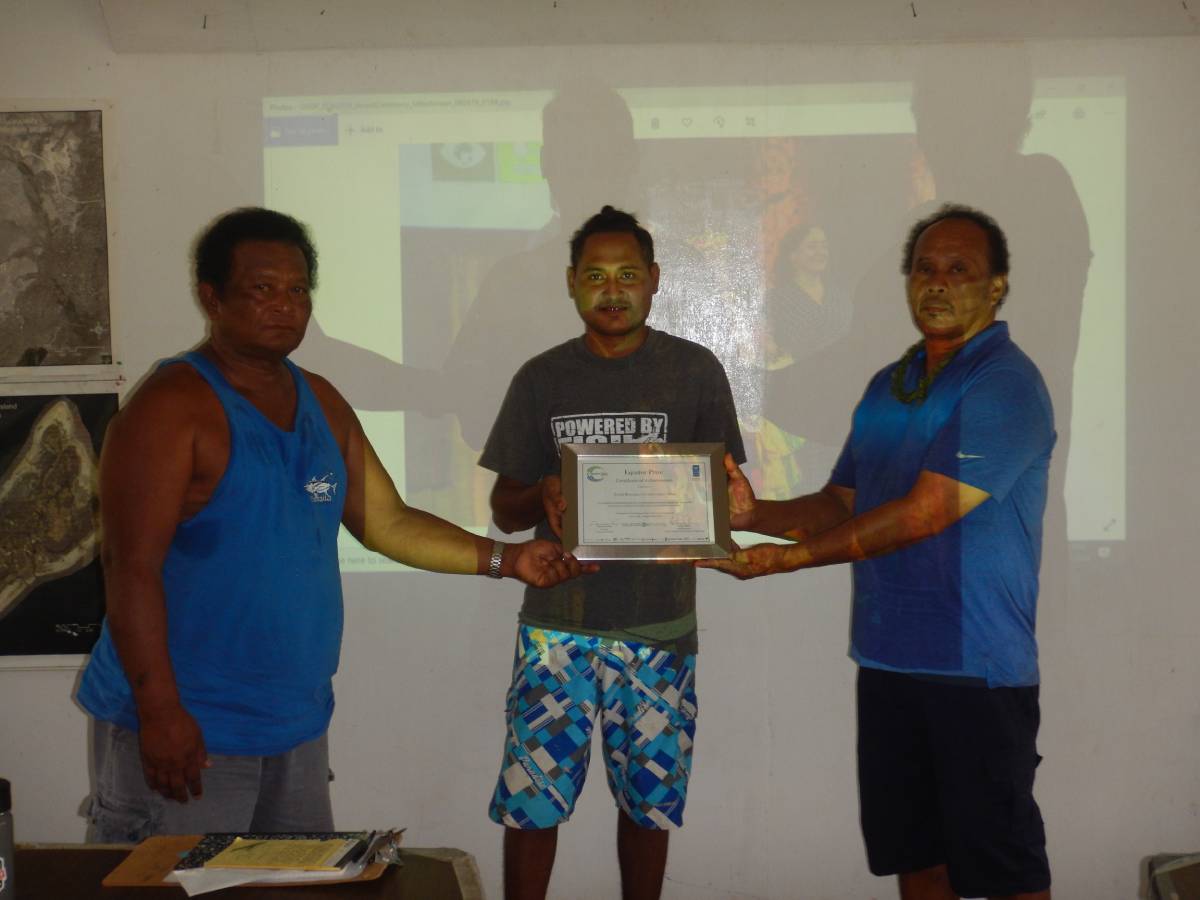 All community members in this area can benefit from these conservation practices, as sustained and effectively managed vulnerable coastal fisheries and watershed areas ensure continued access to clean water. Also, those involved in agriculture will benefit through the shift in production.
The Watershed Protected Area is the first of its kind on the Island of Yap. With support from TRCT and YAPCAP, the community-led a local climate vulnerability assessment process and identified specific adaptation actions to build community and ecosystem resilience. The identified climate change adaptation actions, which include a Marine Managed Area, a Watershed Protected Area, and a community nursery, are currently being implemented.
The nursery is the first community nursery in Yap that includes climate-resilient crops such as the Nipa palm, which is being used to revegetate vulnerable coastal areas and food crops to feed the community. The nursery plays a key role in safeguarding healthy nutritious products such as taro, breadfruit, and vegetables, and provides elementary school children with regular meals. These meals divert the source of calories from sea to land, providing extra protection measures for the threatened marine environment and diversifying food sources for added food security. Finally, the nursery is the first that is led and operated by a local women's group, so it provides an important source of both food and income.
The success of this initiative is grounded in the support received from traditional leaders and the community, which recognizes the importance of managing its resources sustainably. The efforts and involvement of the entire community on behalf of providing food security and access for future generations, their watershed, and marine conservation, demonstrate the level of community support and accountability for this project. TRCT's projects aim to ensure community well-being while improving the community's resilience to climate change.