The beef farmer who gave away his cows and turned vegan
For much of his adult life, Jay Wilde had had a moral struggle. For over 30 years, Wilde, 62, has been a committed vegetarian, but Wilde is also the son of an English beef farmer. He grew up raising cattle for slaughter and continued to run the 172-acre farm in Derbyshire after his father's death in 2011.
Wilde was torn between his loyalty to his heritage and his personal ethics over animal welfare and the environment.
"When you're brought up on a cattle farm it's more than a job. It's an all engrossing lifestyle, and when you've been on a farm it's difficult to contemplate doing anything else," he says.
Two years ago he decided to make a change. Wilde and his wife Katja donated most of their herd of 73 cows to a sanctuary. Though it was a loss of around £40,000, they plan to turn Bradley Nook into a vegan farm – the first of its kind in the UK.
Wilde says he was driven by the meat industry's damaging impact on the environment: climate change. Pollution. Deforestation. Loss of Biodiversity. The list goes on.
On a global scale, agriculture – particularly dairy and meat – is of all greenhouse gas emissions, which is greater than the greenhouse gas emissions of planes, trains, ships, and cars combined. The top three meat firms (JBS, Cargill, and Tyson), for example, then the whole of France.
Indeed, the livestock sector is one of the most significant contributors to environmental degradation. The industry is land-hungry, meaning forests are cut down to make space for the animals. Waste and fertilizer used on dairy farms produce ammonia, a rising air pollutant. And even the cows themselves contribute to methane pollution through their burps and farts.
"I always had alternative sympathies and awareness of climate change and environmental problems," Wilde says. "I tried to compensate for the environmental impact of the farm by having some solar panels put up in a field. Just 30 kilowatts, which is all I could afford."
Wilde also never imported crops to feed the cattle; his were entirely grass-fed and he says he tried to make them "as low impact as possible. "Everything I've done has been with awareness of the environmental impact of a cattle farm," he adds.
But he said it really hit home when his father died and he was fully responsible for what went on on the farm. "Before, I could always tell myself it was the fact that he wrote the cheques and I wasn't allowed to make any decision on the farm at all."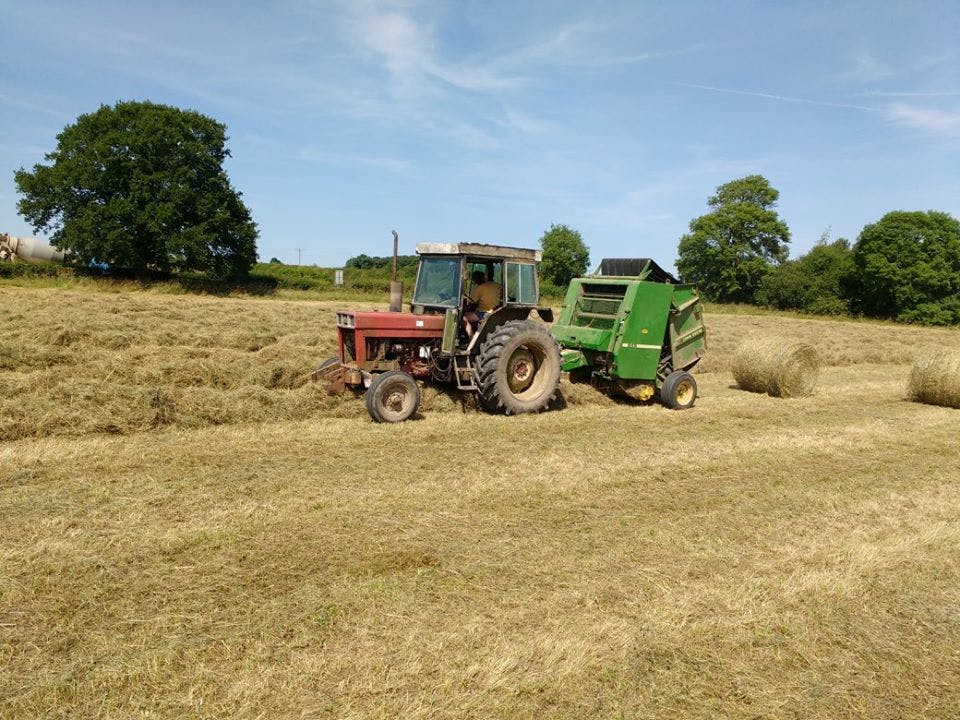 With help from the Vegan Society, Wilde and his wife are turning the estate into a vegan vegetable farm, restaurant, cookery school, and holiday accommodation.
The Wildes continue to maintain the farm's hay meadows, with a few cows who still live there to graze the fields. They plan to grow "everything a conventional market garden can grow" to supply the vegan restaurant and cookery school.
Dominika Piasecka, a spokesperson for The Vegan Society, says Wilde's story has inspired other farmers to consider switching from farming animals to growing crops "for a more compassionate and sustainable world".
Piasecka adds: "Thanks to Jay, we organized a farming conference earlier this year that heard from a panel of five people who stopped farming animals for ethical and environmental reasons, inspiring a handful of animal farmers to get in touch with us.
"Many farmers do not want to harm animals; most of them inherit family farms and don't see a way out of those exploitative industries.
By becoming a vegan destination, diversifying the farm's income with the restaurant and accommodation, Wilde believes it will be a financially sustainable initiative – and make up for the loss of cattle.
for the government to incentivize farmers to transition from livestock agriculture to grow protein crops for human consumption to help reduce the UK's greenhouse gas emissions.
Bradley Nook is a flagship scheme, and Wilde hopes it will show other animal farmers that this transition is possible and worthwhile.
Wilde adds: "At last, I feel that I'm doing the right thing, and doing something valuable"
October 21, 2019