From rugged mountains to wide valleys and sandy desert plains, the highly diverse landscape in this ecoregion is mirrored by equally varied flora and fauna. Stretching across much of the central Arabian Peninsula, the region has been the location of several re-introductions of animal populations into the wild, including the Arabian oryx and red-necked ostrich. Continued conservation efforts over the next few years will be essential to ensure the success of these reintroductions in light of increasing habitat destruction and illegal poaching.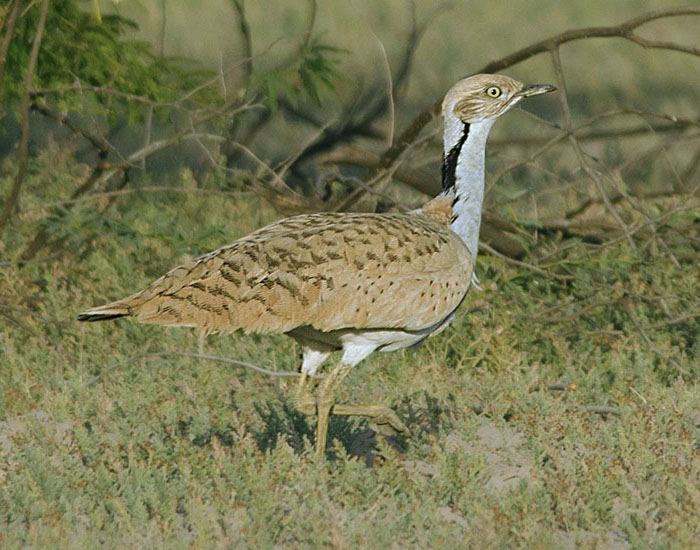 This disjointed ecoregion encompasses large swathes of Egypt's Sinai Desert, Israel's Negev Desert, and other areas in Saudi Arabia, Yemen, Kuwait, Iraq, and Iran. Sandy and gravel plains and elevated plateaus incised with valleys (wadis) largely characterize the landscape, with the exception of the mountainous St. Catherine protectorate in the Sinai Peninsula, which encompasses both Mount Sinai and Mount Catherine at 2,285 m and 2,629 m, respectively. The spectacular Tuwayq escarpment, an 800-km arc of dramatic limestone cliffs and weathered canyons bisecting Saudi Arabia's central high Najd plateau, is also included. The climate is typically hot and arid, with temperatures ranging between 14–35°C in southern areas, dropping to 5–21°C at higher altitudes around St. Catherine. Annual precipitation varies between 5–200 mm across the region.
From the Tuwayq escarpment's 'Edge of the World' viewpoint, one can look down over stands of Acacia—a typical tree across the region—and shrubs of desert thorn: the bright-green 'rimth', red-flowered 'al'awsaj,' and 'raq', also known as 'tooth-brush bush'. The vegetation is largely confined to the periphery of gravel areas where soils have accumulated over time and in wadis, which receive an additional supply of water from elevated areas. Trees such as Tamarix spp., Muaera, and Punjab fig can be found on wadi beds, and annual 'meadows' may appear in some areas following the rains. The Sinai Peninsula contains several endemic plant species, including the critically endangered Sinai wild rose.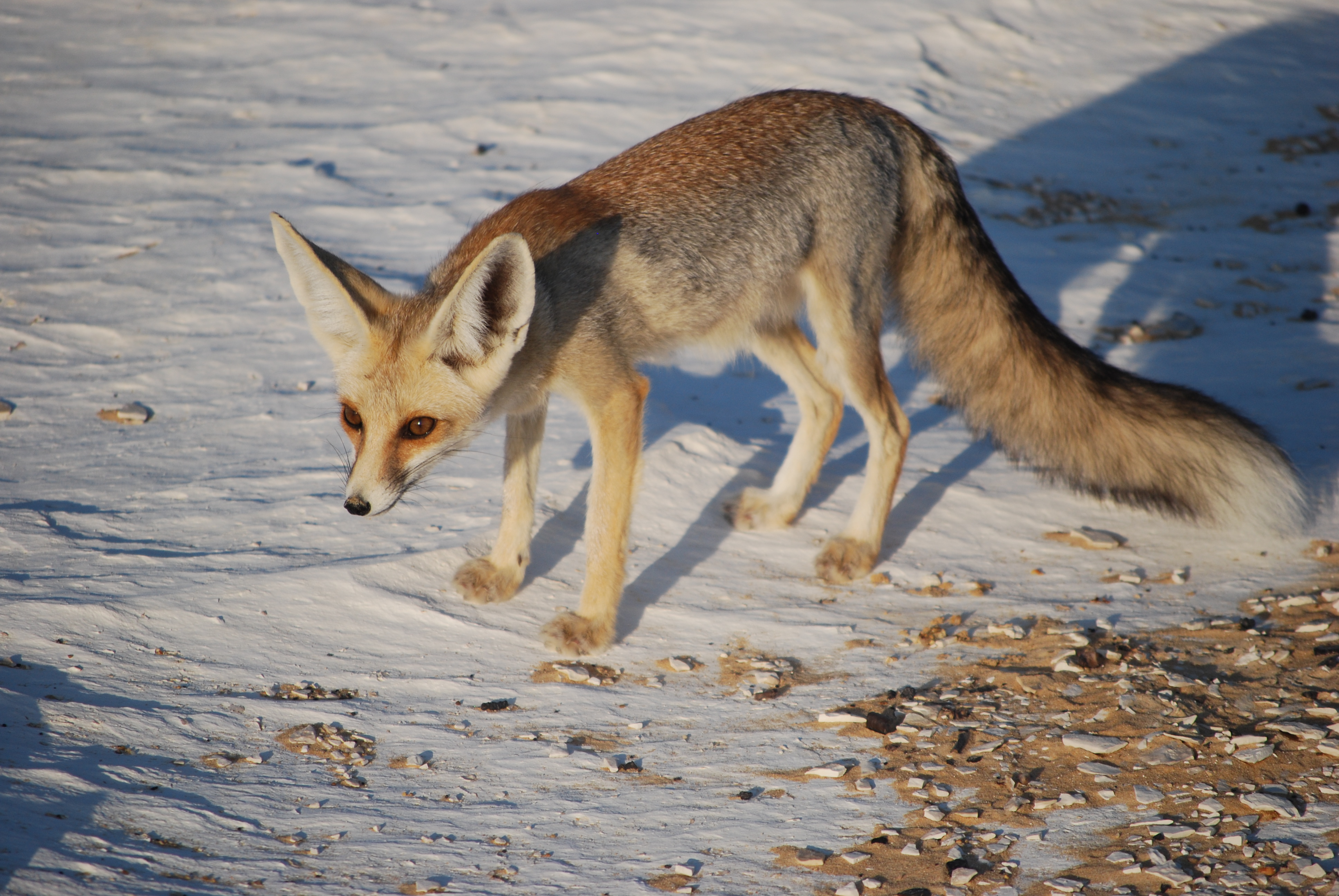 Such a wide-reaching area lends itself to a spectacular diversity of fauna. Nubian ibex, caracal, fennec fox, Rüppell's fox, endangered mountain gazelle, and sand cat are some of the mammals to be found, , whilst reptiles include Uromastyx aegyptia and the Sinai agama. The mountains of the Sinai peninsula host a great diversity of butterflies, including one of the world's smallest butterflies, the endemic and critically endangered Sinai baton blue.
In Saudi Arabia, the Arabian oryx and red-necked ostrich—the closest living relative to the extinct Arabian ostrich—have been re-introduced to the Mahazat as Sayd Protected Area after their extinction in the wild. The area is also important for populations of the Asian houbara bustard (also known as MacQueen's bustard) and lappet-faced vulture. Other notable avifauna in the region include the pharaoh eagle-owl, fan-tailed raven, and white-crowned wheatear.
Bedouin tribes have been living in these deserts for thousands of years, harvesting firewood from and grazing their livestock on shrubs and small trees. The area around St Catherine is UNESCO-listed owing to its religious significance and attracts many visitors each year. In Saudi Arabia, the ancient pastime of houbara bustard hunting continues, and with the introduction of vehicles over traditional camels in recent years has led to a rapid decline in the bustard population. The Um Al-Rimth Natural Reserve in the west of the country is designated to protect these birds in the wild, and additional refuge is found further north in the Mahazat as Sayd Protected Area, the world's second-largest completely fenced reserved region. Protected areas are present in all other countries of the ecoregion, such as the Taba Nature Reserve in Sinai, Wadi al Batin in Kuwait, and several across Israel's Negev desert.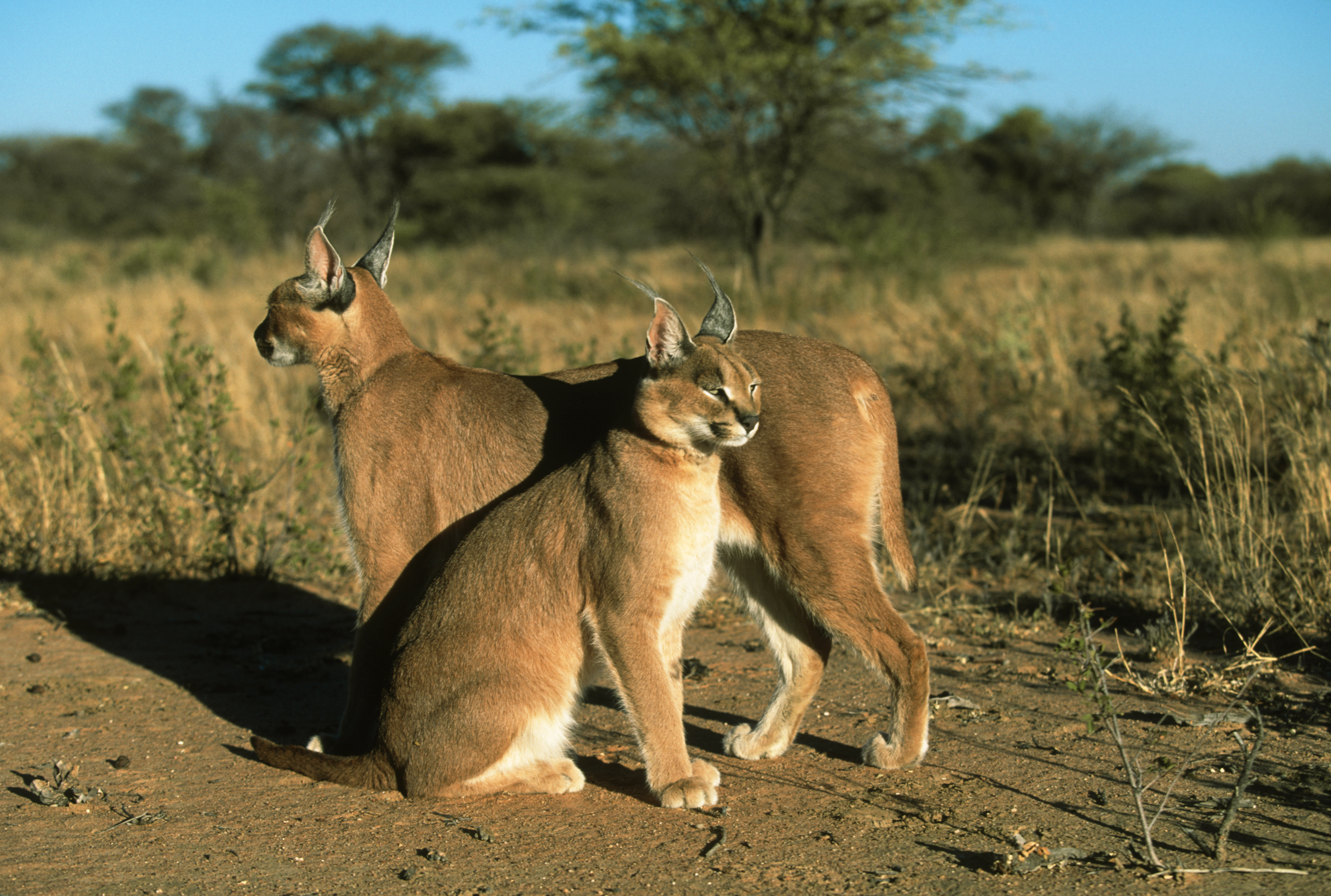 Overgrazing by increasing numbers of domesticated animals and overexploitation for firewood have significantly degraded native vegetation with repercussions for natural hydrological processes. Climate change is expected to compound this problem, as increasing temperatures and reduced rainfall limit vegetation regrowth.
The Sinai baton blue butterfly is particularly vulnerable to extinction as a result of climate change, given that both the larvae and adults are dependent on Sinai thyme, which is expected to decline in cover with rising temperatures. Poaching of the houbara bustard, Arabian oryx, and other fauna is a further problem, exacerbated by overgrazing as individuals are forced into areas devoid of vegetation cover and safe shelter.
Priority conservation actions in the next decade will be to 1) work with local communities to develop a strategy for more sustainable natural resource use, with the added benefit of increased resilience to future climate change, 2) assess the impact of climate change on biodiversity in vulnerable areas and protected areas, and 3) develop more effective tools for combating illegal hunting of wild animals.
Vincent, P. (2008). 'Saudi Arabia: An Environmental Overview'. Taylor & Francis. ISBN (e-book): 978-0-203-03088-2
BirdLife International (2019) 'Important Bird Areas factsheet: Mahazat as-Sayd'. [Online] Available from [Accessed 14/08/2019].