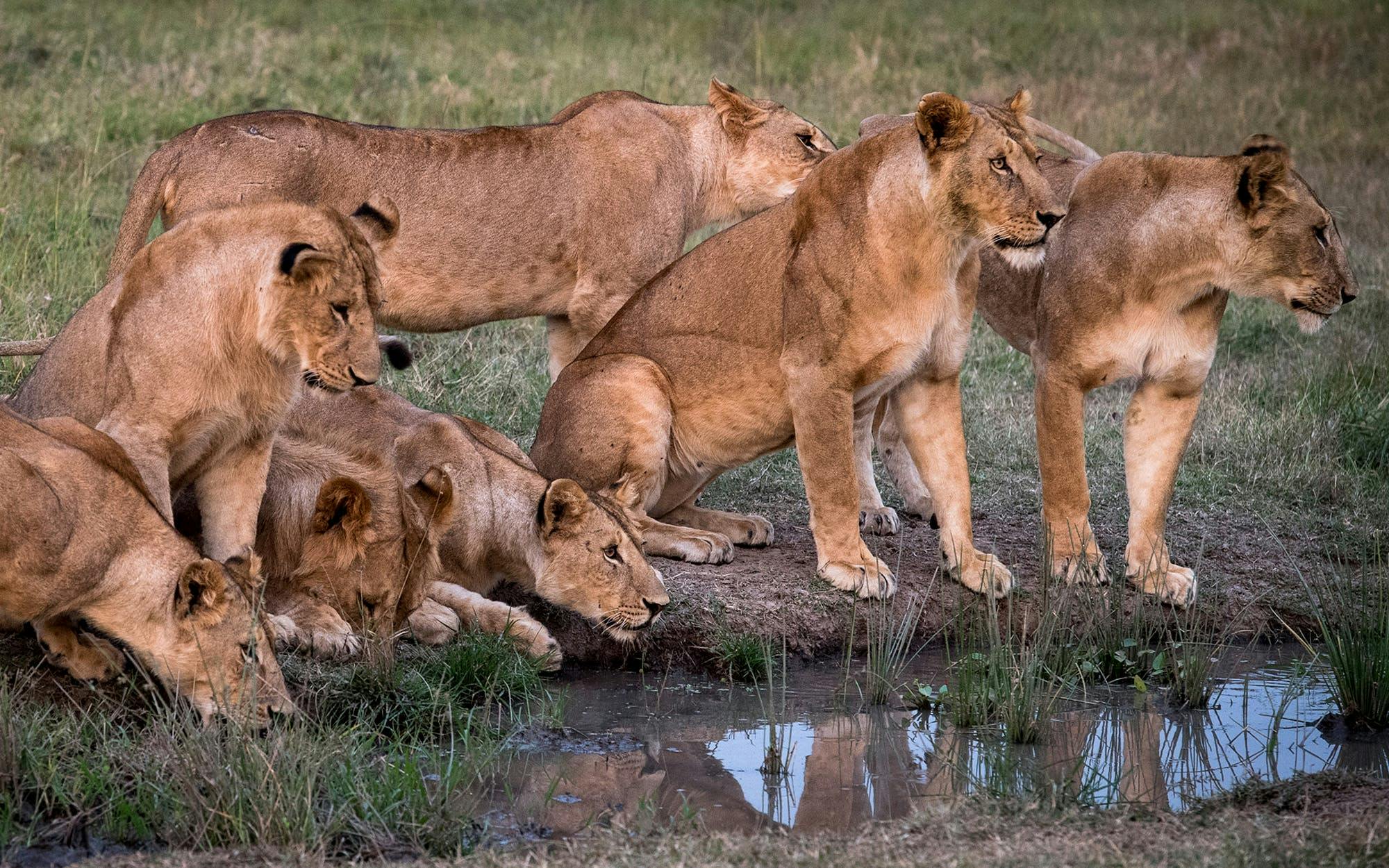 Karl Burkart

Co-Founder and Managing Director, One Earth

Karl leads One Earth's Science & Technology program, which provides grant support to academic institutions and NGOs working on the cutting edge of climate and energy science, biodiversity mapping, and sustainable agriculture. The program is particularly focused on scaling innovative applications in big data, remote sensing, and artificial intelligence to accelerate land and ocean conservation efforts. Karl also oversees production and distribution of content across One Earth's website and social media properties and affiliated campaign initiatives, such as We Love the Earth and the Global Deal for Nature. Prior to his work at the foundation, Karl created Greendig, a blog exploring the intersection between technology and environmental sustainability. He produced and wrote 'Planet 100', the Discovery Network's first online video news show, and he led digital advocacy for the TckTckTck campaign, a global network of more than 450 NGOs working to secure a strong international climate agreement under the UNFCCC. Karl is co-author on "A Global Deal for Nature: Guiding Principles, Milestones, and Targets", a groundbreaking paper published in Science Advances in 2019 that sets out the evidence base for One Earth's ambitious conservation agenda. He is also a contributor to "100% Clean and Renewable Wind, Water, and Sunlight All-Sector Energy Roadmaps for 139 Countries" published in Joule in 2017.

Nuna Teal, PhD

Program Director, One Earth

Nuna will join in implementing the strategic vision of One Earth through support of on-the-ground action. She grew up on a large, diverse organic farm in Vermont that was also the site of a project by her father to study, domesticate and protect muskoxen for the economic use of their fine wool by indigenous peoples of the Far North. Conceived on Spitsbergen, Nuna traveled with the Sami and their reindeer, then migrated between the farm and Arctic wilderness and communities with the muskox project. After traveling the world on her own, studying dance and completing graduate studies in ecological anthropology, she returned to the family farm to rediscover a love for agriculture and raise two daughters. During the UN Year of Soil, she joined the Jena & Michael King Foundation in Los Angeles and served as its Executive Director for 5 years. Focusing on regenerative agriculture, healthy soils and climate, and also the general health of all beings, biodiversity and living systems, the foundation gave special attention to the rising youth and indigenous movements. Nuna currently serves on the Board of the Mni Wiconi Health Clinic & Farm, a model for decolonized, Lakota designed care to be built at Standing Rock.

Edward Bell

Program Manager, One Earth

Edward manages the digital platforms and social media channels for One Earth. He also handles content production for OE's affiliated campaigns, such as We Love the Earth and the Global Deal for Nature. He assists the Managing Director on all communications and coordination. Previously, Edward managed the Changefactor program that designed and built multiple websites for philanthropic coalitions, including the Lion Recovery Fund, Elephant Crisis Fund, Shark Conservation Fund, Before The Flood, and Oceans 5, among many others. Edward led the creation and distribution of all social media content for the Leonardo DiCaprio Foundation and the Global Call for Climate Action. He has specialized in building and expanding digital presences for climate coalitions and environmental organizations since 2011. He lives in sunny Los Angeles with his partner and their collection of exotic terrariums, unconventional pets, and a ridiculous amount of comic books.

Orquidea Hale

Program Associate, One Earth

Orquidea Hale comes from nearly 10 years in the food industry, from hospitality to food production and natural grocer management. From this practical knowledge, she has developed a deep understanding and commitment to sustainable change in the food system. She received her Bachelors in Business Management at San Francisco State University and recently completed a certificate in Food Studies from UCLA. As Program Associate with One Earth she ensures coordination between projects and helps with the grant management process.

Edith Espejo

Program Associate, One Earth

Edith supports OE administration and social media platforms. She has a B.S. in Environmental Biology and a minor in Regenerative Studies from California Polytechnic University, Pomona. There she helped develop a mobile food pantry, ethnobotany workshops, and spearheaded food justice and diversity ambassador initiatives on campus. She is passionate about grassroots organizing and the intersections of the environmental and social equity.

Patrick Stephen Brown

Digital Media Producer

Patrick is a content producer who specializes in video editing, web and graphic design, and online presence. He has worked with numerous clients, most notably: The Nebraska Attorney General's Office, Bruning Law Group, The Nebraska American Civil Liberties Union, The Office of the New York State Attorney General, Author Pamela L. Newton, and Cubcoats. Patrick is an alumni of the University of Nebraska-Lincoln where he was a Warren Buffet Scholar and is currently back in school studying cinematography at The Los Angeles Film School.

Channing Sargent

Writer, Content Producer

Channing Sargent hails from Salt Lake City. She has a master's degree in creative writing from USC, a bachelor's in acting from NYU, and is a Gabriel García Márquez cultural journalism fellow. She covers obscure cultures, travel, environment, the arts and (extra)ordinary people for various publications, including LA Weekly, LA Magazine, LA Downtown News, and the Leonardo DiCaprio Foundation. She also works as a digital content producer and strategist.

Janet Murikira

One Earth Fellow, Kenya

Janet Murikira is an environment and conservation journalist based in Mombasa, Kenya. The Finance graduate works for Baraka FM where she has been on the forefront in ensuring environment stories are given the space and coverage they deserve. Her work has regularly been published in other media houses that include Deutsch Press Agentur and Environment newsiste Mongabay. Janet who is an Annual Journalism Excellence Awards 2018 finalist is also one of the 18 African fellows of the Giants Club Conservation Journalism fellowship where she has majorly reported on issues and emerging trends in environment conservation in Kenya.

Julian Reingold

One Earth Fellow, Argentina

Born in Argentina in 1988, Julian Reingold holds a BA in Sociology from the University of Buenos Aires (UBA) and is currently a student of MSc in Environment and Sustainable Development at University College London (UCL). Fiction writer since an early age, he has shifted from journalism as a hobby to a constant commitment to discuss climate change reality in his homeland, a challenge that still has a long way to go as natural disasters remain outside of the Government's priorities. After traveling across many Latin American countries, he believes in the possibility of uniting efforts in the region to avoid ecological breakdown by acknowledging the indigenous wisdom of nature and supporting the new ways of social protest in the digital age.

Naomi Larsson

One Earth Fellow, European Union

Naomi is a freelance journalist based in London covering the environment, foreign affairs and culture for a number of British and international outlets. She has covered stories around the world, reporting on farming in Kenya, the Venezuelan migration crisis, and biodiversity in Colombia. Before becoming freelance, she was a writer and commissioning editor on the Guardian's global development network, and contributed to their award-winning series on elephant conservation. She has a masters in journalism from City University London, specialising in humanitarian reporting, and in 2019 she was a winner of MHP's young journalists awards.

Kartik Chandramouli

One Earth Fellow, India

Kartik Chandramouli from Mumbai, India is the Digital Content Editor at Mongabay-India. He works with a network of video contributors to produce and edit videos about environment and conservation. He has also directed and shot a few assignments, including stories from Sundarbans about the changing relationship between environment and people through an Earth Journalism Network grant. He was selected for National Geographic's Out Of Eden Slow Journalism workshop and developed a photo story on urban floods. His work also includes creating graphics and maps. Kartik's aim is to use multimedia to effectively communicate stories about the environment. Before joining a news organisation a year ago, he worked in digital advertising for 6 years designing brand campaigns and websites. He led the design team for the latter part of those years.

Alison Gacad

One Earth Fellow, Canada

Allison is a freelance journalist based in Vancouver, Canada, covering science, environment, and climate news for Canadian and international outlets. She is trained as a youth journalist by the Foundation for Environmental Education in partnership with the UNFCCC and UNESCO, having most recently reported from COP23 in Bonn, Germany. At COP23, she was a speaker on a UNESCO panel on climate education. She is currently pursuing a BSc in Global Resource Systems at the University of British Columbia. Her interdisciplinary approaches to studying food systems, agriculture, and the environment provide a foundation for bringing science to the forefront of her journalism. Allison believes that meaningful climate journalism, particularly driven by youth and grounded in evidence-based reporting, is essential to combatting today's climate emergency.