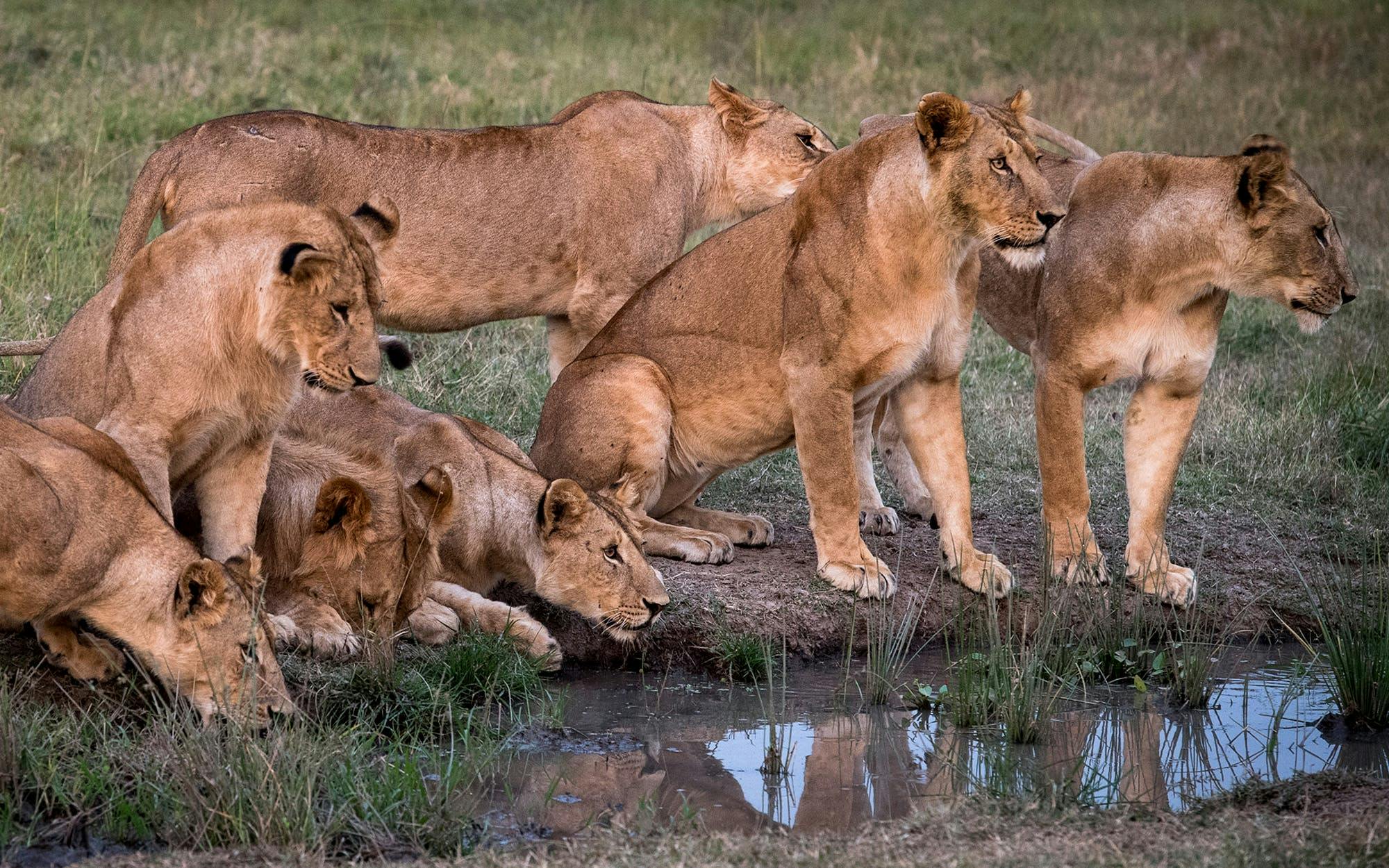 Justin Winters

Executive Director

Justin is Co-Founder and Executive Director of One Earth, a new initiative focused on creating a vision for the world that is possible by 2050, one in which humanity and nature coexist and thrive together. This vision is based on three pillars of action – 100% renewable energy, protection and restoration of 50% of the world's lands and oceans, and a transition to regenerative, carbon-negative agriculture. Together, these pillars of action give us a global roadmap to tackle the climate crisis at scale, protect biodiversity and ensure a healthy future for humanity. This vision is backed with ground-breaking science. After two years of close collaboration with leading scientists around the world, the One Earth Climate Model was released at Davos in early 2019. This state-of-the-art modeling project shows how we can surpass the goals of the Paris Climate Agreement, averting a climate catastrophe while at the same time preventing further degradation of our natural ecosystems. As part of an effort to forge stronger links between science, environmental campaigning and popular culture, Justin was instrumental in the release last spring of the Global Deal for Nature plan and petition calling for a new pact to safeguard the planet's biodiversity, and the "Earth" song with 20 major musical artists - driving 100 million views on YouTube, over 12 billion earned media impressions and 1 billion social media impressions. Prior to One Earth, Justin led the Leonardo DiCaprio Foundation for 13 years, shaping the organization's strategic direction and driving Leonardo's communications channels - successfully leveraging his global platform to influence decision-makers and the public on pressing environmental issues. During her tenure, Justin also successfully built out the foundation's grant-making program and oversaw the awards of over $100 million in grants to more than 200 high-impact projects in 60 countries. Justin also helped create a series of innovative philanthropic funds including Oceans 5, Shark Conservation Fund, The Solutions Funds, Lion Recovery Fund, Elephant Crisis Fund, and Quick Response Fund for Nature that deliver vital new resources to organizations and communities working to implement critical solutions.

Karl Burkart

Managing Director

Karl leads One Earth's Science & Technology program, which provides grant support to academic institutions and NGOs working on the cutting edge of climate and energy science, biodiversity mapping, and sustainable agriculture. The program is particularly focused on scaling innovative applications in big data, remote sensing, and artificial intelligence to accelerate land and ocean conservation efforts. Karl also oversees production and distribution of content across One Earth's website and social media properties and affiliated campaign initiatives, such as We Love the Earth and the Global Deal for Nature. Prior to his work at the foundation, Karl created Greendig, a blog exploring the intersection between technology and environmental sustainability. He produced and wrote 'Planet 100', the Discovery Network's first online video news show, and he led digital advocacy for the TckTckTck campaign, a global network of more than 450 NGOs working to secure a strong international climate agreement under the UNFCCC. Karl is co-author on "A Global Deal for Nature: Guiding Principles, Milestones, and Targets", a groundbreaking paper published in Science Advances in 2019 that sets out the evidence base for One Earth's ambitious conservation agenda. He is also a contributor to "100% Clean and Renewable Wind, Water, and Sunlight All-Sector Energy Roadmaps for 139 Countries" published in Joule in 2017.

Nuna Teal, PhD

Program Director

Nuna will join in implementing the strategic vision of One Earth through support of on-the-ground action. She grew up on a large, diverse organic farm in Vermont that was also the site of a project by her father to study, domesticate and protect muskoxen for the economic use of their fine wool by indigenous peoples of the Far North. Conceived on Spitsbergen, Nuna traveled with the Sami and their reindeer, then migrated between the farm and Arctic wilderness and communities with the muskox project. After traveling the world on her own, studying dance and completing graduate studies in ecological anthropology, she returned to the family farm to rediscover a love for agriculture and raise two daughters. During the UN Year of Soil, she joined the Jena & Michael King Foundation in Los Angeles and served as its Executive Director for 5 years. Focusing on regenerative agriculture, healthy soils and climate, and also the general health of all beings, biodiversity and living systems, the foundation gave special attention to the rising youth and indigenous movements. Nuna currently serves on the Board of the Mni Wiconi Health Clinic & Farm, a model for decolonized, Lakota designed care to be built at Standing Rock.

Edward Bell

Program Manager

Edward manages the digital platforms and social media channels for One Earth. He also handles content production for OE's affiliated campaigns, such as We Love the Earth and the Global Deal for Nature. He assists the Managing Director on all communications and coordination. Previously, Edward managed the Changefactor program that designed and built multiple websites for philanthropic coalitions, including the Lion Recovery Fund, Elephant Crisis Fund, Shark Conservation Fund, Before The Flood, and Oceans 5, among many others. Edward led the creation and distribution of all social media content for the Leonardo DiCaprio Foundation and the Global Call for Climate Action. He has specialized in building and expanding digital presences for climate coalitions and environmental organizations since 2011. He lives in sunny Los Angeles with his partner and their collection of exotic terrariums, unconventional pets, and a ridiculous amount of comic books.

Orquidea Hale

Program Associate

Orquidea Hale comes from nearly 10 years in the food industry, from hospitality to food production and natural grocer management. From this practical knowledge, she has developed a deep understanding and commitment to sustainable change in the food system. She received her Bachelors in Business Management at San Francisco State University and recently completed a certificate in Food Studies from UCLA. As Program Associate with One Earth she ensures coordination between projects and helps with the grant management process.

Edith Espejo

Program Associate

Edith supports OE administration and social media platforms. She has a B.S. in Environmental Biology and a minor in Regenerative Studies from California Polytechnic University, Pomona. There she helped develop a mobile food pantry, ethnobotany workshops, and spearheaded food justice and diversity ambassador initiatives on campus. She is passionate about grassroots organizing and the intersections of the environmental and social equity.

Patrick Stephen Brown

Digital Media Producer

Patrick is a content producer who specializes in video editing, web and graphic design, and online presence. He has worked with numerous clients, most notably: The Nebraska Attorney General's Office, Bruning Law Group, The Nebraska American Civil Liberties Union, The Office of the New York State Attorney General, and Author Pamela L. Newton. Patrick is an alumni of the University of Nebraska-Lincoln where he was a Warren Buffet Scholar. After years of working in the industry he decided to follow his childhood dream to study the craft of cinematography at The Los Angeles Film School.

Channing Sargent

Writer, Content Producer

Channing Sargent hails from Salt Lake City. She has a master's degree in creative writing from USC, a bachelor's in acting from NYU, and is a Gabriel García Márquez cultural journalism fellow. She covers obscure cultures, travel, environment, the arts and (extra)ordinary people for various publications, including LA Weekly, LA Magazine, LA Downtown News, and the Leonardo DiCaprio Foundation. She also works as a digital content producer and strategist.