Badghyz and Karabil Semi-Desert
The ecoregion stretches through the hilly plateaus north of the Paropamiz mountain, part of the Hindu Kush range. The hills are covered by a savanna-like wild pistachio, and red tulips. A sub-species of the Asian wild ass is endemic to the ecoregion and leopards, though rare, have been observed in the mountainous part of the Badhyz State Reserve. Other interesting species include goitered gazelle and urial, which were both severely hunted but have recovered.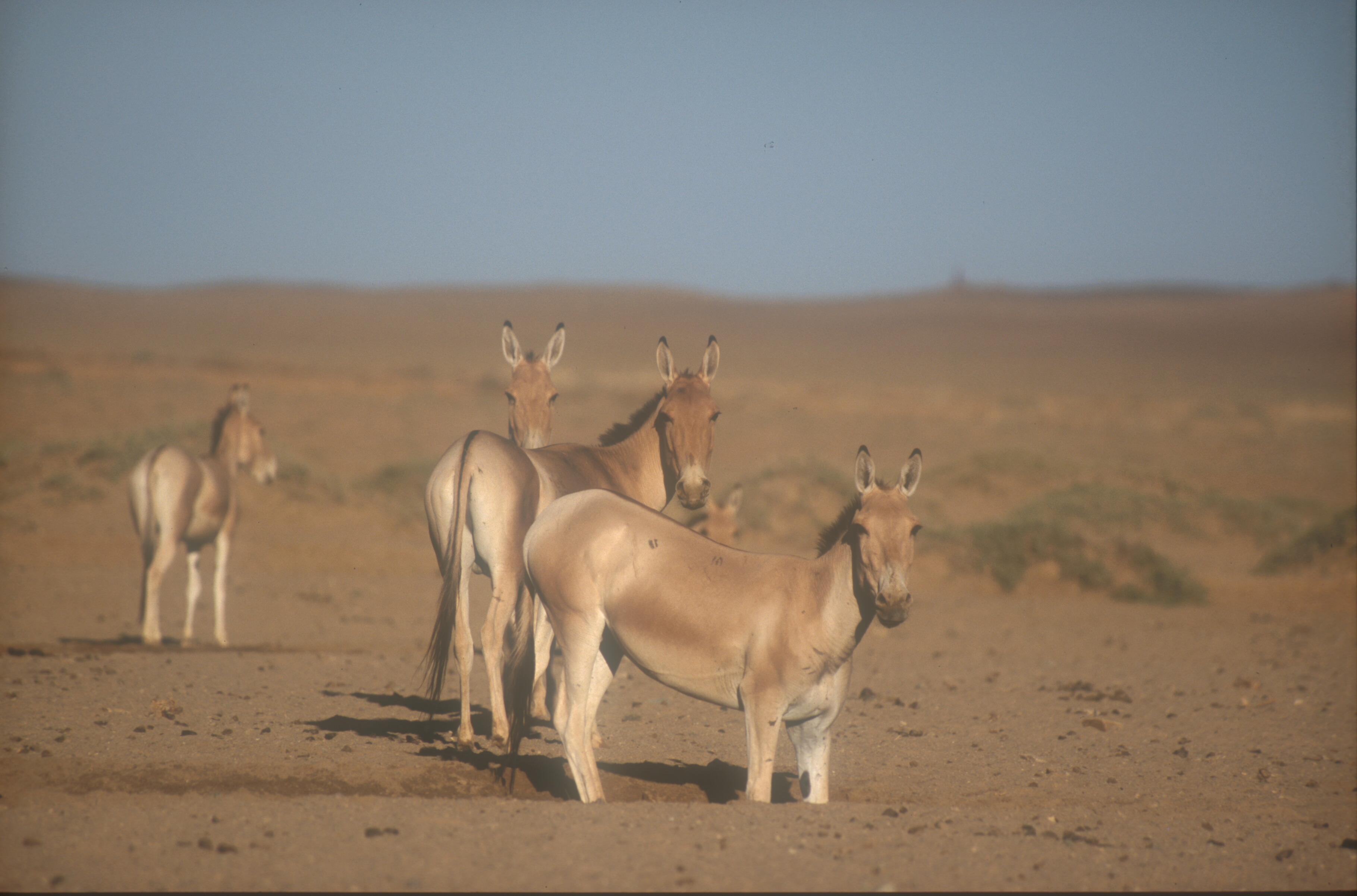 This ecoregion, with 133,906 km2, is situated within the hilly plateau north of Paropamiz Mountain, which is the northernmost range of the Hindu Kush in Afghanistan, traversing Tajikistan to the east, Turkmenistan and Uzbekistan to the north, and a small portion in Iran to the West. The ecoregion also crosses the Amu Darya or Amu River, which is one of the major rivers in Central Asia, as well as the Murghab River which forms an immense oasis near the city of Mary, Turkmenistan. The average annual temperature is 16.6°C, with an average maximum of 38°C, and an average minimum -5.7°C. The average annual rainfall is 255.8 mm/year. The prevailing climate is of cold semi-arid, with some regions warmer.
This ecoregion houses different biogeographic characteristics with the magnificent hilly plateaus covered in savanna-like wild pistachio. Several vascular plants are endemic to this region, such as Cousinia badghysi, Ferula badrakema, and Tulipa kuschkensis, a beautiful red species of Tulip. The distribution of the critically endangered Tadijikistan even-fingered gecko overlaps with the eastern part of this ecoregion. This endemic reptile is not found in any protected area and is under threat from agricultural development in the valley.
Also critically endangered is the sociable lapwing, which disperses through the region and its population is declining globally. Other endangered species include the steppe eagle, Saker falcon, Pallas's fish-eagle, and white-headed duck. Leopards are rare but still found in the western mountainous part of the Badhyz Reserve. Another large predator found here is the striped hyaena. A sub-species of kulan, an Asian ass, is currently only found in this ecoregion. Both goitered gazelle and urial were severely hunted but are now common in the Badghyz.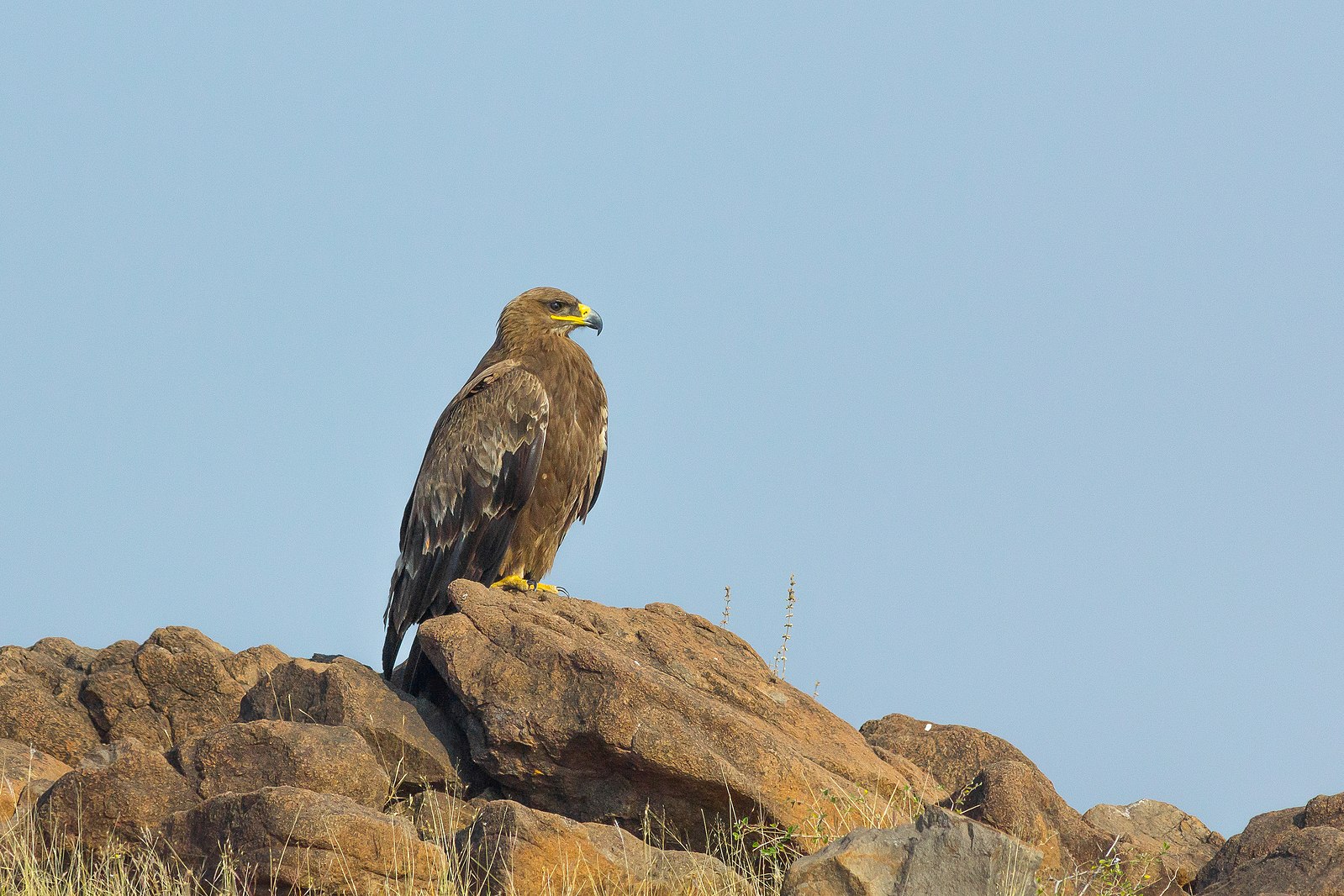 In Turkmenistan, nine protected areas intersect within the ecoregion: Badghyz State Nature Reserve, Er-Oiladuzskii Nature Sanctuary, Pulihatum Nature Reserve, Chemenbit Nature Reserve, Kelif Nature Reserve, Dgarlauzerskii part of Kugitang Zapovednik (proposed), Hodjapil Nature Sanctuary, Hordjaburdjibelend Nature Sanctuary, and Kugitang State Nature Reserve. Notable in this ecoregion is the Badhyz State Reserve, with 877 km2. It is an important stronghold for Asiatic wild ass, as well as urial, goitered gazelle, and wild boar.
The proposed Imam Sahib Wildlife Reserve covers the last significant remnants of tugal vegetation in Afghanistan, which forms the remaining habitat for the locally endangered Bactrian deer. Several Key Biodiversity Areas and important Bird Areas are present as well. In Turkmenistan, there is Badghyz, Garachop, Garabil, Zeyit-Kelif, Koytendag and part of Tallmerijen. In Afghanistan, there's the North-western Steppe and Imam Sahib. In Uzbekistan, there are the middle reaches of the Sherabad River, Yuzhno-Surkhan Reservoir, Aktepe Reservoir, and Three lakes and finally, the Anmudarya flood lands near Termez. This ecoregion is not fragmented, mostly grassland and bare soil and circa 18% of cropland. Population density in this ecoregion is very low with an average of 0.36 inhabitat/ha.
Principal threats in this ecoregion include degradation and loss of habitat, illegal hunting, lack of implementation and effectiveness of protected areas, and diversion and damming of waterways. Natural pistachio woodland has been used for firewood for centuries and overgrazing by sheep and camels have led to soil erosion.
The priority conservation actions for the next decade will be to: 1) strengthen In-situ preservation through implementation and effective management of protected areas; 2) enforce laws against illegal hunting and unsustainable use of resources; and 3) support restoration of degraded land and combat erosion and desertification.

Citations
World Wide Fund. 2020. Central Asia: Northern Afghanistan, southern Turkmenistan, southern Uzbekistan, extending into Iran and Tajikistan. [Online]. [Accessed 10 Janaury] Available from:
Kaczensky, P. and Linnell, J.D. 2015. Rapid assessment of the mammalian community in the Badhyz Ecosystem, Turkmenistan, October 2014.
Kanderian, N., Shank, C., Johnson, M., Rahmani, H. and Hatch, C. 2009. Identifying Priority Zones for a Protected Area Network in Afghanistan. WCS and ECODIT joint report (unpublished).