Guizhou Plateau Broadleaf and Mixed Forests
Lying to the south of the Yangtze River in China, the Guizhou Plateau is a cloudy realm of craggy limestone, sinkholes, and streams that disappear into the earth. Much of the rock exposed in this ecoregion was produced by marine creatures that lived hundreds of millions of years ago. Today it supports dense subtropical vegetation with some restricted range plants and several endangered mammal species.
The Guizhou Plateau lies at an elevation of 1,000 to 1,400 m and comprises a rugged landscape of block-shaped limestone hills separated by steep-walled basins; it is part of a geological realm called the South China Karst. Since limestone erodes by dissolving slowly in water, the entire ecoregion is riddled with caves and sinkholes and many local rivers are partially subterranean. This hydrology, present in much of Southern China, has produced a distinctive ecosystem on the Guizhou Plateau.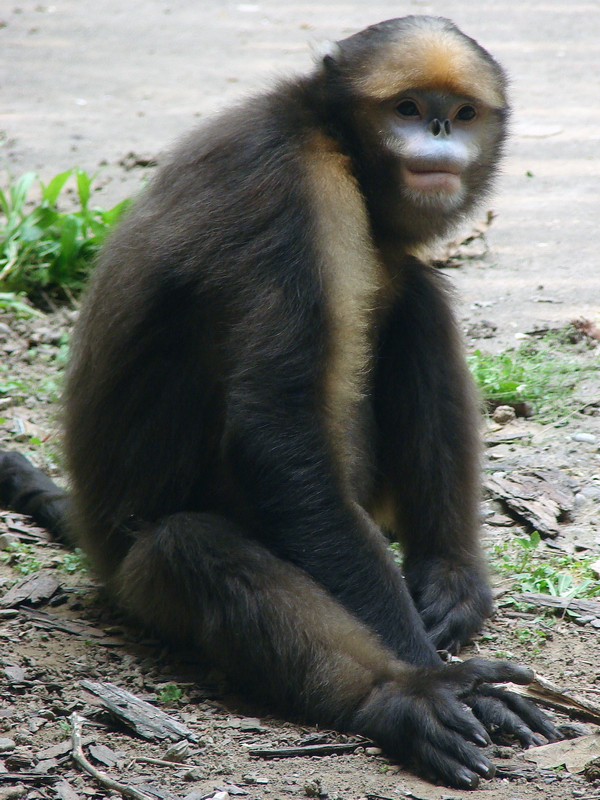 Although it is by no means arid—there are fewer than 165 sunny days in a year—plants in exposed habitats of the Guizhou Plateau prize water because there is little available on the surface of the porous limestone. Some plant species use succulent tissue and thorns to retain and defend moisture.
Given the environmental conditions in this ecoregion, the potential natural vegetation is subtropical forest with tree species that hold their leaves year-round. The original forest, highly fragmented today, is dominated by oak and the oak relatives, chestnut and Cyclobalanopsis. Trees of the Lauraceae family, often aromatic and with blade-shaped leaves, also predominate. Because it was sheltered from harsh weather during the most recent Ice Age, the Guizhou Plateau supports plant species that are rare and protected in China, including subtropical conifers, a tree fern, and the dove tree whose flowers are each accompanied by a pair of dove-sized, modified leaves that perform the function of petals. Camellia, the genus that gives us tea, is also native to the forests of the Guizhou Plateau.
While the highlands are cool and green year-round, valley bottoms support trees more typical of the seasonal sub-tropics, where it is dry enough that many species drop their leaves in the hot months ahead of the summer rainy season. Figs and legumes like the scarlet flowering Erythrina are present in remaining old growth stands; areas prone to human disturbance (traditionally swidden agriculture) have secondary forest that includes Cornus dogwood, Liquidamber, and Rhus.
Needle-bearing conifer forests occur in some parts of the Guizhou Plateau ecoregion. Important species include Chinese red pine in the northeast and Yunnan pine in the south. High elevations support with spruce, hemlock, and endemic Fanjing mountain fir occurs here as well.
The grey snub-nosed monkey, most threatened of the three golden monkey species that inhabit the mountains of southern China, is almost entirely restricted to Fanjing Shan Nature Reserve, a UNESCO Biosphere Reserve and World Heritage Site on the plateau. Here, fewer than 750 individual animals inhabit a protected section of the Wuling Mountains where they depend on intact forest cover. Fanjing Shan also conserves the critically endangered giant salamander, which can exceed a meter in length and 30 kg in weight. Reeve's pheasant, a vulnerable species, occurs in the northern part of the ecoregion.
Poorly suited to human enterprises, the rugged landscapes of the Guizhou Plateau provide sanctuary to dozens of other globally threatened species, including Assamese macaque, Francois' leaf monkey, forest musk deer, and clouded leopard. The South China subspecies of tiger is now extirpated from this ecoregion, although there are plans to reintroduce a population to Xishui Nature Reserve in the northern part.
Guizhou is one of China's poorer provinces. Outside the protected areas, many local people practice subsistence agriculture with livelihoods that rely directly on natural resources. Meanwhile, artificial forest plantations have been promoted as a conservation strategy in this ecoregion for many years. However, the artificial forests can disrupt local water balance due to high evapotranspiration and fail to support natural biodiversity. It is recommended to substitute artificial afforestation with natural forest restoration.
Priority conservation actions for the next decade are to: 1) monitor and control tourism infrastructure development in and around the Fanjing Shan World Heritage Site; 2) provide due diligence to the protection of wildland habitat during rural poverty alleviation efforts, including infrastructure development, agricultural specialization, and afforestation of sloping land; and 3) monitor air and water quality and strive to reduce regional levels of industrial pollution.

Citations
Carpenter, C. 2000. Asia: in the Guizhou, Hunan and Hubei Provinces of China. https://www.worldwildlife.org/ecoregions/pa0101. Accessed August 2018.
Bleisch, W.V., Xie, J. 1998. Ecology and behavior of the Guizhou snub-nosed langur (Rhinopithecus [Rhinopithecus] brelichi), with a discussion of socioecology in the genus. In The natural history of the doucs and snub-nosed monkeys, 217-239.
World Heritage Nomination — IUCN Technical Evaluation Fangjingshan (China) – ID N° 1559. IUCN Evaluation Report - April 2018. https://whc.unesco.org/en/list/1559/documents/