Nihonkai Evergreen Forests
Stretching along Japan's west coast, lush evergreen forests with a rich understorey dominate this ecoregion and are home to Japanese macaque, Japanese pygmy woodpeckers, and an endemic species of hare. Thousands of pine trees create the unusual green sandbar at Amanohashidate, whilst on the island of Sado, the Japanese crested ibis has been reintroduced after its extinction from the wild in 1981 and is showing promising signs of recovery.
This ecoregion encompasses much of the west coast of Honshu—Japan's largest island—from the city of Hamada in the south to Yurihonjo in the north. The landscape is highly varied, ranging from active volcano mountains such as Mount Daisen at 1,729 m to coastal sand dunes and the vast lakes of Shinji, Nakaumi, and Biwa. Just off the coast, the islands of Okinsoshima and Sado fall within the ecoregion, and in the Kyoto prefecture, the UNESCO Global Geopark San'in Kaigan hosts a spectacular diversity of geological sites related to the formation of the Sea of Japan.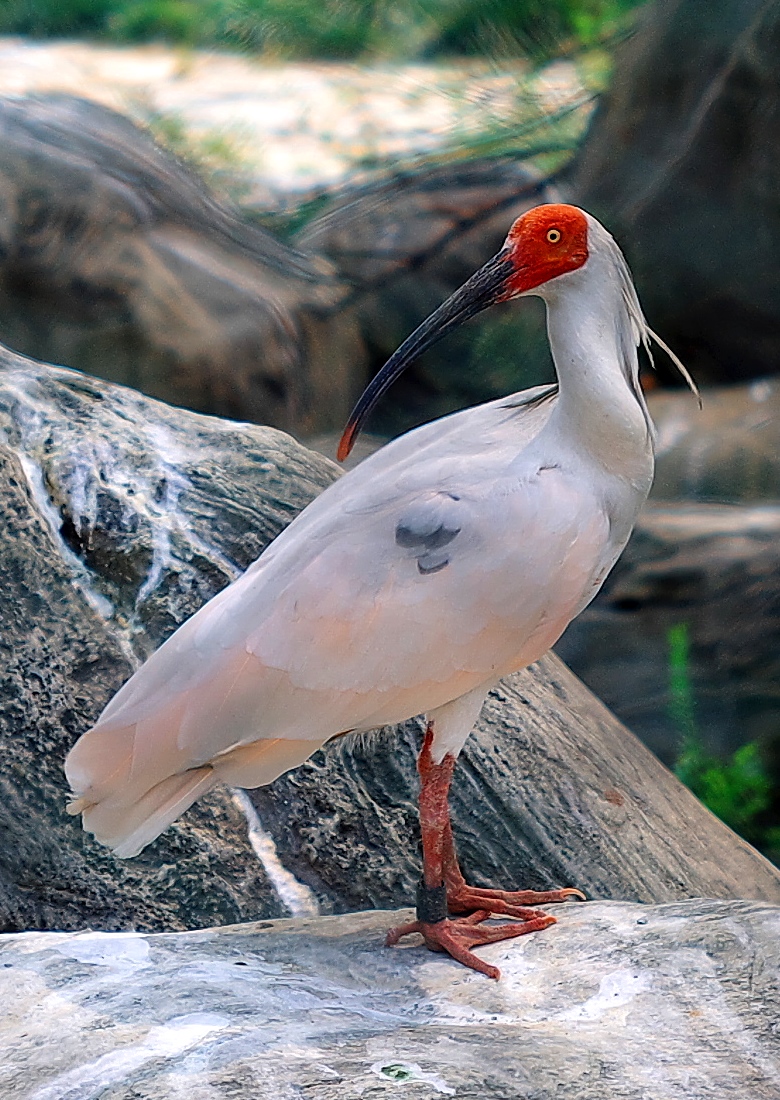 Average day temperatures in summer sit around 31ºC, dropping to approximately 7ºC during winter months. The islands are cooler year-round and have a lower average monthly precipitation of 130 mm compared with 150 mm on the mainland.
Evergreen broad-leaved forests used to cover much of the landscape in this ecoregion, but have now given way to human settlements or been replaced with secondary forest or plantations. Where primary forest remains, the canopy tree layer is largely formed of Persea thunbergii and Castanopsis cuspidate, also known as 'shii'. Camellia japonica or 'yabutsubaki' with its vibrant flowers is characteristic in the understorey alongside mochi trees and other evergreen broad-leafed species.
Japanese laurel, paperplant, noble orchids, and dwarf lilyturf are some of the species to be found in the shrub and herb layers. Along the coast, Glehnia littoralis, Viticetea rotunifoliae, and Salsola komarovii or 'land seaweed' are common, whilst at Amanohashidate, more than 5,000 pine trees grow along the sandbar, creating a spectacular view and serving as an important windbreak. Owing to the complex topology, San'in Kaigan is home to several rare plant species including Pseudolysimachion ornatum and Ranunculus nipponicus.
Japanese macaque—forming the northernmost population of any non-human primate species— Japanese serow, and the Japanese dormouse can all be found in the ecoregion and are endemic to Japan. Large numbers of sika deer can also be found across the area. Avifauna includes the Japanese pygmy woodpecker, narcissus flycatcher, Baikal teal, non-breeding populations of mandarin ducks, and the endangered Oriental stork.
Endemism is high on the islands, including the endemic Oki salamander on Okinoshima, and the endemic and near-threatened Sado mole and Sado hare—a subspecies of the Japanese hare—on Sado. The Japanese crested Ibis—a culturally valued species that went extinct in the Japanese wild in 1981—is currently bred in captivity on Sado, with some individuals successfully released into the wild on the island in 2008.
High rates of deforestation in Japan following World War 2 means that much of the original forest has been replaced with plantations of species such as Japanese cedar. Clearance of primary forest has also been undertaken to make way for rice paddies and other agricultural activities, whilst urban development along the coast has damaged much of the region's ecosystems.
On Sado, however, a more harmonious relationship between people and nature has been encouraged, with large natural areas managed alongside converted land and more sustainable production systems adopted by farmers. This has been developed to support crested ibis populations on the island, although an ageing human demographics and subsequent abandonment of terraced fields poses a further obstacle to the birds which depend on a varied landscape for their survival. Several protected areas exist across the ecoregion, and the sacred, men-only island of Okinoshima is a UNESCO-designated World Heritage Site.
Alongside urbanisation and loss of primary and secondary forest in the area, the impact of increasing and expanding sika deer populations is having a serious impact on forestry and agricultural lands, as well as causing issues such as deer-vehicle collisions and the transmission of parasites to urban areas. Their rapid increase in numbers can be partly attributed to the decline of Satoyama environments—a mosaic of croplands, grasslands, and forests—which have been increasingly abandoned due to population decline and ageing. This has resulted in the development of more monotonous landscapes which favour sika-feeding. Large populations of wild boar and even Japanese macaque have also been reported to cause extensive crop damage.
The priority conservation actions for the next decade will be to: 1) develop a sustainable sika deer-management strategy to minimise further damage to forestry and agricultural areas; 2) continue efforts to restore Japanese crested ibis populations on Sado and across the rest of Japan; and 3) establish sustainable forest management which not only benefits native biodiversity but also increases resilience to the effects of climate change in the region.

Citations:
1. Miyawaki, A. (1984). 'A Vegetation-Ecological View of the Japanese Archipelago'. Bull. Inst. Environ. Sci. Technol. 11: pp.85-101
2. Government of Japan (2014). 'Fifth National Report of Japan to the Convention on Biological Diversity'. [Online]. Available from: https://www.cbd.int/doc/world/jp/jp-nr-05-en.pdf [Accessed 20/12/2019]
3. Noguchi J. (2017). 'Overabundance of sika deer and immunocontraception'. The Journal of reproduction and development, 63(1), 13–16. doi:10.1262/jrd.2016-132