London's green fingers: How Extinction Rebellion is turning protest into guerilla gardening
The sun is setting over the concrete and bricks lining Hackney's streets in east London. On the side of a pavement sits a cardboard box, with the words "free salad" written on the front.
The lettuce was grown just behind the wire fence in a community garden - an oasis among London's grey estates. Inside, makeshift planters hold vibrant flowers, and edible salad leaves in beds. A greenhouse made out of mismatched planks of wood and glass panes can barely contain the overgrown tomato plants.
The Garden of Earthly Delights is one of London's newest community gardens. The capital has seen a rise in edible gardens in recent years; now more than 2,500 are officially registered, as communities band together to grow their own veg in the face of food insecurity, push for more green spaces, and tackle climate change one courgette at a time.
This temporary garden in Hackney is the work of Extinction Rebellion, the activist group that's blocked streets and held rallies in an attempt to hold governments accountable over their inaction on climate change.
One month ago the Hackney group decided to extend their approach to environmental activism to the community. They found a small patch of derelict land awaiting development in a heavily urbanized and populated area, and moved in with shovels, soil and all things green.
Volunteers built plant beds with discarded planks and leftover wooden pallets, all the tools and equipment sourced from fellow XR members and friends. Vegetables grown here will be offered for the community for free. Picnic benches have been placed among the plants to invite locals to use this space as their own.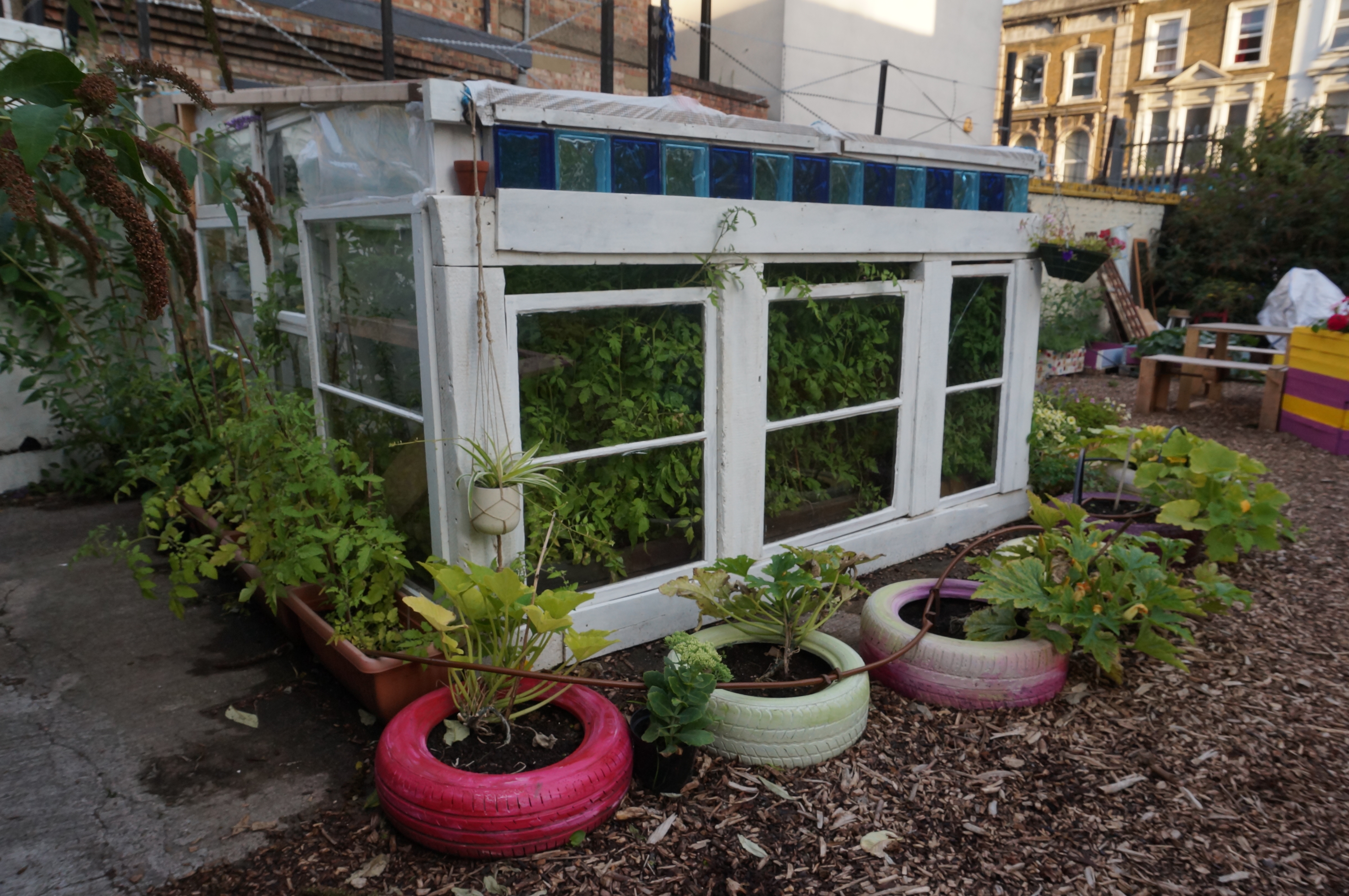 "It's as much as about showing people how to grow their own food, how much they can make out of a small space, but also teaching about global warming and the climate crisis."
Small, urban farms, edible gardens and allotments all have their place in tackling global warming, and defending people and cities from the effects of a changing climate.
A 2016 study from the Johns Hopkins Center for a Livable Future found that urban agriculture could "increase social capital, community well-being and civic engagement with the food system," while enhancing food security, ecosystems, and improving the health and wellbeing of residents.
Writing on the subject for EcoWatch, scientist and environmental activist Dr David Suzuki said: "Local and urban agriculture can help reduce greenhouse gas emissions and recycle nutrient-rich food scraps, plant debris and other 'wastes'."
"Cities will be at the forefront when it comes to climate change," says Sally Morgan, co-author of The Climate Change Garden.
While London's guerilla gardeners are aware these green patches won't solve the city's environmental problems, small changes are possible and can have a ripple effect throughout communities.
These spaces have a huge potential to influence how people think about food and sustainability – and at the very least the value of green space and nature.
"It's about giving green space for the community to use," says Auberon Bayley, operations manager of Cultivate London, a social enterprise and urban farm. He manages various sites across west London, where young, unemployed people are taught landscaping, horticulture and how to grow food.
We meet at a pocket of green in the centre of an apocalyptic-like building site in Acton, a neighborhood that's undergoing rapid redevelopment.
Council homes have been ripped apart and families moved in place of new buildings and housing. But this small garden has managed to stay surrounded by all of this change.
"Here we grow edibles, vegetables and wildlife spaces. The more people come along and do a little bit of planting, the more they'll start to take that back with what they're doing. Their balconies could be used, any little space," says Bayley.
Although he acknowledges urban agriculture won't solve climate change and our inefficient food system, Bayley has witnessed young people from the area who previously had no interest in horticulture develop a serious passion for gardens, green spaces and growing their own food. This, he says, is very powerful.
October 25, 2021