Meet the people behind the political climate movement taking North America by storm
Dr. David Suzuki marches up to a podium at the middle of the stage at one of the oldest churches in Canada's capital city.
It's a Friday night and one of the first nights of summer - but, still, Suzuki steels himself to speak to roughly 300 people of all shapes, sizes, abilities and ages.
They are all here to learn about a new policy initiative called the Green New Deal - that claims to deliver the best way forward for a sustainable future.
Suzuki, 83, is one of Canada's best-known climate activists. He has been advocating for climate change policies since the 1970s through his work first as a science broadcaster for Canada's public television network, then as a philanthropist and activist through his own foundation.
Suzuki said the landmark report from the United Nations Intergovernmental Panel on Climate Change last October, which said the world's most stringent climate-change goals will not be met by 2030 unless 'aggressive' action is taken by world leaders, is the harshest warning scientists have issued in his lifetime.
Even a rise of 1.5 degrees Celsius could have catastrophic results for the planet, the report stated, including an uptick in climate refugees, climate-related deaths and severe natural disasters.
Now more than ever, Suzuki explained, it is the time for young people to take their lives into their own hands.
The church erupted into thunderous applause for the veteran climate activist.
A volunteer then led the group in a chant, where the crowd repeated three words one after another.
"Green New Deal, Green New Deal!," they shouted.
The Green New Deal movement was brought to the American public's attention by Senator Ed Markey and Alexandria Ocasio-Cortez, the recently elected 29-year-old American Congresswoman whose progressive agenda is taking Washington by storm. Their deal promises to stimulate the American economy while simultaneously addressing climate change and economic inequality.
"As towns and cities go underwater, as wildfires ravage our communities, we're going to pay," Ocasio-Cortez said in defense of the Green New Deal in a now-viral speech at a March committee meeting.
Ocasio-Cortez and her Democratic colleagues are borrowing the idea from Franklin D. Roosevelt, who introduced the so-called 'New Deal' during the Great Depression of the 1930s. The deal created a slew of social programming that supported what is often considered the 'three r's:' relief for the poor, recovery of the economy, and reform for the financial system to prevent another depression.
Taking Ocasio-Cortez's lead, Suzuki was speaking at one of a series of workshops hosted by the Leap, an organization that is bringing workshops about the Green New Deal across the country.
Leap founder Avi Lewis, with the help of actress Naomi Klein, penned the Leap Manifesto in 2015, which commits its members to establish a Green New Deal-like policy north of the 49th parallel. Their policy, much like the American version, promises to 'advance systemic change' to address climate change, inequality and racism.
The group is tethered by a slew of celebrity endorsements on both sides of the border including actresses Ellen Page, Cobie Smulders and singer K.D Lang.
The group is hoping to mobilize a diverse group of Canadians before the federal election, held on October 21. To do this, they are hosting bi-weekly workshops to teach people how to mobilize in seven Canadian cities including Montreal, Toronto and Vancouver.
According to an Abacus Data poll, 61 per cent of Canadians approve of the Green New Deal and would like to see Canada reach net zero emissions by 2050.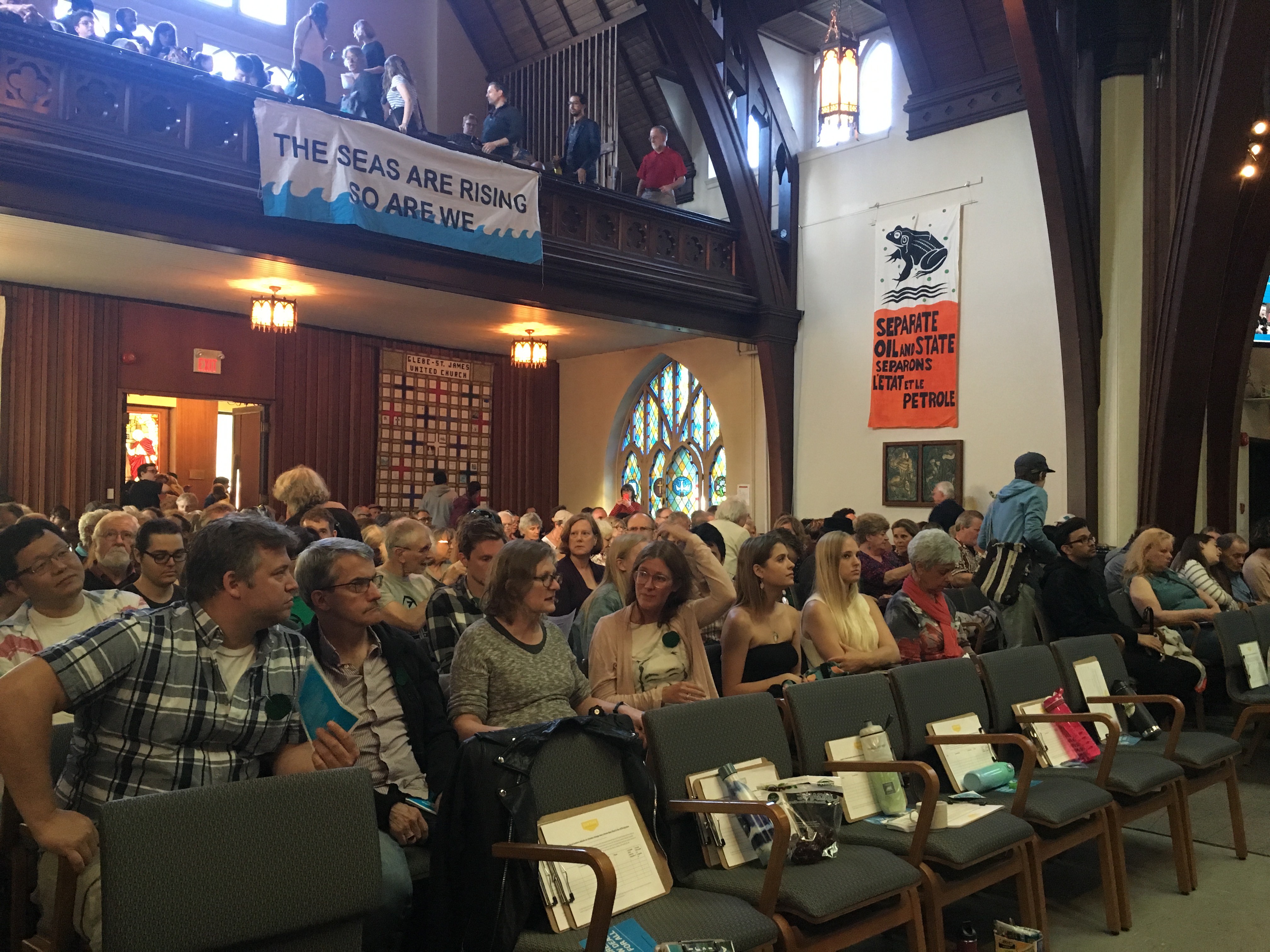 Some Canadian politicians are responding to the idea accordingly. Joel Harden, a New Democratic politician in Ontario, (the largest of Canada's largest 13 provinces and territories), asked his party leadership to formally support a province-wide listening tour to hear what Canadians wanted their Green New Deal to look like.
On June 15th, the Ontario NDP (the opposition party in that province) adopted what they are calling the Green New Democratic Deal. In their version, Ontario would achieve net-zero emissions by 2050 by cutting all emissions in half by 2030.
In a letter penned to his supporters, Harden said there are differences between what the Green New Deal conversation should look like in the United States and Canada.
For example, Harden wants the emphasis to include what a transition for those in Canada's oil and gas sector would look like.
This might not be easy for Canada as a whole, however, because of the country's dependency on national resources, which represents 15 per cent of Canada's total gross domestic product and produces $10.3 billion in annual profits.
Canada is also home to the third-largest oil reserves in the world (roughly 10 percent of the world's total crude oil supply), coming in after Venezuela and Saudi Arabia.
Lewis said there is still work to be done to mobilize Canadian youth behind this idea - but he still has hope.
"This is the one thing we haven't tried yet in Canada: a true national project," he wrote.
Leap's town halls will continue throughout the summer as a way of getting Canadians prepared to cast their ballots for their federal government on October 21st.
December 1, 2023