100% clean energy bills are snowballing in the states
While the Green New Deal is debated in the halls of Congress, one of the resolution's key policy proposals – moving to 100 percent clean power – is steadily being adopted in blue, purple and red states alike.
To date four states -- California, Hawaii, New Mexico and Washington -- and 120 cities plus Puerto Rico and the District of Columbia are legally committed to reaching 100 percent clean power by 2050 at the latest.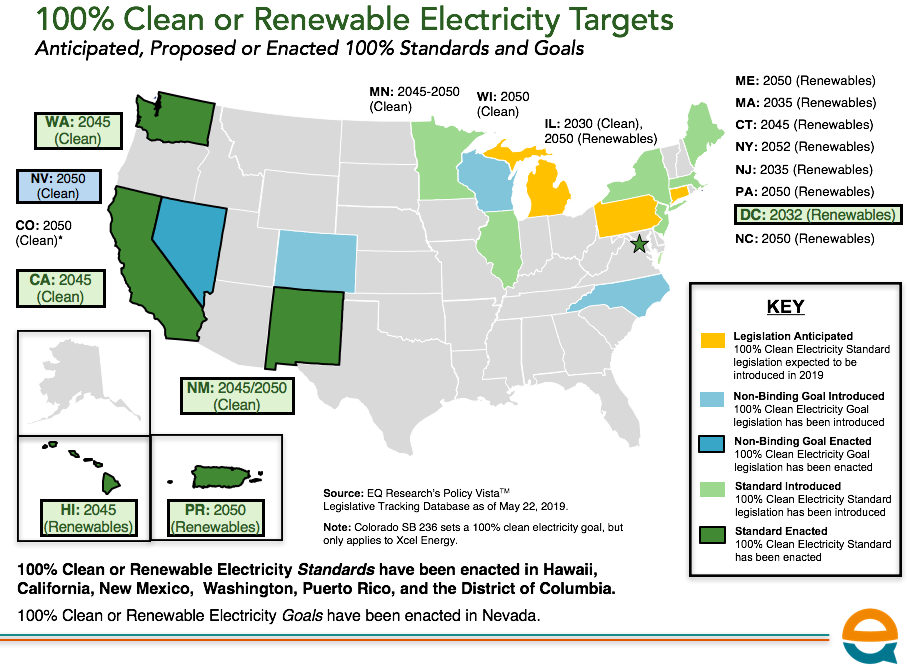 This isn't just a coastal and blue state trend. In April, Nevada passed legislation aiming for 100 percent clean power by 2050. Just a few years ago a similar bill faced steep opposition, but this time passed both chambers unanimously. And last week, Maryland's Larry Hogan become the first GOP governor to support a 100 percent clean energy bill. At least 11 other states have introduced legislation to require or study the potential to reach 100 percent clean energy -- ranging from coal strongholds Illinois and Pennsylvania, to swing states like Minnesota and Wisconsin.
But what exactly is '100 percent clean power'?
It means when we switch on the lights, none of the electricity making that possible comes from carbon-emitting sources. That means no coal, oil or natural gas (unless, in some cases, if it's used with carbon capture and storage technology). A few places, such as Hawaii, are planning for all renewable power (like solar and wind energy), but most are aiming for the majority of power to come from renewables by the 2030s and then 100 percent to come from "clean" power by midcentury. For example, California's bill requires 60 percent renewables by 2030, and the rest from clean sources by 2045 (more on what that emcompasses below).
Using "clean" as broad language seeks to satisfy the range of stakeholders who want to see action on climate change, but differ on how fast we can get there, how much it will cost and what solutions should be used. "Clean" therefore includes both renewables such as solar and wind, (often coupled with batteries to store the energy for later use), as well as carbon-free sources like nuclear and potentially even some natural gas if it's used with a system that captures the carbon emissions. Hydropower is also usually categorized as "clean."
Just a few years ago it was hard to imagine nearly a third of U.S. states moving toward robust climate action. This juncture has been made possible by two main factors: increased public interest in and sense of urgency over climate change, and matured renewables technology that makes the transition not only possible but economical.
First, two major scientific reports released late last year -- the United Nations IPCC report and the U.S. National Climate Assessment -- layed out in stark terms the rapid and unprecedented changes the world must undertake over the next decade to avoid the most devastating impacts of climate change. These reports have helped to launch climate change and the demand for solutions into the public conversation. The good news is that polling shows most Americans across the political spectrum feel good about at least one of those solutions: renewable energy.
The technology needed to remove carbon from the power sector, which is responsible for about a third of all U.S. greenhouse gas emissions, is cheap. Why wouldn't we deploy this readily available solution? Renewables even without subsidies are now routinely the cheapest source for new electricity generation in the U.S., and analysts predict that solar will be cheaper than natural gas "just about everywhere" by 2023. We're already seeing this play out: since the start of 2019, Indiana regulators rejected a new gas plant over concerns it would be more expensive than renewable alternatives, and an Arizona utility decided to fill a need for new capacity historically met by gas with one of the largest battery storage initiatives in the country that will be paired with solar installations.
The fact is that people love clean energy , it's a job-creator, and enjoys bipartisan support. Clean energy jobs outnumber those in fossil fuels by nearly three to one -- the fastest growing occupations in the U.S. are solar installer and wind technician. All 10 of the top Congressional districts for installed wind-generating capacity are held by Republicans. It's a winning issue: in the 2018 midterms, seven states flipped to Democratic governors, and all of them ran in some part on clean energy.
Though it can be easy to feel discouraged by lack of climate action at the federal level, look no further than the states for renewed inspiration. Just think that less than a year ago only one state - California - had committed to 100 percent clean electricity, and now at least 18 are looking in the same direction.
October 25, 2021