A case for grass and trees: drylands regeneration
We've all heard it; planting trees is going to save the world. The problem is, in the dry foothills of Colorado, you can't get trees to grow--not without a lot of extra water and attention.
So when Nick DiDomenico set out to plant 1000 trees in 2018 without any irrigation near Lyons, Colorado, a lot of people thought he was nuts. Four years later, nearly 90% of those trees are still alive.
Drylands Agroecology Research is all about pioneering techniques for restoring degraded landscapes in arid settings with little to no irrigation. One of their key focuses is agroforestry--the integration of forest and cropping systems. In dryland settings, where terrain permits, DAR digs swales along the contour lines of the landscape. Whenever precipitation does fall, it pools in the basins of these heavily mulched swales. Local soil scientists have been astonished to discover moisture in these basins months after the last precipitation event. It is in these swales that DAR plants woody fruits like apples, pears, mulberries, wild plums, and golden currants, interplanted with Nitrogen fixing nurse plants. Not only will these one day produce valuable yields for humans and livestock alike--they will also produce shade and organic matter, which will further enhance the landscape's ability to retain water.
The truth is, trees are going to help save the world, but they are only part of the equation. There's a lot to be said for grass. In fact, the most biodiverse and productive landscapes in the Northern hemisphere are integrated tree and grasslands--savannas. In the alleyways between contour swales, grass holds down the fort. And with careful management, grazing animals (in DAR's case, sheep) can be used to regenerate degraded grasslands. Pasture might not sequester as much carbon as a forest--but when increasingly habitual fires sweep through, most of that carbon is stored safely underground. In the pastures between contour swales at DAR's pilot farm, organic matter percentages are now 3.7% higher than in the adjacent open space.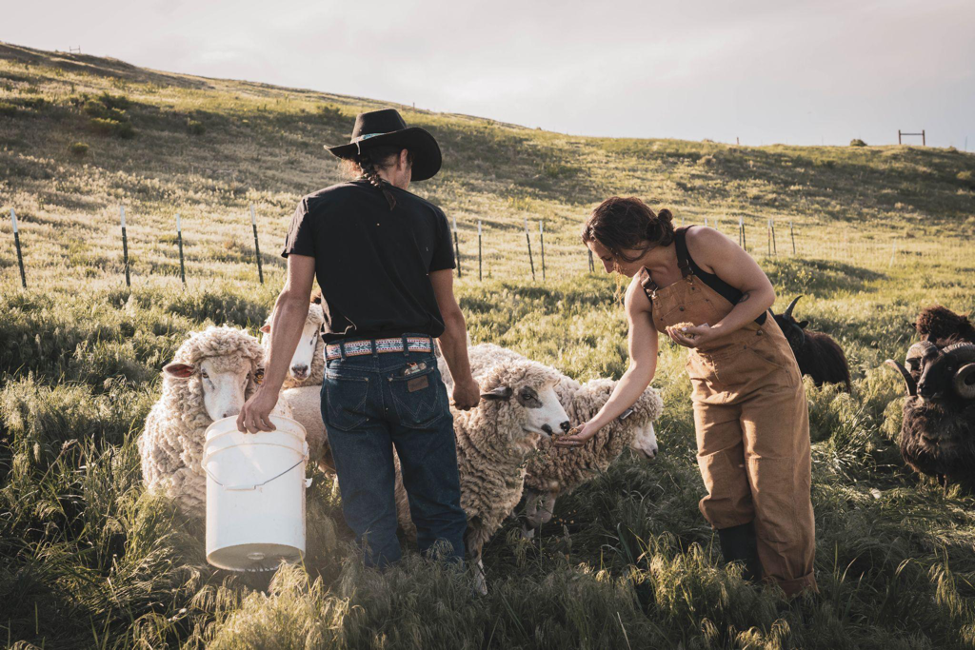 The easiest way to turn grass into human food is through a ruminant. But the second easiest way is to grow grain. Like it or not, humans are highly reliant on these productive annual crops, which is why DAR is making a point of trialing and breeding the most drought-resilient varieties. Roughly a quarter acre of DAR's pilot farm used to be a compact gravel parking lot. After six years of rotations of pigs, chickens, organic matter, and grain, it is now 5" of deep black topsoil. This has been the test bed for crops like Hopi blue corn, Hopi black beans, amaranth, and grain sorghum. With only limited spring irrigation, these crops have demonstrated increasing yields and vigor every year for four contiguous years.
In 2015, the NRCS told Nick DiDomenico that his 15-acre property could not be farmed. Seven years later, it has become the heart of a much larger regeneration project. With 100 acres currently under stewardship, the goal is to take on an additional twelve land partners within the decade and to develop a program to train young farmers and land stewards to effectively design and manage many more acres. Our hope is the wisdom of nature and our ability to understand and replicate it.
August 25, 2022