Conservation Hero: Leng Ouch
Each week One Earth is proud to feature an environmental activist and hero from around the globe who is working to create a world where humanity and nature can coexist in harmony.
Cambodia's forests are an indispensable resource for the country's population, with approximately 830,000 Cambodians living in rural areas and depending on small-scale agriculture for sustenance. Having grown up in a family of poor farmers, Ouch's family lived in forests, feeding off the land for food and using plants for medicine. After the Cambodian civil war came to an end, Leng was largely left on his own. Enrolling at a local school, Leng won a scholarship to attend law school. This is where his work began to help the uneducated and poor stand up for their rights against government abuse. Combining this experience with being raised in the forest, he directed his attention to his roots and focused on illegal logging and land rights, and subsequently founded the Cambodia Human Rights Task Forces.
Starting in the early 2000s, the Cambodian government started issuing Economic Land Concessions (ELCs) -- long-term leasing systems designed to promote large-scale agricultural development. The leasing system was a farce. Instead, it was a cover-up for illegal logging operations, targeting specific species that were then smuggled into China to meet the high demand for luxury furniture made of rosewood trees, long considered a status symbol for the country's growing upper-middle class. This resulted in the forests disappearing at lightning speed making Cambodia one of the top ten countries suffering from massive deforestation. In addition, ELCs oppressed farmers by displacing them from their land, their only source of livelihood -- all for short-term profit for private companies.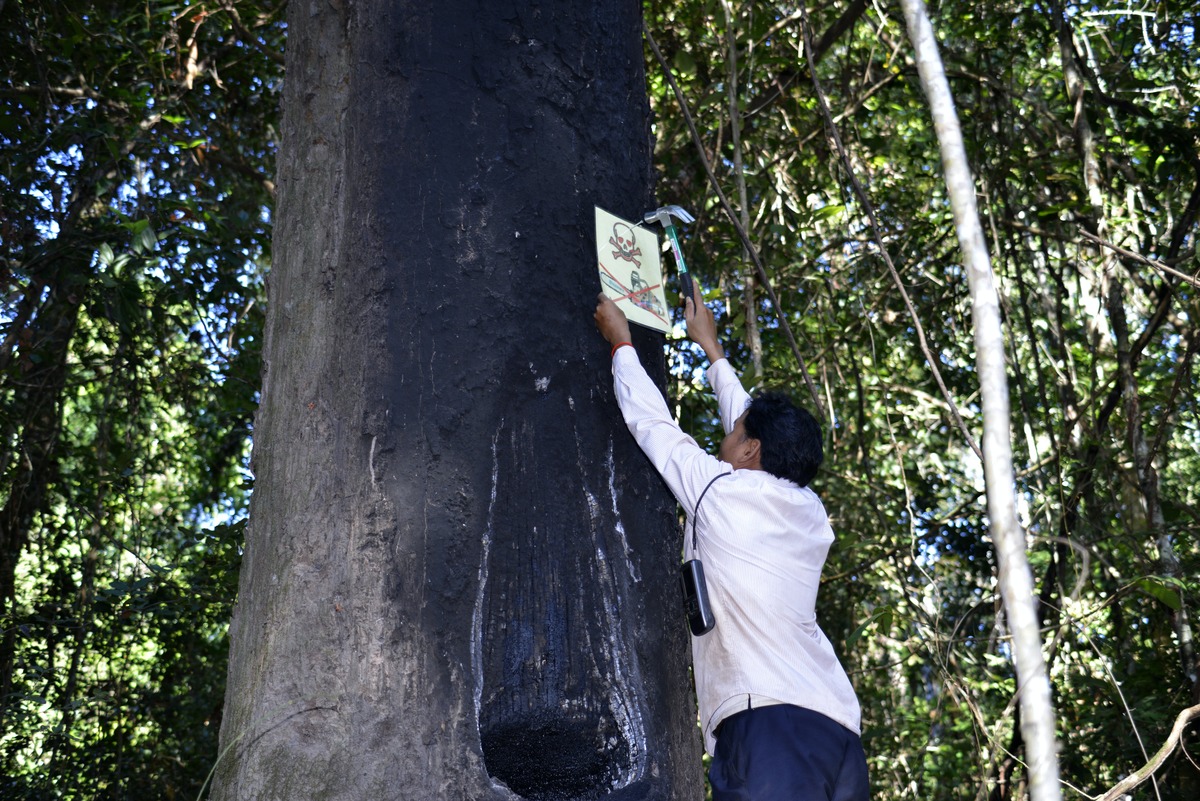 Despite Leng's colleague being assassinated during an illegal logging investigation, he put his life at risk by going undercover to document illegal logging operations, posing as everything from a timber dealer to a cook. After gathering photographic evidence, he publicly released the video footage and photos revealing how ELCs were used as a cover for illegal logging, shining a light on the criminal collusion between government and timber companies. In an unprecedented moment, Ouch's undercover work finally exposed one of Cambodia's biggest timber magnates, where 23 land concessions covering 220,000 acres of forest were canceled.
Knowing firsthand that forests can sustain us, Leng's passion for the forest and education as a lawyer compels him to protest for his forest and his people. Today he continues his work to stop the government from issuing forest clearance licenses and is working with a team of attorneys on international policies to prevent illegal logging.
October 25, 2021