The rufous-throated dipper is an aquatic songbird emblematic to the Southern Andean Yungas—a critical region through which waters from the high Andes peaks covered in snow and glacier above flow to reach the lowland tropical forests below, creating ideal habitats for this little bird that thrive on swift flowing waters. Dippers are amazing in their ability to feed on small aquatic insects in an environment few other birds have learned to exploit—white-water rivers, rapid rocky streams, waterfalls, and otherwise extreme freshwater environments. They are uniquely adapted to the Yungas and their presence is a sign of a healthy ecosystem.
The Southern Andean Yungas ecoregion, spanning across southwestern Bolivia and northwestern Argentina, is loosely bordered on the east by dry lowland vegetation of the Chaco and tightly on the west by the Bolivian Montane dry forests. The wet and humid climate is deposited by northern trade winds, and rains typically exceed 2,500 mm/yr. The altitude generally ranges between 800–2,500m, but may reach heights exceeding 3,000 m. The habitat is evergreen forest, with canopy height typically not exceeding 15 m. Between 1,200–2,500 m, the forest is dominated by Andean alder and mountain pine or Queñoa trees. At lower elevations these species form a mosaic with other trees, especially Lauraceae and Myrtaceae families.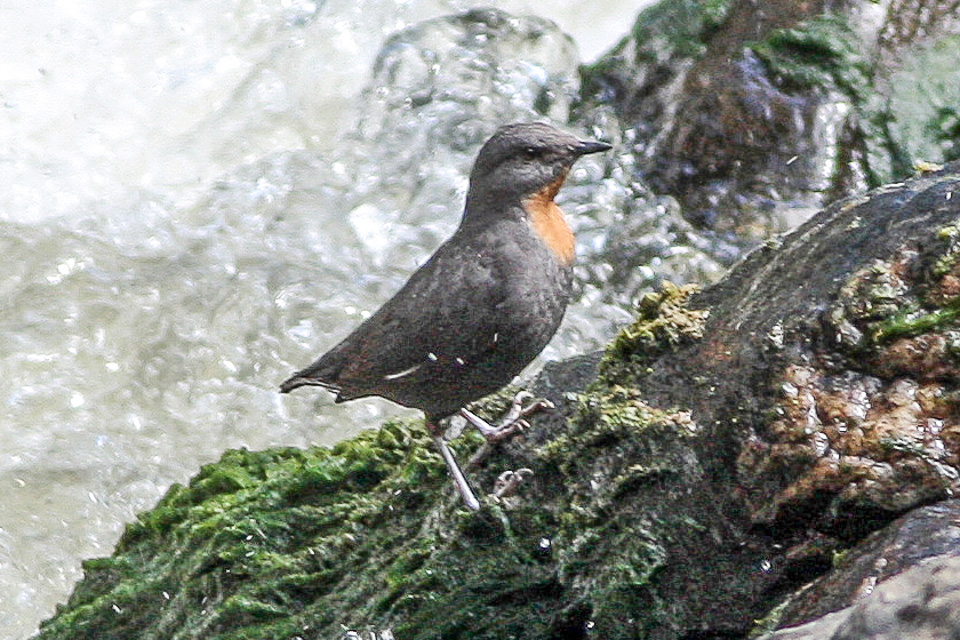 This ecoregion is extremely fascinating from a biogeographic perspective, as it contains what may be the last of the isolated 'evergreen' forests resulted from Quaternary glaciation 2.6 million years ago. Endemism in this region is also high, including approximately 10 bird species that are range-restricted like the red-faced guan, Rothschild's swift, and rufous-throated dipper. Many tropical-ranged species meet their southern limits of geographic distributions in this ecoregion. Wide-ranging mammals found here include white-lipped and collared peccary, lowland tapir, jaguar, puma, margay, and jaguarundi.
There are a number of National Parks (NP) and protected areas in this ecoregion in both Bolivia (Tariquía National Reserve) and Argentina (Calilegua NP, Baritú NP, El Rey, and Portero de Yala Provincial Park). Unfortunately, most of these parks are of smaller size in comparison to how threatened the region is overall. This was especially the case in Argentina, until most recently the establishment of Campo de los Alisos National Park, which doubled the amount of protected area within this ecoregion. While this is a positive trend, less than 15% of the ecoregion is protected against threats of habitat degradation and loss.
The extent of deforestation in Bolivia has not been documented with certainty, but there are large areas of degraded land as well as large intact regions. The situation in Argentina is grave as more than one-half of the original forest has disappeared, due to logging, agriculture, colonization by invasive pine species, road development, human settlement, and unsustainable tourism.
The priority conservation actions for the next decade will be to: 1) increase the number and size of protected areas in both Bolivia and Argentina parts of this ecoregion; 2) incentivize local communities either through subsidies or awareness programs to protect remaining habitats; and 3) implement habitat restoration programs with native vegetation species, particularly in Argentina, and control the spread of exotic species.

Citations
1. Brooks, D. 2019. Central South America: Bolivia and Argentina https://www.worldwildlife.org/ecoregions/nt0165 Accessed June 19, 2019.
2. WWF/IUCN. 1997. Centres of plant diversity: A guide and strategy for their conservation, 3: North America, Middle America, South America, Caribbean Islands. WWF and IUCN, Cambridge, UK.
3. Stattersfield, A.J., M.J. Crosby, A.J. Long and D.C. Wege. 1998. Endemic Bird Areas of the World: Priorities for Biodiversity Conservation. Birdl. Cons. Ser. 7, Cambridge, UK.
4. BirdLife International 2016. Spizaetus isidori. The IUCN Red List of Threatened Species 2016: e.T22696207A93549661. http://dx.doi.org/10.2305/IUCN.UK.2016-3.RLTS.T22696207A93549661.en. Accessed June 19, 2019.