Western Polynesian Tropical Moist Forests
Millions upon millions of seabirds rely on the scattered, low atolls of this vast Pacific ecoregion for nesting and resting. Rich bird guano helps support simple plant communities adapted to the droughts, storms, and salt of low atolls. The ecoregion has three clusters of atolls and makatea islands (uplifted reefs): 8 atolls in the Phoenix Islands; 4 in Tokelau; and 9 in Tuvalu. Howland and Baker Islands are more isolated further north. Tuvalu and Tokelau receive more regular rainfall than do the Phoenix Islands to the east and Howland and Baker to the north.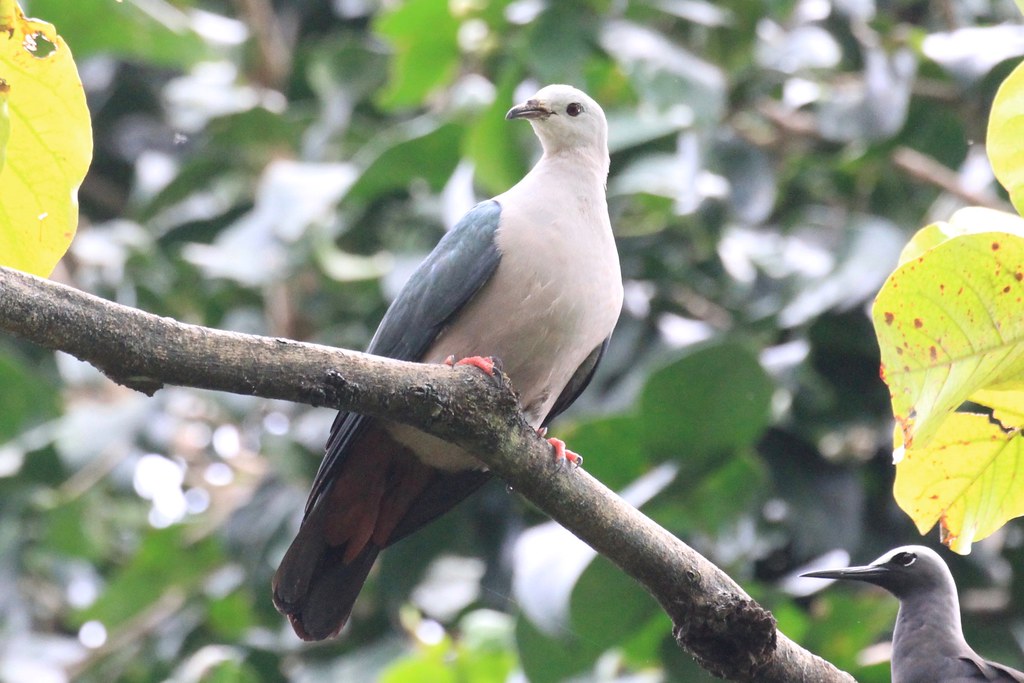 The drier northern and eastern atolls are typically covered with short scrubs of Boerhavia albiflora, Portulaca lutea, Ipomoea macrantha, Tribulus cistoides, Sida fallax, and Sesuvium portulacastrum. Lepturus repens and L. pilgerianus grasses occur in patches. On higher rainfall atolls, Tournefortia argentea, Pandanus tectorius, Guettarda speciosa, Pisonia grandis, Cordia subcordata, and Scaevola sericea trees form inland groves. Triumfetta procumbens, Pemphis acidula, Cassytha filiformis, Morinda citrifolia, Scaevola taccada, and Laportea ruderalis are present. Ferns Asplenium nidus and Phymatosorus grossus occur.
The snake-eyed skink and the mourning gecko occur on the isolated and dry Baker Island. Atolls with more verdant vegetation to the south typically have up to six species of gecko and skinks. Land birds are limited to the Pacific imperial pigeon and the migratory long-tailed cuckoo, though banded rails are reported from Tuvalu. Massive coconut crabs occur on undisturbed islands. Seventeen species of seabird occur in the Phoenix Islands alone, many represented by millions of individuals.
The Tuvalu and Tokelau archipelagos have been inhabited for millennia, whereas Howland, Baker, and the Phoenix Islands have little history of settlement, though the latter have been exploited for phosphate guano mining and military installations. Much natural vegetation on Tokelau and Tuvalu has been cleared for settlement and copra plantations.
Introduced black rats and cats pose major threats to nesting seabirds. Black rats also alter vegetation through seed predation. Polynesian rats consume native crabs and seeds. Introduced rabbits removed vegetation on several of the Phoenix Islands, including Rawaki. Pigs are often released on small islets in Tuvalu and Tokelau, degrading vegetation and harming nesting birds. Invasive yellow crazy ants cause disturbance and mortality among seabirds and native invertebrates. Wedelia is an introduced plant that covers native vegetation. Rising sea levels from climate change may inundate low atolls in the future.
Howland and Baker Atolls are US National Wildlife Refuges. Kiribati's Phoenix Islands Protected Areas is one of the largest protected areas in the world, affording protection to all the atolls. Cats have been eradicated from both Howland and Baker Atolls. Efforts to eradicate rabbits, cats, and rats from several Phoenix Islands are underway.
The priority conservation actions for the next decade are to: 1) continue to eradicate rats, cats, and rabbits from key seabird nesting islands; 2) strengthen efforts to prevent the little red fire ant from invading islands; and 3) work with communities to restore smaller motus (islands) in Tuvalu and Tokelau atolls through introduced species eradication.

Citations
Mueller-Dombois D, FR Fosberg. 1998. Vegetation of the Tropical Pacific Islands. Springer Press, New York.
Pierce R, M Gruber, J Atherton, A Burne, M Valu, A Whistler. 2012. A Conservation Survey of Tokelau. Eco Oceania Pty Ltd, Tokelau Administration and Critical Ecosystem Partnership Fund, Apia.
Tilling AJ, E Fihaki. 2009. Tuvalu National Biodiversity Strategy and Action Plan. Fourth National Report to the Convention on Biological Diversity, Funafuti, Tuvalu.