Environmental Hero: George Washington Carver
Each week One Earth is proud to feature an environmental activist and hero from around the globe who is working to create a world where humanity and nature can coexist in harmony.
Born into enslavement, George Washington Carver became the most prominent Black scientist of the early 20th century with his sustainable farming techniques. At the age of 12 he left home in search of an education, walking ten miles to school and sleeping in a barn his first night. He was accepted into Highland University in Highland, Kansas, but upon arrival was turned away due to his race. After working as a farm hand planting rice, corn, fruit trees, and flowers, he began studying piano and art at Simpson College in Indianola, Iowa. His botanical project was exhibited at the 1893 World's Fair in Chicago and his art teacher encouraged him to pursue a degree in horticulture.
In 1891, Carver became the first Black student to attend Iowa State University in Ames. Gaining his bachelors in agriculture and masters in science, he then became the first Black faculty member at the college. Having achieved a level of notoriety as a botanist, He was invited to head the Agriculture Department at Tuskegee University. His career there would span five decades and lead him to develop new farming methods while teaching generations of Black students farming techniques for self-sufficiency.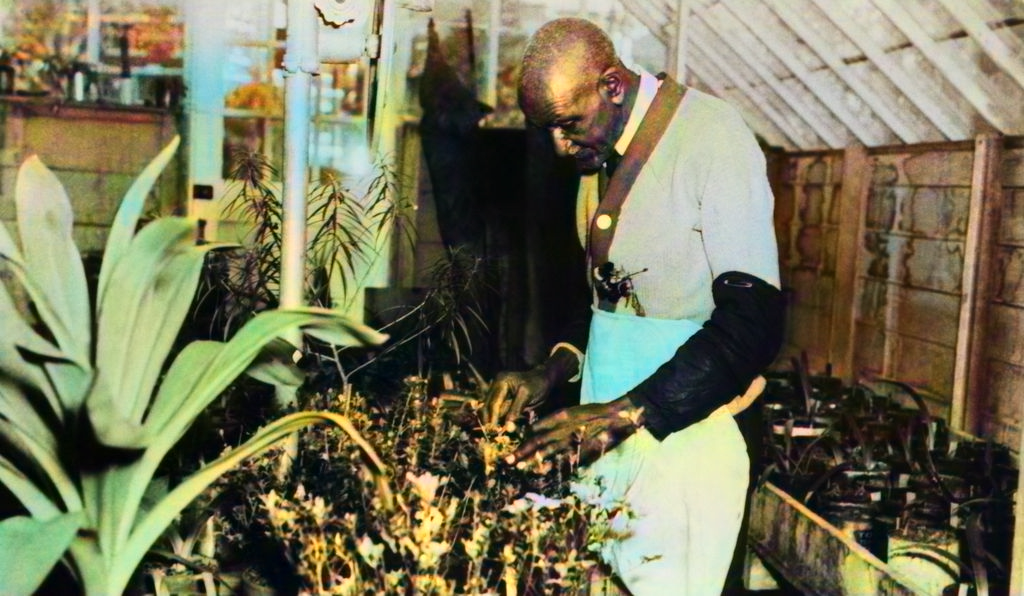 In the early 1920's, the boll weevil beetle migrated to the United States from central Mexico and infested all of the cotton-growing areas in the country. Devastating the industry and those working in the American South, Carver decided to put his methods of crop rotation that he developed as a professor to work. Introducing several different cash crops to the area, farmers could now not only grow food and be profitable again, but also improve the quality of the soil by restoring vital nutrients. Peanuts became his crop of choice and he's reputed to have come up with more than 300 uses to help southern farmers maximize their crop profits. His widely distributed research paper, How to Grow the Peanut and 105 Ways of Preparing it For Human Consumption, provided instructions on how to separate the peanut's fats, oils, gums, resins, and sugars for use.
Three American presidents —Theodore Roosevelt, Calvin Coolidge, and Franklin Roosevelt — as well as Crown Prince of Sweden, Mahatma Gandhi, Henry Ford, and Thomas Edison all sought Carver's advice on agricultural methods. He additionally invented hundreds of uses for soybeans, pecans, sweet potatoes, and over 500 different shades of textile dye to replace ones unavailable from Europe during World War II. In 1941 Time magazine called him the "Black Leonardo da Vinci".
Carver was also an early leader in promoting environmentalism with his sustainable farming techniques and outspoken beliefs on conserving American wildlands. Located in his birthplace of Diamond, Missouri, George Washington Carver National Park is named after him.
October 25, 2021