Gleaning: no produce left behind
One out of six people in the United States is expected to be uncertain of their next meal this year. A country with over 40% agricultural land, the global pandemic is decreasing food security as incomes are lost and small-chain grocery stores in low-income areas shut down. Farmers, like those at Voigt's Farms near Kansas City, aren't going to let this happen without a fight. They have a solution -- one as ancient as the Bible and involves getting a little dirty.
It's by no means glamorous, but gleaning is a sure way to provide nutrition, eliminate food waste, and get a workout in. Gleaning is the process of harvesting leftover crops, such as corn in a field or apples in an orchid. Interestingly enough, the etymology of the word derives from the storied books of Deuteronomy and Leviticus -- farmers should not pick up that which was dropped, their "gleanings." Nowadays, it's not so much a rule but simply, maybe the combine or picker missed it. Perhaps it's too small or too ugly to sell. Perchance, like the growers who sold specifically to restaurants that currently have a decreasing market, it now doesn't make enough economic sense to harvest. Whatever the reason, gleaning groups are sparking up all over the country as everyday people roll up their sleeves and head into the field.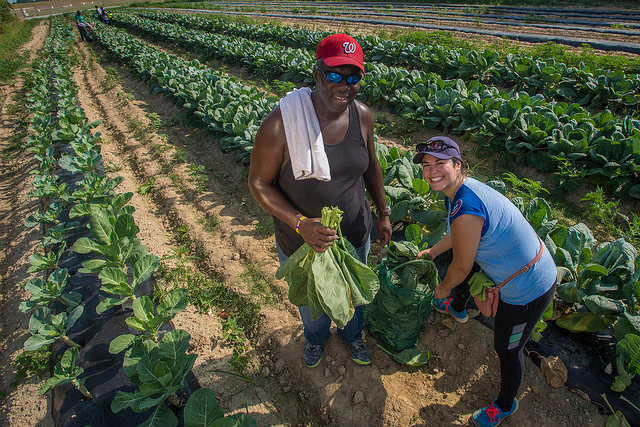 Not only can over 13 million pounds of fresh produce be picked and fed to hundreds of thousands of people in just one year alone, but, as the Society of St. Andrews proudly claims on their homepage, the turn around rate is often within 48 hours of harvesting. That's straight to plate nutrition for those who need it most -- like the 6.5 million U.S. children that currently live in "food deserts" where affordable, quality and healthy foods are inaccessible. An estimated 40% of all food produced is wasted, with 20% during processing and transport. If "food waste" were a country it would be the third-largest emitter of climate pollution in the world, just after China and the United States. More and more farmers, food banks, and agricultural officials are seeing the win-win situation and benefits gleaming can provide to our population and communities.
Volunteers are the main source for the workforce, along with those needing the service who are able-bodied. Organizations like the Society of St. Andrews and After the Harvest, gather crews by the hundreds and walk rows of beans, watermelons, peppers, cucumbers, insert-you-local-produce, picking the old school way -- by hand into a basket. Who can join? Anyone! Contact a gleaners group near you by visiting the Department of Agriculture's website, contacting the USDA Office of Communications, or calling your local Chamber of Commerce.
Supporting these collectives by word of mouth is vital as well. Many growers see their fields finished after just one time through when there is so much left to be reaped. Not only can their harvests be maximized and good food go directly to those who need it most, but also gleaming makes the most out of the land we are using -- reducing food waste and the carbon emissions that come from it.
October 25, 2021