Net Zero targets set for G20 countries through scientific collaboration
G20 nations are responsible for 80% of global energy-related CO2 emissions and are therefore poised to make the largest impact by adopting policies in line with limiting warming to 1.5˚C. A new report by The Foundations Platform (F20) and scientists at the University of Technology Sydney, Institute for Sustainable Futures (UTS/ISF) presents renewable energy targets for the G20 countries to help inform political decision-making and encourage the G20 to set clear and measurable targets for renewable energy in the coming years.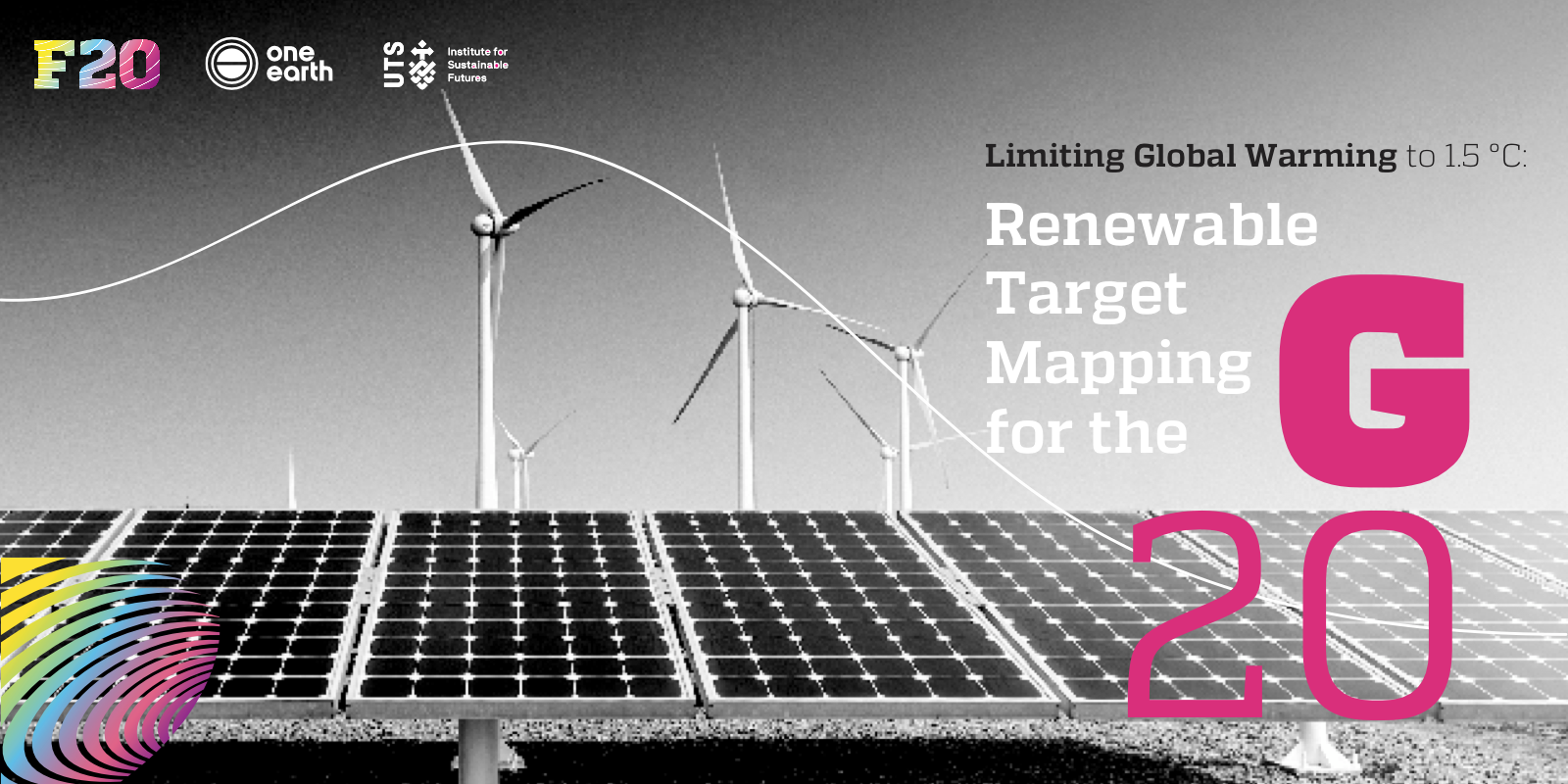 Currently, G20 emissions have risen by 2.5% per year since 2005, a trend which, if continued, would quickly blow through the remaining carbon budget set by the IPCC. Because current policies are too slow to remain below 1.5˚C, drastic changes in existing energy policies are required to support energy efficiency and the uptake of renewable energies. Establishing legally binding targets for renewable energies has proven an effective and successful policy measure, and it would increase the investment security for the renewable energy sector and will encourage the global finance industry to provide the required support.
This report lays out science-based targets for electricity, heat, transport, and overall primary energy from now through 2050, when a total decarbonization of the global energy system must be reached. The study found that, by 2030, the G20 states should get 64% of their primary energy from renewables, with 71% of electricity, 62% of transport, and 57% of heat generated from renewable sources.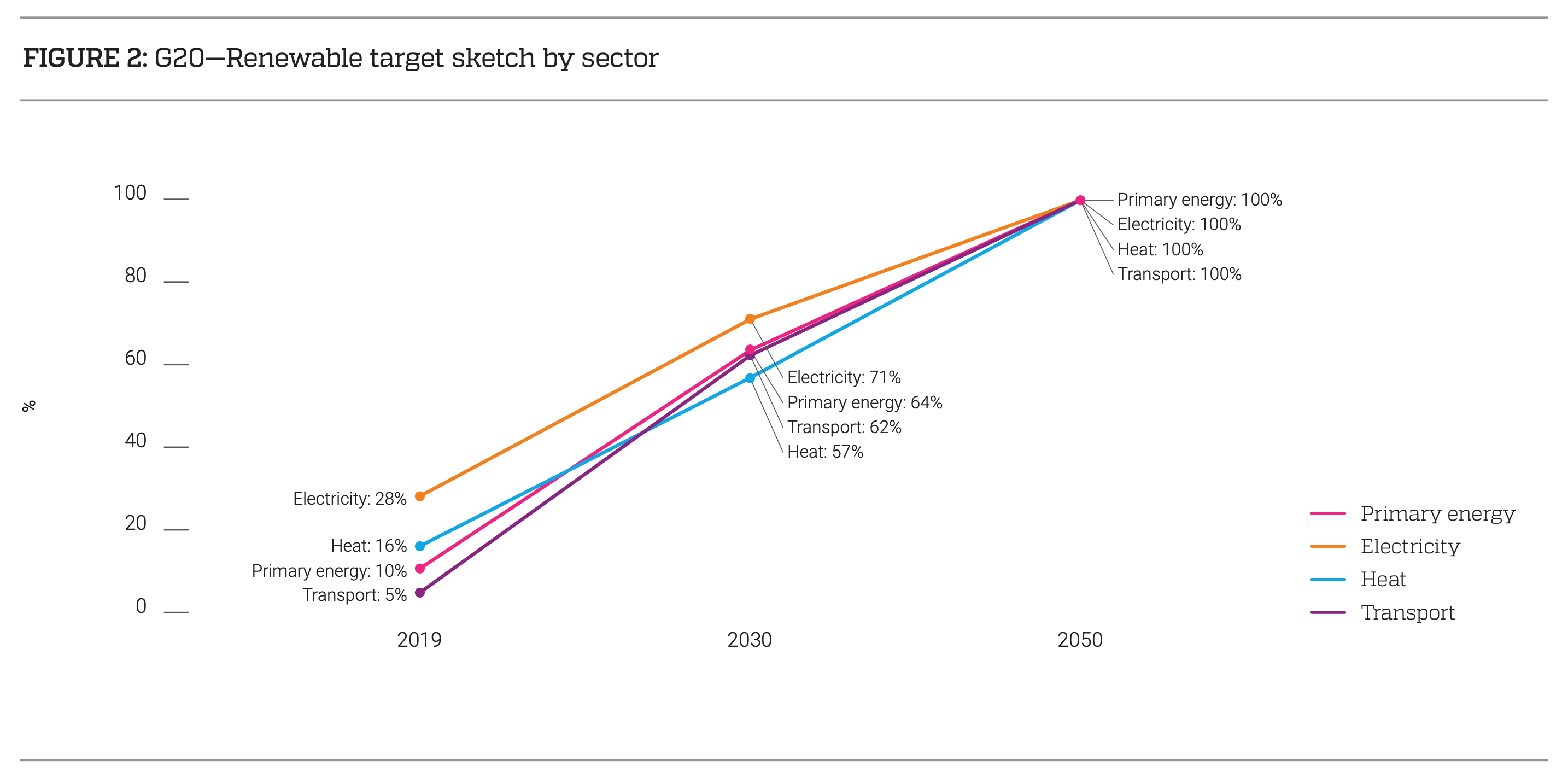 To ensure that the potential for renewable energy was not the barrier to adopting 100% renewable energy, GIS mapping was used to estimate the solar and wind potential in each G20 state. Excluding protected areas, urban areas, and roads, the study found that the solar potential of the G20 states could supply 2019 electricity levels 37 times over, and onshore wind could generate 18 times the current electricity demand. For example, the US has a theoretical solar potential of 107,194 GW and a projected demand of less than 2% of that potential. Even as electricity demand increases, renewable sources should be ample if the G20 states adopt the right incentives and policies.
In order to ensure renewables are adopted on this schedule, the report recommends a set of energy-related policies. They recommend that G20 states set a renewable final energy target of 60% by 2030, renewable electricity target of 70% by 2030, and a renewable heating target of 55-60% by 2030. They also advise the G20 states to set a long-term 100% renewable electricity target on a timeline determined by their Nationally Determined Contributions (NDCs); for example, rich nations should set this benchmark for 2035. To facilitate this transition, each G20 nation should also set energy efficiency targets of 4% year over year and ramp up energy storage targets to increase grid stability and flexibility.
Currently, only the United States has set a federal 100% renewable energy standard for the government's own operations, and the study finds this to be a powerful standard. Other countries should set targets for 100% renewable energy and zero emissions in their own governmental operations. In that vein, the study recommends that each G20 nation should create a transition authority responsible for monitoring and evaluating progress toward all targets. So far, only the UK and Australia have one in place.
Being responsible for a vast majority of the world's emissions, limiting warming to 1.5˚C will largely depend on if the G20 member states can meet these science-based targets. Adopting the recommended policies and monitoring progress against the targets will give us all a chance to stay in line with the Paris Agreement.
Read Report
December 1, 2023