Ottawa could become the new hub of North America's self-driving electric cars
On the outskirts of Canada's capital city are kilometres of winding roads where cars are turning corners over and over again. The roads have all the fixings of a modern North American intersection - massive stop signs, pedestrian walkways, bike lanes, high definition cameras and built in sensors along the light poles.
The difference - there are no drivers inside.
The cars run through a sophisticated combination of indoor sensors and programmed software to get the passenger from point A to point B without the passengers having to put their hands on the steering wheel. Scanners at the front of the car search the area around the vehicle thousands of times per second to make sure everything is safe before the cars continues to drive.
This is the scene at the Ottawa L5 CAV Private Test Track. The acre-wide site is playground to some of North America's first self-driving cars. A wide range of private companies, local government leaders and post-secondary institutions all play a role at the work site to make sure the cars run smoothly. Invest Ottawa, an economic development agency based in the nation's capital, facilitates the partnership.
Sonya Shorey, Invest Ottawa's vice president of communications, said the initiative has gotten a lot of interest from partners across Canada and around the world since their opening date in May.
Chris Keefe, North American Vice President of autonomous car company Aurrigo, is driving the company's expansion to Ottawa. Aurrigo's cars are already being used in other countries in contained areas, like retirement residences, golf courses and university campuses.
Keefe believes Canada's unique climate and, in particular, Ottawa's reputation as Canada's capital city, is a great opportunity for his company to expand.
Canada has been moving quickly to capitalize on innovation in self-driving cars. The government of Ontario, Canada's largest province, launched a 10-year pilot program in 2016 that would allow any person that owned a car with an auto-pilot function to test them on public roads — as long as the government finds their car meets a long list of criteria.
Shorey said they have not heard from any level of government about how fully automated vehicles could be regulated on the roads just yet.
Canada's enthusiasm for the self-driving car industry was recently recognized in a recent report by KPMG, an international consulting firm. Its 2019 Autonomous Vehicles Readiness Index found that Canada was the 12th most prepared country out of 25 for the self-driving car market — but one of the most promising markets in the world because of the country's government-funded AV pilot programs, Canada's high-skilled labour market, and groundbreaking research in artificial intelligence.
Academics are divided on how much self-driving cars can reduce emissions. A conflicting study from the US Department of Energy found the cars could either reduce total emissions by 90 per cent — or increase them by 200 percent.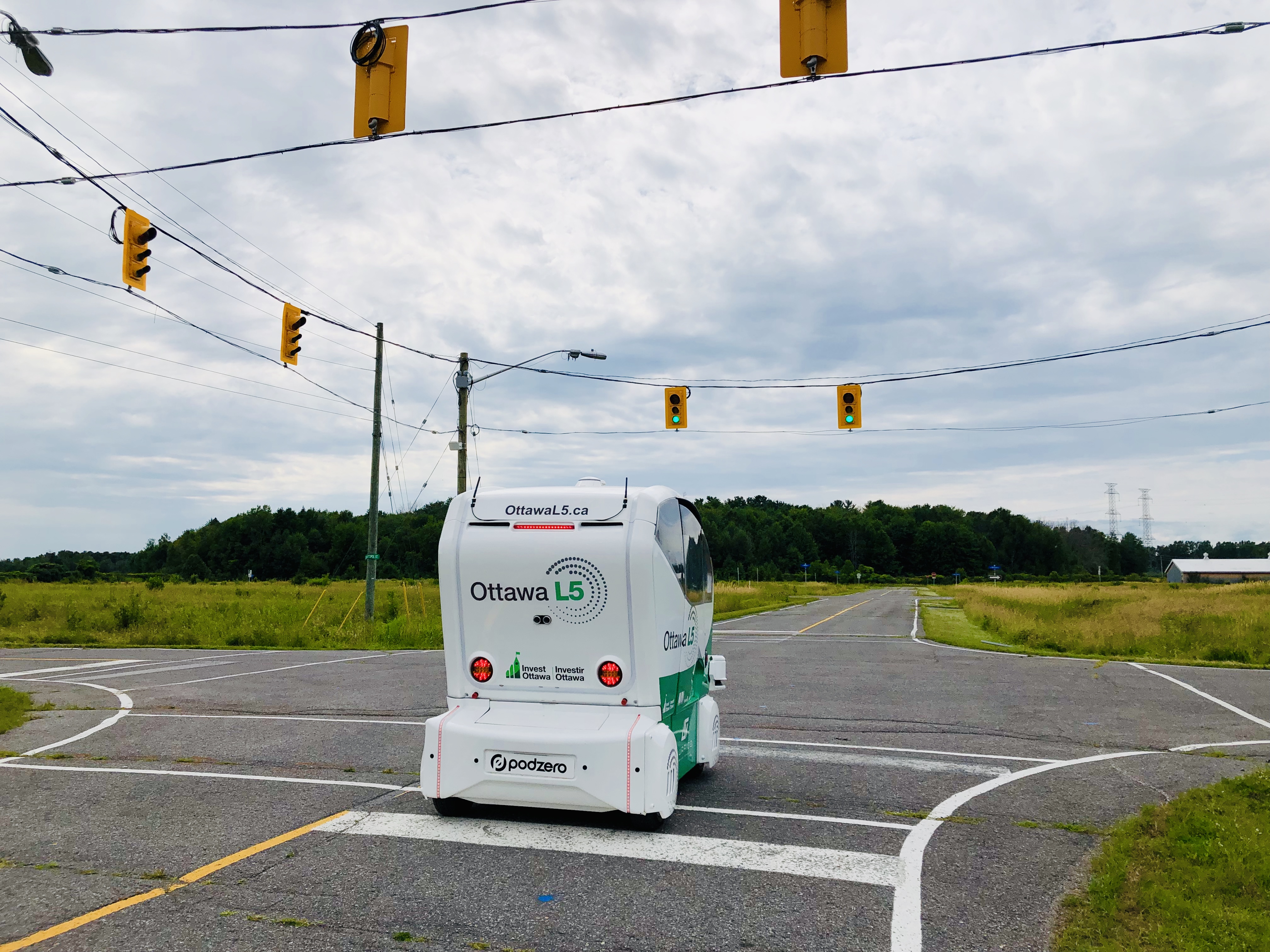 The emissions reduction predictions are extreme because driverless cars are thought to be more efficient on the roads than human drivers, which means fewer people will choose to own cars and choose the rideshare option instead.
Shorey said this uncertainty is part of why the consortium at OttawaL5 exists — so that a wide range of partners from different industries can do the necessary research and testing to measure the potential environmental impacts of these cars.
However, other studies have shown that driverless cars could be compared to rideshare apps like Uber and Lyft.
This is the way that Divyanshu Kamboj, Invest Ottawa's autonomous vehicles project manager, envisions this technology will be used.
One project for Aurrigo (while still testing their cars) will be to create an Uber-esque app that could summon autonomous vehicles by demand.
Rideshare apps like Uber and Lyft are not always good news for the environment. A study by Toronto's Ryerson University found that Uber and Lyft claimed 20 million rides a year from public transit in Canada's largest city. The study did not measure any increase in emissions from this city.
The same problem came up in New York City, leading Mayor Bill de Blasio to declare a temporary limit on the number of rideshare vehicles on the road at any one time.
The OttawaL5 partners are already thinking about climate-resilient solutions to make sure their cars are energy-efficient. Keefe said the end goal for his cars is to recharge them in garage-like facilities using only solar or wind power.
The cars wouldn't need much time either — only five hours to keep their battery running all day long.
Another small ode to climate resilient science is the small black box on every light pole along the road. It sends signals to the automated vehicles so they can determine at what speed they should be traveling.
This, Kamboj continued, will decrease the stopping time of cars at red lights and decrease the energy that the cars expel.
The makers and researchers at the OttawaL5 track are taking their time: there is no fixed timeline for the release of these cars onto Ottawa's city streets — because they know there's still a lot of work ahead.
"We know that the cars get better with time," Kamboj said, as Keefe interjected, "like wine!"
October 25, 2021