Pope Francis urges world leaders to protect 50% of lands and oceans for the survival of biodiversity and humanity
In an urgent message before the upcoming Care of Creation that begins on September 1st, Pope Francis called on world leaders to enact policy to protect 50% of the Earth in order to solve the twin crises of climate change and biodiversity loss.
The Pope's unprecedented declaration also urged large extractive corporations to "stop destroying forests, wetlands, and mountains, stop polluting rivers and seas, and stop poisoning people and food." He stated new fossil fuel investments must end and called for implementing the Paris Climate Agreement to limit global temperature rise to 1.5°C. This powerful message was spread worldwide to the Catholic community and beyond.
One Earth has long been a champion of the 50% target and has played a key role in the ongoing dialogue that led to this announcement along with key allies, the Laudato Si Movement, Avaaz, Resolve, and Nature Needs Half. With the support of over 100 Indigenous organizations we launched the Global Deal for Nature (GDN) petition, calling for the protection of 50% of lands and oceans and the full recognition of Indigenous land tenure rights. The petition, which has been signed by over 3.1 million people, was inspired by an influential scientific paper by the same name (Dinerstein et al. 2018).
The following year, the landmark paper "A 'Global Safety Net' (GSN) to reverse biodiversity loss and stabilize Earth's climate' was published in Science Advances (Dinerstein et al. 2019), provided the first global-scale inventory of remaining natural lands, which found 50.4% of the Earth's terrestrial surface is key to the survival of biodiversity, storing an estimated two trillion tons of carbon.
Importantly, the GSN paper finds that this biologically critical land is not evenly distributed around the world. Each country has a different mix of priority lands, and therefore each country would have a unique area-based conservation target under the CBD's post-2020 Global Biodiversity Framework. Some countries and regions with a large amount of high-biodiversity lands will need much higher targets.
These two papers provide the scientific basis for the 50% target. Whereas the GDN established the necessity of protecting half of nature, the GSN provides a blueprint for exactly where protection is needed most.
To make this data more accessible, One Earth partnered with Google Earth to develop an interactive platform that allows users to explore the various Global Safety Net layers of any location. The GSN viewer is now a primary resource for conservation target setting in the lead up to the 2022 UN Biodiversity convention, with tens of thousands of users in 180 countries.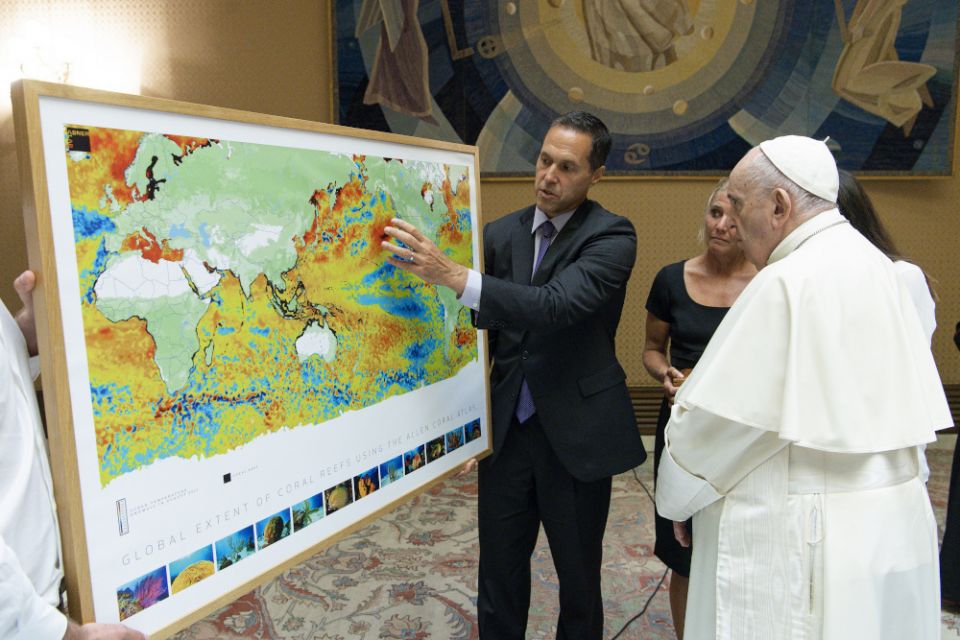 In 2020, One Earth sent a delegation to Rome and presented the Global Safety Net at a key UN meeting to develop the architecture of a new global treaty on nature called the Post-2020 Global Biodiversity Framework. This led to several additional high-level meetings with Vatican officials, including a meeting where ecologist and co-author of the GSN paper, Greg Asner, presented biodiversity science directly to Pope Francis in 2021.
Later that year, coordination between groups pushing for the 50% target — including One Earth, Avaaz, WILD Foundation, Avaaz, CPAWS, Campaign for Nature, COICA, IPACC, Rewild, and key partners at the Nature Needs Half Coalition — helped to pass Motion 101 in the final session of the World Conservation Congress of the International Union for Conservation of Nature (IUCN). The motion is a call to protect at least half of Earth's lands and seas and protect a minimum of 30%, recognizing the important role Indigenous peoples and local communities play in preserving nature and the need for measures to respect and honor their rights and interests.
The Pope's historic statement, along with the passing of Motion 101, comes at a crucial time, as world leaders are set to meet later this year for the COP15 summit of the UN Convention on Biodiversity.
Explore the Global Safety Net
December 1, 2023