Empowering a Student-led Initiative to Restore and Rewild the 700-acre Campus of Emory University
One Earth's Project Marketplace funds on-the-ground climate solutions that are key to solving the climate crisis through three pillars of collective action — renewable energy, nature conservation, and regenerative agriculture.
Re:wild Your Campus (RYC) was born in 2017 when two UC Berkeley student-athletes discovered that herbicides were sprayed around their beach volleyball court. Astounded, the young women spoke to the Grounds Manager and organized the team to pick weeds as an herbicide alternative. This momentum rippled out to become a campus-wide movement, with the Grounds Manager initiating an organic pilot project on the campus' two largest green spaces. Re:wild Your Campus expanded to the rest of the University of California campuses in 2018 and expanded nationally in 2019.
Herbicide-Free Emory (HFE) is one of RYC's university chapters currently in its second year of guidance. Nested in metropolitan Atlanta, HFE works to uplift organic management and sustainable landscaping, and urban development in a region with deep seeded environmental inequities. In 2019, researchers led by Emory professor Dr. Eri Saikawa discovered heavy metal soil contamination throughout Atlanta's urban environment.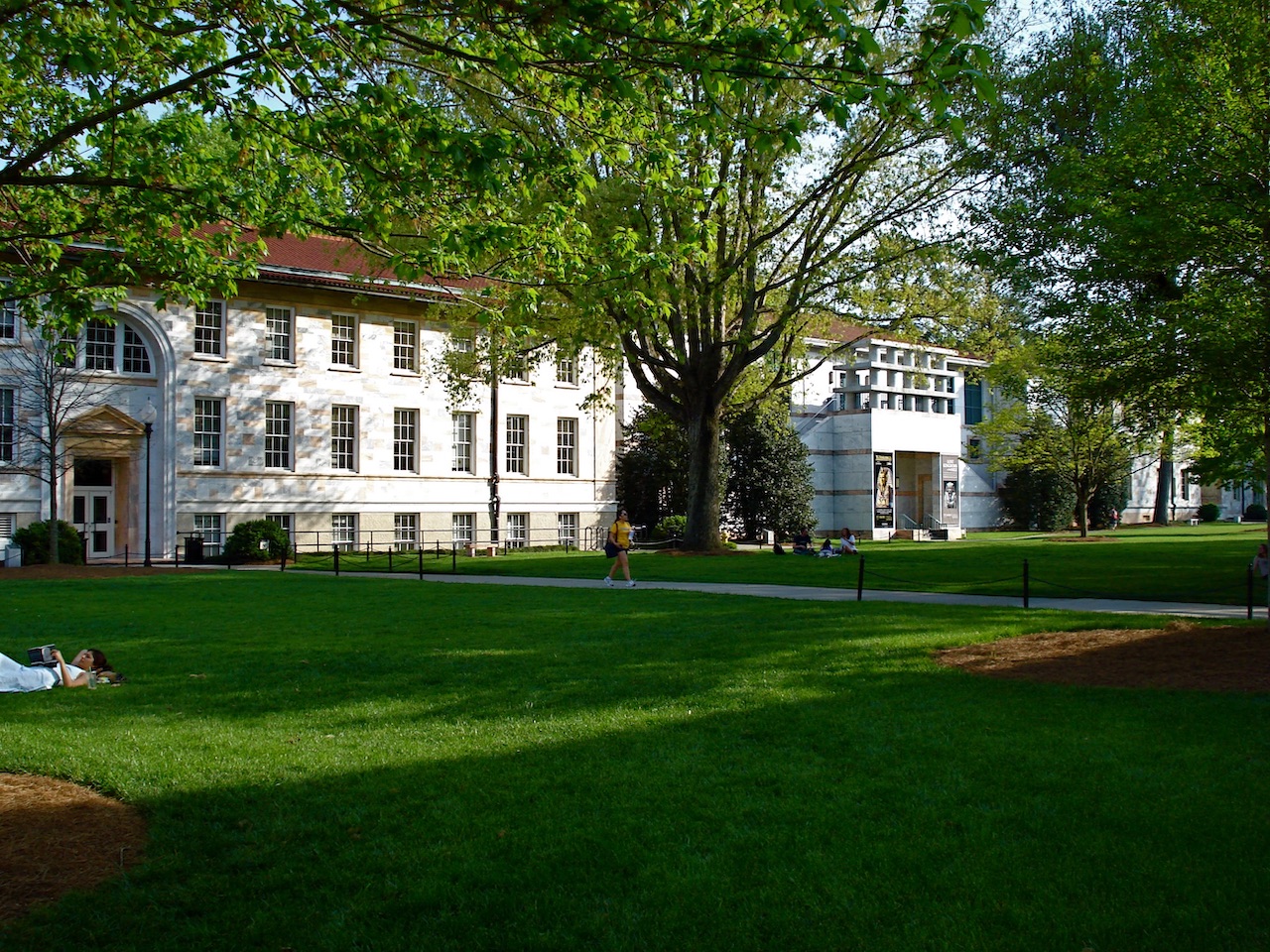 These findings exemplified the danger of pesticide use and other hazardous chemical activities and triggered an EPA investigation into soil quality. Motivated by the detrimental impact of pesticides and industrial waste found in Emory's backyard, Herbicide-Free Emory started their fight to end herbicide application on campus.
RYC's primary objective is that by the end of 2021, Emory University will have committed to phasing out the use of herbicides. This will be achieved by working with administration and grounds management teams to transition away from herbicide use and toward organic land care, with 90% organic land care being the threshold for success. This project strives to institutionalize this change to integrate it within the school's land management ethos.
The Emory team currently handles the campus's 731 acres through integrated pest management—a strategy that is intended to marry organic land care with herbicide usage as necessary. The management reality, however, is a campus dependent on synthetic herbicides. Emory University utilizes herbicides for predominantly two reasons: upkeep of ornamental horticulture and invasive species management.
Focusing on the latter, the majority of herbicide usage is used to fight off invasive plants like kudzu, English ivy, and Chinese privet. There are, however, ways to manage the land without the use of herbicides. We must turn to Indigenous land stewards of the past to implement non-toxic approaches and re-wild spaces for future generations.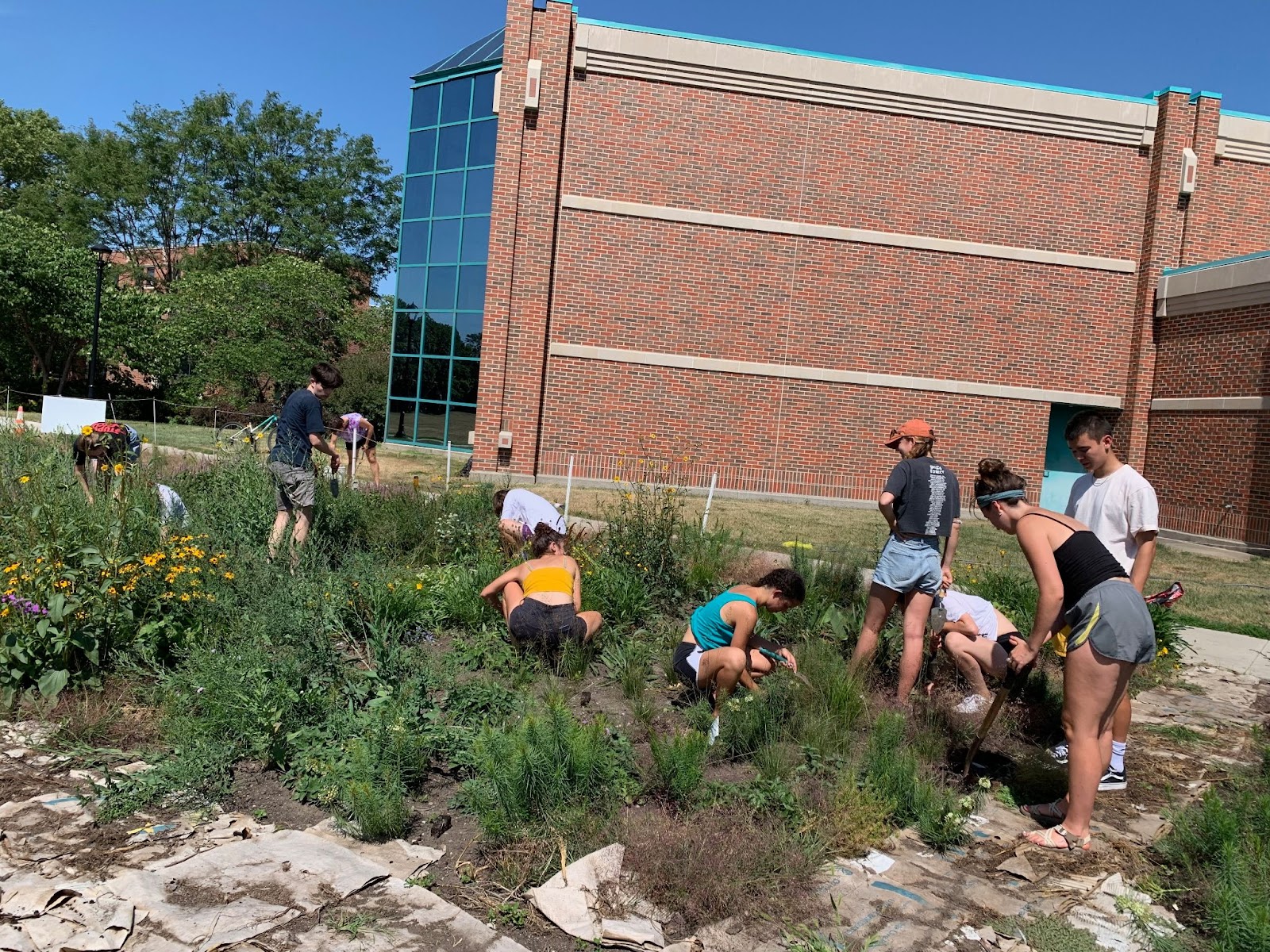 This project will be accomplished in partnership with Emory students, the grounds team, Sustainability Directors, and a professional horticulturist. All stakeholders will collaborate to create a plan for an Organic Pilot Project, which will be developed specifically for Emory's project goals, taking into consideration aesthetic needs, regenerative practices, water usage goals, and existing soil composition. The plan will incorporate native species and will lay the groundwork for what is desired and possible in other areas of the campus.
Success looks like a resounding commitment to long-term, institutionalized change. Emory has the potential to become a model for what safe, sustainable land care can be in the Southeast. Transitioning campus landscapes to organic provides a model and demonstrates a proof of concept with best practices for transforming other institutional grounds and public spaces.
Re:wild Your Campus is generating data to show that transitioning is economical, practical, and scalable.
Since banning neonicotinoids in 2014, Emory University has strived to serve as a sustainable leader in the region. Implicit in this goal is the elimination of herbicide products and, more pointedly, land care chemicals linked to adverse human and environmental health effects. Herbicide-Free Emory was created to advocate for this necessary shift and promote intersectional change that uplifts environmental and climate justice.
A focus was placed on eliminating synthetic glyphosate-based herbicides like Roundup because of the likely carcinogenic nature of the chemical. In response to HFE's efforts, the Emory facilities management team has reduced glyphosate usage by about 25% over 731 acres.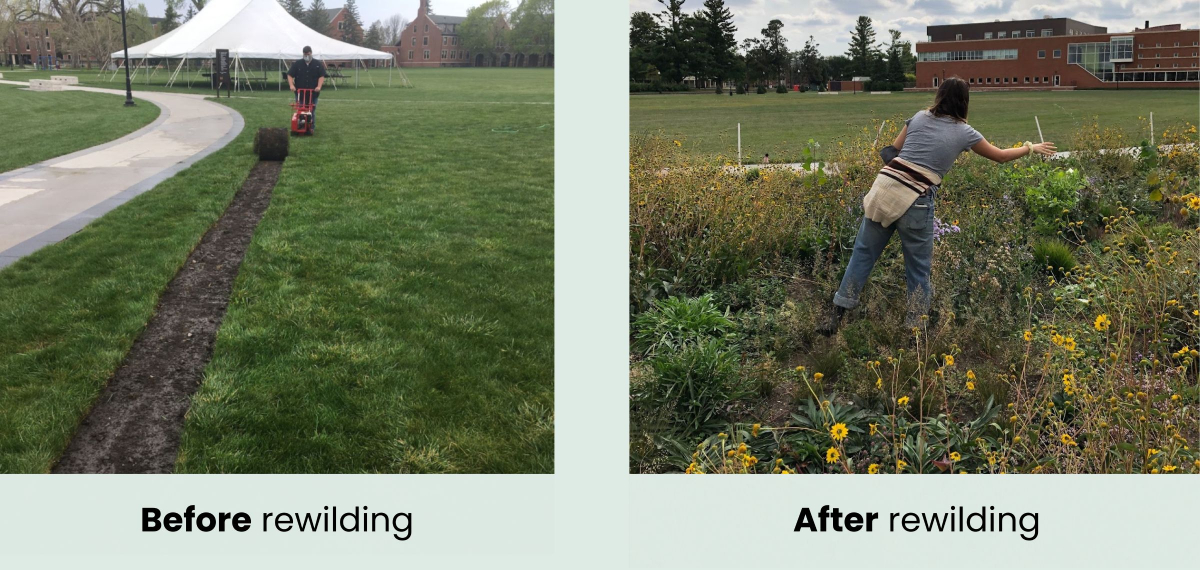 A main tenet of the HFE mission is community education - in the belief that to unify the population against toxic land care chemicals, people must be equipped with knowledge surrounding the issue. HFE works to disseminate easily digestible and accessible scientific information to students, faculty, and general community members. This initiative spans from educational training and events to social media messaging that easily disseminates the scientific research and policy surrounding pesticide use.
The Emory University chapter of Re:wild Your Campus is only one of its many campus communities, as RYC works with campuses across the country to create a site-specific approach to organic land care through student-led initiatives. Its overarching goal is for every school in the country to be herbicide-free by 2030! The work is intersectional and multifaceted, tying the issue of rampant herbicide use to the health of our food system, waterways, climate, soil, and pollinators.
RYC believes that if we empower students to transform their university grounds, not only will campuses be moved to do the right thing due to pressure from students -- who actually hold a great deal of political power in universities -- but students will emerge as interdisciplinary leaders capable of tackling the most pressing environmental crises facing our planet. Re:wild Your Campus uplifts the next generation of changemakers to believe that their voices and visions for the world matter.
Pesticides are also a source of greenhouse gas emissions due mostly to widespread agricultural usage. Shifting RYC's approach to smaller-scale land management reduces global greenhouse gas emissions and contributes to the climate justice movement. As many pattern institutions hold influence over their geographical area and neighboring community, including other institutions and businesses, the success of this project has the capacity to promote greater change.
Similarly, a transition towards organic management will change Emory University's perspectives on food procurement and dining, pushing local farms towards organic and supporting farms and businesses that have already made the transition.