Tuning in for Central India's Climate Radio show
For Vijay Ghosh, last December was stressful. It had rained unexpectedly in Central India's Bundelkhand region, just when he and his neighbours planned to plant their wheat crops in their village of Ujyaan Pathan. To voice his worry, he called a number he knew well: the community radio station.
A few days later, he tuned into 'Khet Khalihaan' on 90.4 FM. The show has become a 'one stop shop' for farmers in the region, reporting on agricultural trends on Bundelkhand's Community Radio channel. Vijay has been listening in for the last 2 years. The whole region heard about his mistimed sowing, while a seed expert recommended alternate wheat crops that could be used to maintain productivity. By harvest season now, Vijay's story has turned around.
"We were expecting only about 1400 kilograms..(but) this year the harvest has been 2000 kilograms," a satisfied Vijay tells me over the phone.
He is a part of the of workers in Bundelkhand who are engaged in agriculture for more than half a year.
Of late, the region has witnessed erratic weather. The last 13 years have a 40% reduction in annual average rainfall, and a 60% decline over the last 5 years. Droughts have become more common than .
This water scarcity has been a push factor for many of the 18 million residents of the area, making Bundelkhand a migration hotspot in the country. Between 2001 and 2011, of the population migrated out of the region.
Another program on the Bundelkhand Radio, 'Shubhkal' (a better tomorrow) has become a popular program focussing on climate impacts and how to mitigate and adapt to unseasonal rains and increasing droughts.
The Bundelkhand Community radio, which is home to both of these programs, was initiated in 2008 by the NGO Development Alternatives.
The Community Radio today covers 150 villages, reaching out to over 200,000 people residing in areas of Jhansi and Tikamgarh.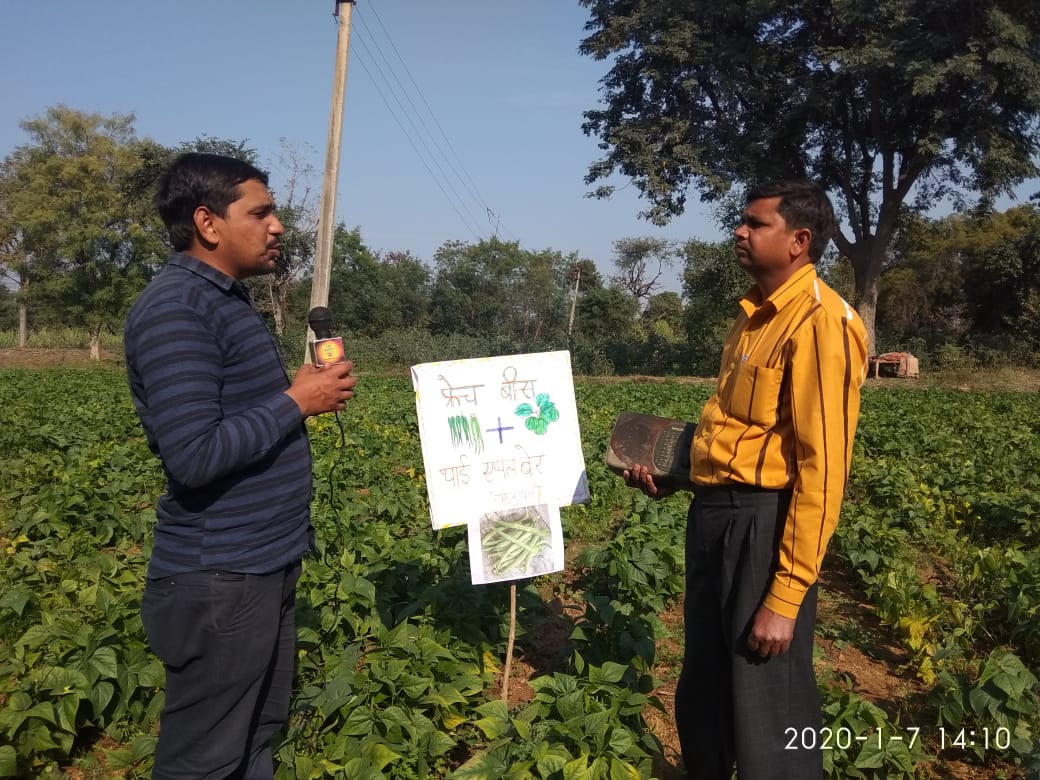 The Shubhkal program emerged from a year-long campaign that the Radio carried out in 2010, called "Kaun Banega Shubhkal Leader?" (Who wants to be a Leader for a Better Tomorrow?). The World Bank supported campaign divided 100 villages into groups, designating each with one of the four themes: agroforestry, rain water harvesting, organic farming and kitchen gardening. It reached about 15,000 listeners, making it the most popular program on the station.
Radio Reporters broadcasted thematic information for villages to adopt the practices. Weekly experts were bought in to monitor the progress of the farmers, which would earn the farmers points. At the end of the campaign the highest scorer was announced as a winner and presented a certificate and ₹10,000 ($USD 130).
"The farmers who were experimenting with agroforestry would call the studio, excited when the fruits started bearing on trees!" exclaims Varsha Raikwar, a radio reporter with the community radio. She belongs to a farmer family from Bundelkhand and is the first woman from her family engaged in a non-agricultural job. to be working outside her home.
"This type of feedback is essential for designing radio programs," says Manish Samadhiya, a senior reporter. The reporters make frequent visits to the villages, discussing the problems faced on the ground, and align their programming and guests around what the villagers are going through.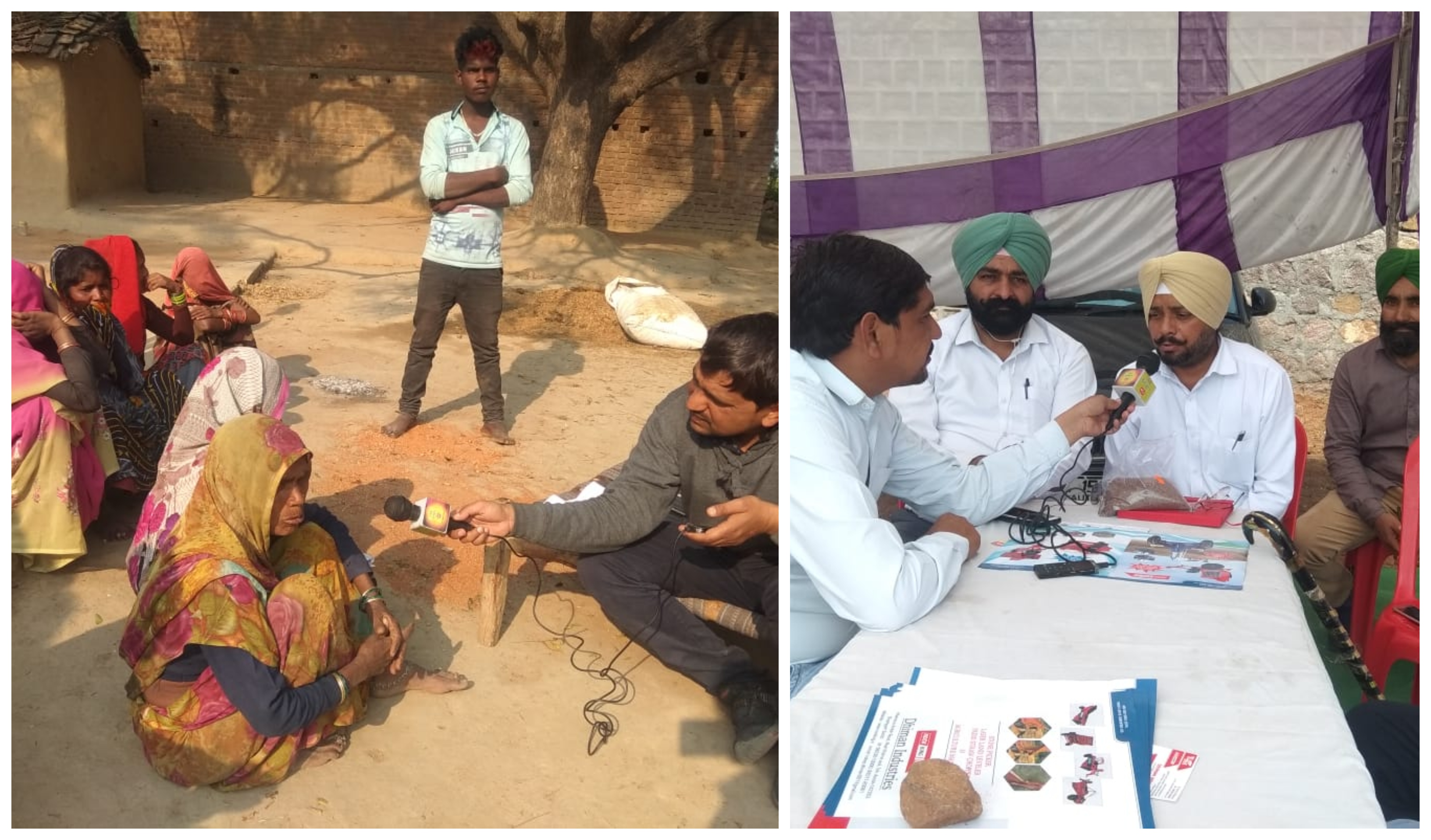 Prakash Kushwaha, a farmer from Nevadi, was the winner of the Shubhkal campaign. He experimented with organic fertilizers made by mixing leaves, soil, cow manure and urine, and jaggery--a type of brown sugar made from sugarcane juice. This helped him shift from chemical fertilizers like Diammonium phosphate (DAP) which the soil in the long-run.
Prakash calculates that buying one sack of DAP and Urea (which consists of nitrogen, phosphorus, potassium) used to cost ₹1500 ($USD 20) and ₹400 ($USD 5).
But the organic manure that they call "amrit mitti", (literally translating to 'elixir soil'), is practically free, since all the inputs are available on their own farms, as long as their family owns cattle.
For the past decade, this locally produced 'elixir soil' has helped grow Prakash's organic tomatoes, brinjals, and garlic.
Lately, Prakash's family and many around him have begun creating small weirs called 'medhs', which regulate and conserve run-off water. This is thanks to advice on Shubkal about water harvesting. "The Bundelkhand Radio tells us that this will increase the groundwater levels," said Prakash.
A few years ago, Prakash and many other families were on the verge of migrating. Thanks to added water security provided by the medhs, he is now rethinking his future.
February 1, 2022