Ugandan farmers are responding to the climate crisis through agroforestry
In Uganda, the local population is heavily dependent on wood for domestic and commercial purposes for charcoal. With an increasing population of over 43 million people, this growth in demand directly translates into high deforestation rates.
This environmental impact drove 24-year-old Christopher Marvin Tumusiime, a local forestry scientist from Central Uganda, to found Trinity Forestry services to develop an agroforestry approach for farmers and convince them to protect local ecosystems.
His idea was to support local farmers by incorporating tree planting in their crop gardens alongside livestock keeping. In this way, they could combine their agricultural activities with ecosystem restoration.
Based in Namaliga South Village located in Central Uganda, Tumusiime and his colleagues have trained more than 50 farmers since 2021. They have also planted over 20,000 trees using the participatory agroforestry approach. In a couple of months, locals started observing results.
Maama Namu, a 43-year-old farmer in the region, got introduced to agroforestry systems through his sister, who started implementing them on her farm. "When I saw the beautiful work she was doing, I was inspired," Namu said.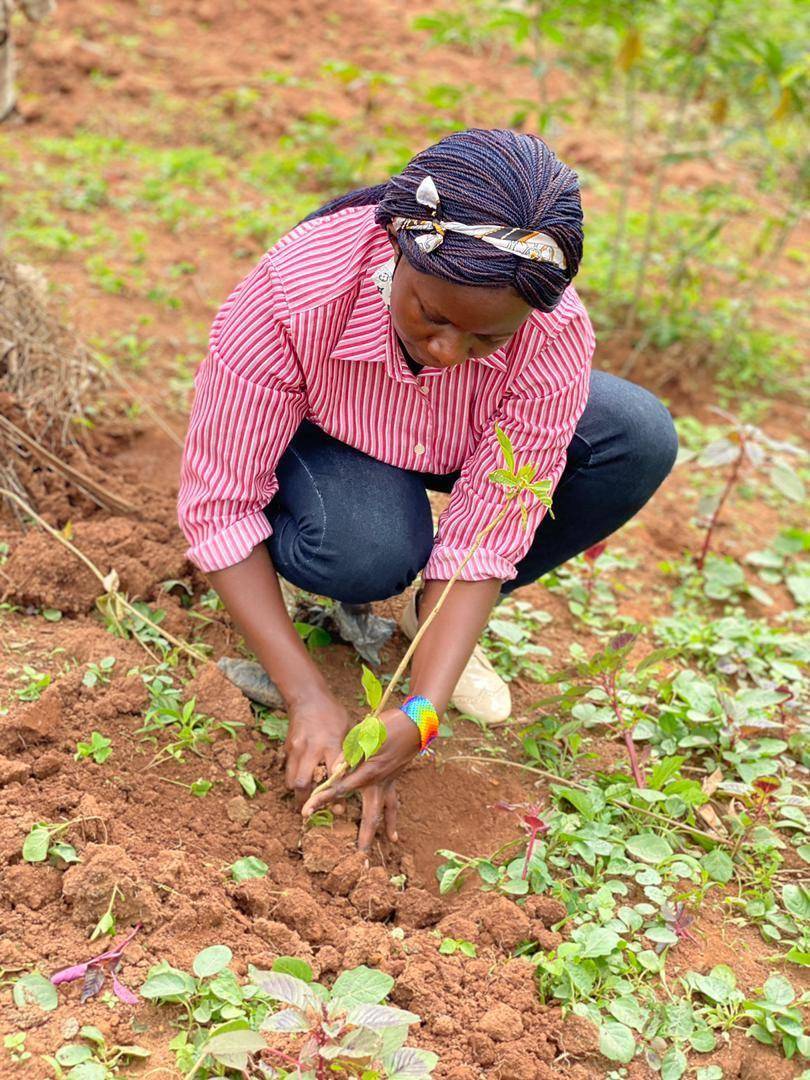 After contacting Trinity for technical support, Namu planted Calliandra trees, a tropical species often used in agroforestry, mixed with banana and maize crops. After a few months, he noticed the plants were growing at a higher rate than before.
Agroforestry is a natural climate solution that helps mitigate the effects of climate change while ensuring food security. Even though some Indigenous communities have practiced it for centuries, this land management system has recently grown in popularity as a way of reducing emissions and adapting crops to climate change.
Trees, shrubs, palms, and bamboo are planted on the same land units as crops and animals. This system leads to improved soil quality, increased biodiversity, and, if properly managed, better yields.
Amid a global climate crisis and increasingly receding green cover on the earth, natural climate solutions have become a need in African countries, especially for the livelihood of local communities such as Namaglia South Village.
Currently, the continent's vegetation coverage is being replaced by infrastructure and monocultures, leaving communities more vulnerable to climate change impacts.
According to the Global Forest Watch, Uganda's total area of humid primary forest decreased by over 10% between 2010 and 2020. A 2021 study published in the journal Environmental Research Letters estimated that tree cover loss in Africa could significantly alter rainfall, which in turn would "dramatically affect rainfed agriculture across the continent."
Trinity's program aims to ensure health and nutrition while preserving the environment. Their services aim to spread the agroforestry approach by training as many farmers in Uganda as possible.
The biggest challenge to this mission is the insufficient funds to increase people's awareness and train people across the country. In addition, sometimes, the farmers do not have the necessary equipment and technical knowledge to implement this model.
Sociocultural constraints also play a role. Tumusiime explains that, for example, some farmers believe that food shall not be grown next to certain trees, as the trees might harm the vegetables.
Tumusiime believes that the widespread adoption of agroforestry would reduce the rate of deforestation, which will minimize soil erosion and soil fertility fluctuations. He also knows the additional trees sequester carbon emissions, helping our shared planet fight the climate crisis.
February 24, 2022