Barcelona tackles air pollution by expanding its 'superblocks' street plan
It's a sunny Saturday morning in Barcelona and Compte Borrell street, in the Sant Antoni neighbourhood, could not be busier. The curfew established to tackle the healthcare crisis mandates people to be home before 10 pm — a dramatic change for many Spaniards used to the once inexhaustible city nightlife.
So, in the daytime, Barcelona's residents take the opportunity to spend as much time outdoors as possible. Even on weekdays, people can be seen hanging around cafes —despite their being closed for most of the day— or playing chess in the middle of the street.
The City Council's plan to give back public space to Barcelona's citizens, creating car-free areas under the "superblocks" initiative, seems to be working: the energetic atmosphere in these neighborhoods is the living proof of that success.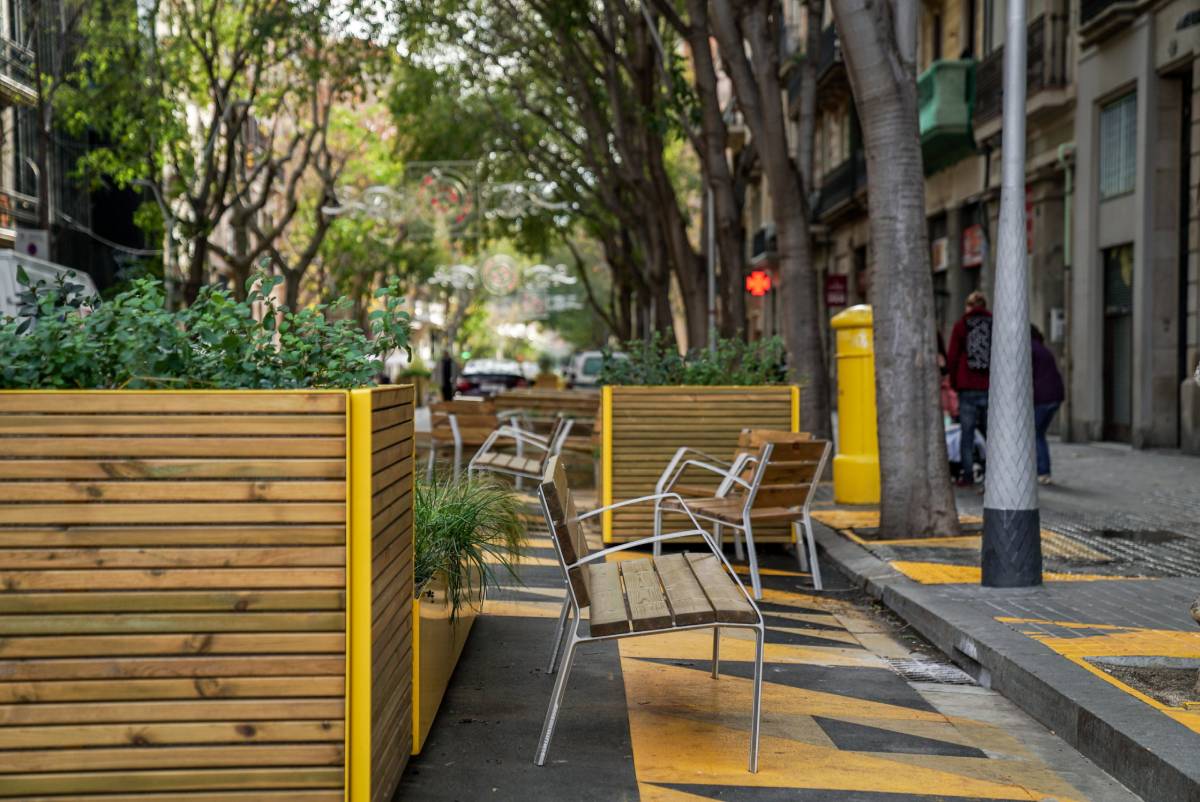 The concept aims to restrict polluting mobility —cars, motorcycles, and non-electric buses— within an area covering 9 to 12 blocks while making it easier for residents to move around using climate-friendly alternatives.
Since the initial phase of the plan, which was first implemented in 2016, ended with positive outcomes in terms of reducing air and noise pollution and having socio-economic benefits, officials in Barcelona are extending the superblocks model to the entire Eixample, the most densely populated and among the largest districts of the city, according to Xavier Matilla, the lead architect for this project at Barcelona's local government.
Ángel, a 53-year-old businessman who works right at the center of Compte Borrell, has witnessed an improvement in neighbourhood life since the freeing of 23.709 m2 of public space, equivalent to roughly five standard football fields. In his view, Sant Antoni has become one of Barcelona's most attractive neighborhoods, party thanks to this plan.
Jael, 30, is a Barcelona-born architect and a resident of Sant Antoni. She also feels happy about the change. "Things started to happen", she said. "In the summer, you could see old ladies in their nightgowns having penne in the middle of the street. Public space was for everyone to enjoy and you'd feel the contrast between living in a hot small apartment and all of a sudden being able to spend most of your time sitting outside on wooden benches among the trees," she recalled.
After the superblocks model was implemented, Sant Antoni has gotten rid of 82% of the cars that used to have on the streets. NO2 concentrations are now 33% lower in some of the intersections reclaimed by pedestrians, while noise pollution has also dropped by 4,1 decibels in the daytime and by 5,3 in the nighttime.
Although the idea isn't new, Barcelona's implementation of this concept has made the city gain international recognition among sustainable urban planning forums held worldwide.
The superblocks interventions have also benefited Barcelona's economy, with 20 more local businesses opening in the area of Poblenou, the first neighborhood transformed into a superblock five years ago. This means that local commercial activity has increased by over 30%.
The new plan envisions liberating from cars an additional 33,4 hectares of the Eixample district, and creating 6,6 hectares of green space. By 2023 one in every three streets will be turned into "green axes" similar to Compte Borrell, said Mr. Revilla.
He expects to face some initial resistance to these measures, as they did when the first interventions took place in Poblenou. But that discontent has shifted towards not only acceptance "but even demand for more of these interventions in other parts of Barcelona," he argued, stressing the importance of understanding these changes not as a sum of independent efforts but as "a structural transformation of the city."
February 26, 2023