Case study 6: micro-terraces
The Cantarranas Program started in 1983 and ran for about 10 years. It involved over 20 villages, but Guacamayas was admittedly the star of the show. An old mining area with no land anywhere at less than a 25% slope, Guacamayas' soil was washing down the river at a tremendous clip. The Program taught the people how to make very simple irrigated micro-terraces, and now every single one of the 70 families in the village is using them. The terraces are now managed with zero tillage, the fertilization of the vegetables is done entirely with coffee pulp from the people's nearby coffee fields, and about 20 different vegetables are grown and sold to supermarkets in Tegucigalpa. Some of the farmers have gone totally organic.
Most of Guacamayas' coffee fields follow all five of our principles, but applying these principles to vegetable production has been more challenging. The micro-terraces enjoy excellent biodiversity and after two or three years, when the organic matter content of the soil has been improved, they are never plowed again. Soil cover and biomass production are still deficient. Probably the next step in that direction would be the use of intermittent shade, Dogon-style.
Micro-terraces can work well on slopes of up to 60%. The field in the photo below, and many others just like it, produce some of Honduras' finest vegetables. Carrots are growing in the lower foreground, coffee in the background. Although these micro-terraces look rather fragile, they withstood Hurricane Mitch perfectly well, while some of the facing unfarmed hillsides suffered from major landslides.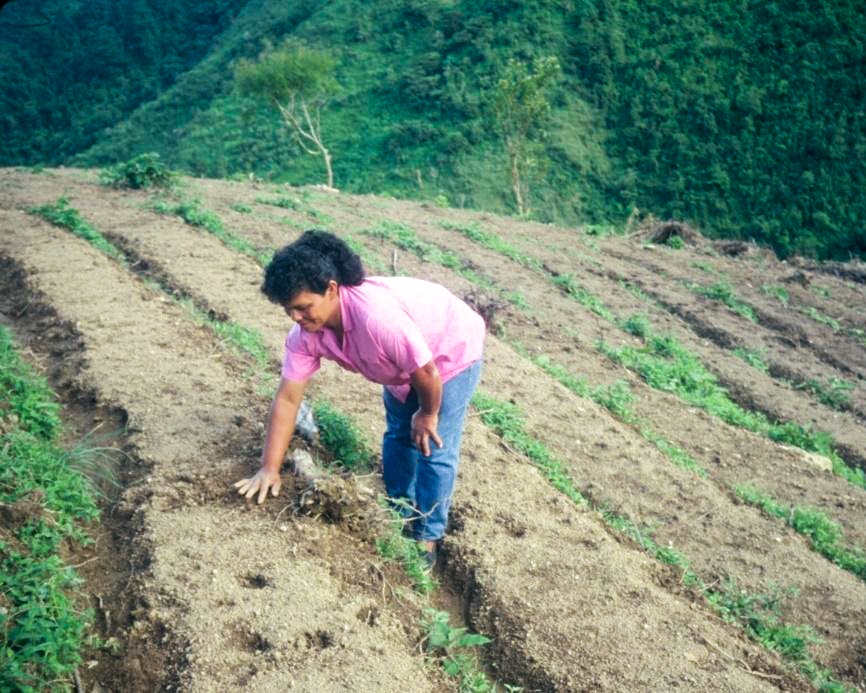 July 26, 2023