Conservation Hero: Dr. Augustin Basabose
Each week One Earth is proud to feature an environmental activist and hero from around the globe who is working to create a world where humanity and nature can coexist in harmony.
Born on the Rwandan border on Idjwi Island, Dr. Augustin Basabose remembers spending hours before a fire on his grandmother's lap, lulling him to sleep with stories of animals. At five years old he knew he wanted to work with wildlife. Obtaining a Phd. in Zoology from Kyoto University, Basabose's dream to combine biology and conservation came true when he was introduced to a Grauer's gorilla in the Kahuzi-Biega National Park. It was then he felt he had found his life's work.
The Kahuzi-Biega National Park located in the mountainous forests of the eastern Democratic Republic of the Congo. It is home to extraordinary biodiversity making it one of the most ecologically diverse regions in Africa. Grauer's gorillas, or eastern lowland gorillas, are endemic to this region and protected only by the park's boundaries. Due to unsustainable land-use practices, such as commercial and slash-and-burn farming methods, hunting, charcoal production, and artisanal mining, substantial pressure has been put on the area's natural resources. This has resulted in massive forest cover loss, habitat degradation, and declining wildlife.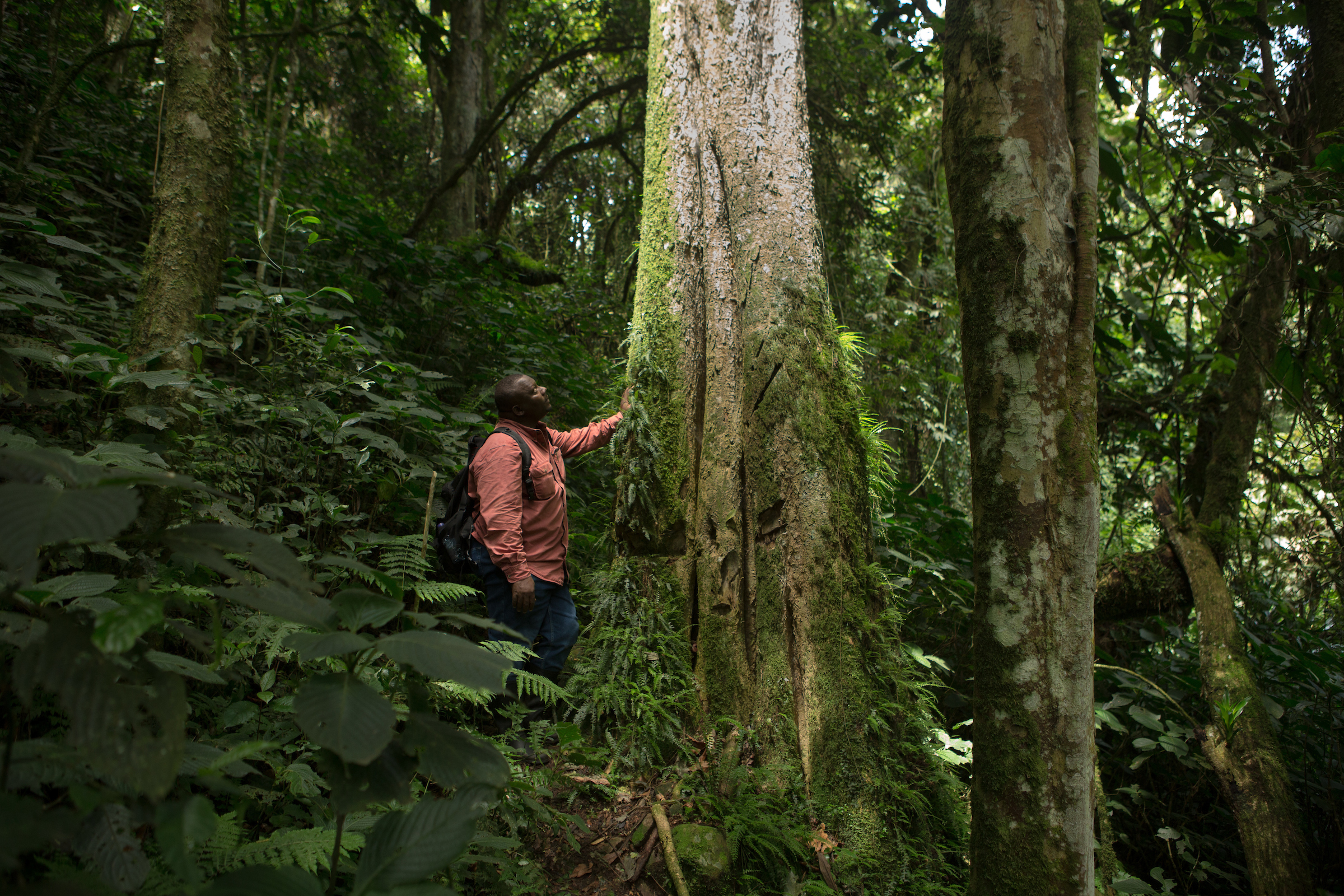 Seeing these threats, Basabose felt a responsibility to create an organization that not only protected the park and Grauer's gorillas but also engaged the entire surrounding community. With the mission to inspire Congolese youth into science and conservation, he created Primate Expertise. They partnered with Wild Earth Allies and the Kahuzi-Biega park where they started involving locals in forest habitat restoration programs. They also set up a search to find and dismantle illegal traps in the park and installed cameras. The recordings additionally help researchers study biodiversity and in the span of 20 months, they have identified 40 animal species.
Dr. Basabose's approach to reforestation is quite unique. Since the goal is to preserve the habitat of Grauer's gorillas, intact seeds are collected from gorilla dung and germinated in a nursery.
Once they are mature, they are distributed to the community who can plant them in their gardens outside of the park. Known as "Ape Trees," these provide a secure food supply, income source, and help rehabilitate the environment. So far, more than 28,000 seedlings from 7 plant species have been grown.
Currently, in the Kahuzi-Biega National Park's upland sector, the Grauer's gorilla population is growing with 220 gorillas counted compared to 130 a decade ago. The area is secured with the park's management who are doubling their efforts to stop mining activities and fighting armed groups. Despite these challenges, Dr. Basabose remains focused on mitigating the poverty in the surrounding park community while also reforesting. He continues to speak to local communities and students to inspire them to cherish gorillas and other wildlife.
October 25, 2021