The Adélie Land tundra is the windiest place on Earth, with katabatic winds that originate from the cold interior approaching the coast regularly at over 240 km/h. It is the smallest ecoregion in the Antarctic continental bioregion, comprised of small patches of permanently ice-free land, largely distributed along the coast.
The coastal nature of this ecoregion is reflected by an average elevation of around 200 m and a maximum elevation of just over 1,000 m. It covers the areas traditionally known as Oates Land, George V Land and Terre Adélie (or Adélie Land) and includes the well-known features of Cape Denison and Commonwealth Bay—the site of Douglas Mawson's main base for his 1912 Australasian Antarctic Expedition.
Records of invertebrates and plants of the ecoregion are relatively sparse with lichens being the most common species. Despite the inhospitable conditions and the relatively small amount of habitat, the ecoregion hosts a range of breeding wildlife including Adélie penguins, Wilson's storm petrels, southern giant petrels, snow petrels, and Cape petrels.
A notable colony of Antarctic petrels breeds at Cape Hunter which has been designated as an Important Bird Area. There are 18 colonies of Adélie penguins with a total estimated breeding population size of just over 400,000 breeding pairs. The largest of these colonies occurs on the Mackellar Islands where approximately 125,000 pairs are thought to breed each year.
There is only one year-round Antarctic station: Dumont d'Urville is a French station that was established in 1956 and has a peak population of 100 scientists and their support staff each year. There is also an aircraft landing skiway in the vicinity of this ecoregion and at least one established field camp. Dumont d'Urville also occasionally allows tourist visits. Tourists are also permitted to visit the Mawsons Hut site in Commonwealth Bay. In years where sea ice conditions allow landings, around 100 tourists visit the ecoregion each season.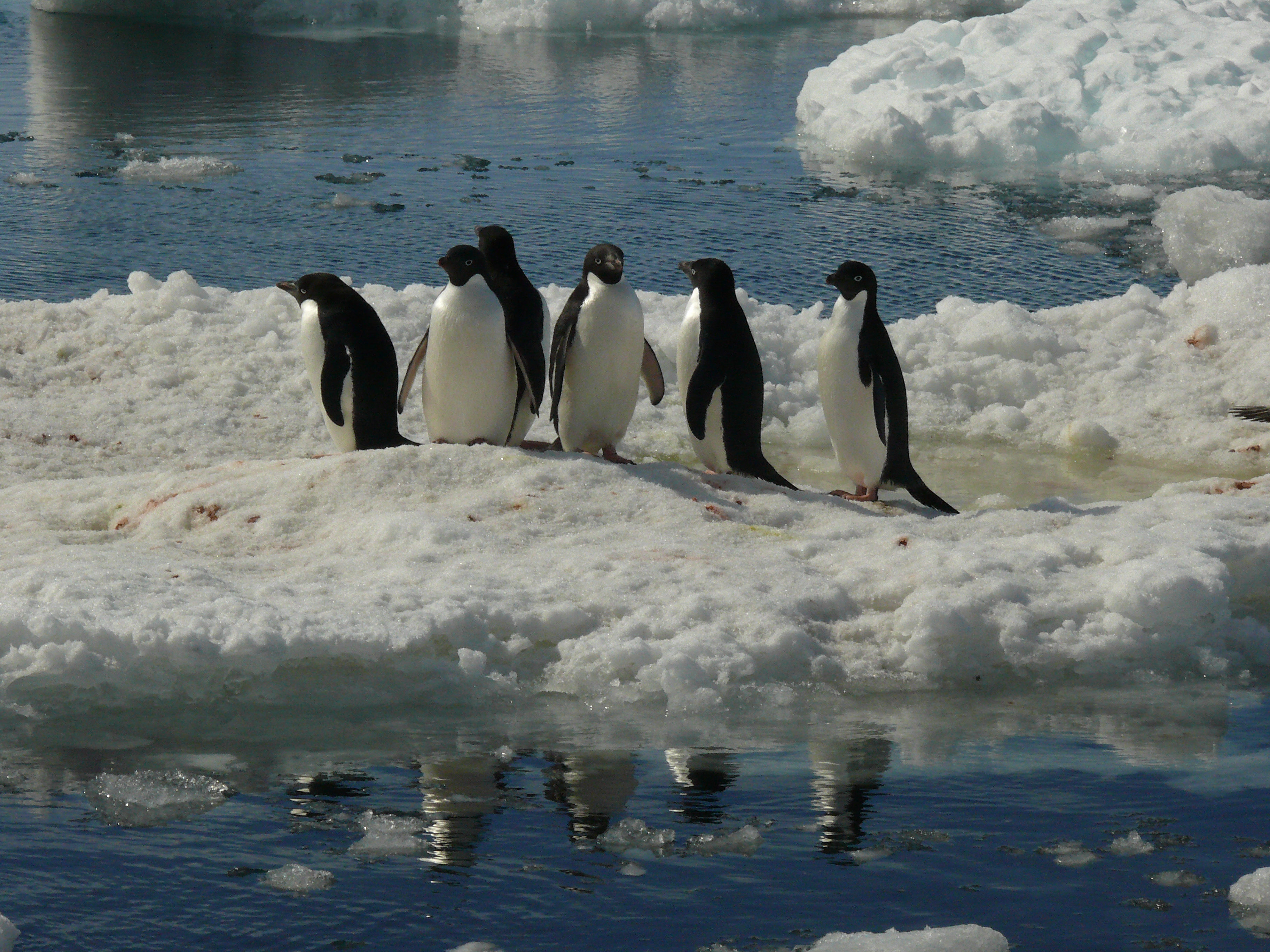 There are three Antarctic Specially Protected Areas (ASPA) in this ecoregion: two are designated for the protection of historical sites, and one, the Pointe-Géologie Archipelago (ASPA 120), designated for the protection of biodiversity. This islands and nunatak in ASPA 120 are considered to be representative examples of terrestrial Antarctic ecosystems from a biological, geological and aesthetics perspective7. ASPA 120 also includes an Emperor Penguin colony adjacent to the Dumont d'Urville station. While 95 % of species recorded from this region are known to occur in ASPAs, on a continental scale ASPAs in this ecoregion only protect 1% of Antarctic species.
Priority conservation actions for the next decade are to: 1) improve the understanding of the status, distributions and trends of invertebrates, plants of seabirds in the region to better identify vulnerable areas and species that are in need of protection; 2) monitor and regulate the impact of human footprint brought by research teams and visiting tourists to the ecoregion; and 3) incorporate climate science and mitigation measures into future protected area management and action plans.

Citations
Terauds, A., S. L. Chown, F. Morgan, H. J. Peat, D. J. Watts, H. Keys, P. Convey, and D. M. Bergstrom. (2012) Conservation biogeography of the Antarctic. Diversity and Distributions 18:726-741.
Terauds, A., and Lee, J. R. (2016) Antarctic biogeography revisited: updating the Antarctic conservation biogeographic regions. Diversity and Distributions 22:836-840.
Wauchope, H., Shaw, J.D., & Terauds, A. (2019) A snapshot of biodiversity protection in Antarctica. Nature Communications. https://doi.org/10.1038/s41467-019-08915-6. Published online 26 February 2019.