Aravalli West Thorn Scrub Forests
For what is thought to be a degraded thorn scrub state from previous tropical dry forest, this ecoregion harbors an amazingly rich mid- to large-sized carnivore community of wild cats, comprising of common leopard, caracal, Indian desert cat, jungle cat, and rusty spotted cat, as well as several canids, represented by grey wolf, golden jackal, desert fox, Indian fox, and striped hyena.
The Aravalli West Thorn Scrub Forests ecoregion—previously known as the Northwestern Thorn Scrub Forests ecoregion—represents the thorn scrub forests in the northwestern parts of the Indian subcontinent, along the Aravalli Mountains, transcending the international border between India and Pakistan. These old mountains, formed over 1,500 million years ago, predate the arrival of the northward-drifting Indian subcontinent.
Climatically, the region is dry, with an average annual rainfall of about 750 mm in the northern areas and about 950 mm further south, closer to the ocean where the influence of the monsoon from the Arabian Sea is stronger. Daytime summer temperatures can exceed 45°C, while winter temperatures drop to below freezing.
As the flat alluvial lowlands extend into the hills, the topography affects the distribution of vegetation and its composition. Overall, the vegetation is stunted, and dominated by species of Acacia rarely exceeding 6 m in height. Other species that make up the forest community include trees and shrubs such as Prosopis, Grewia, Salvadora, Zizyphus, Anogeissus, Gardenia, Capparis, and Carissa.
Climbers such as Tragia, Rivea, Tinospora, Vitis, and Peristrophe grow up the trees, adding structural complexity. All are highly xerophytic species, adapted to growing in arid conditions. In drier areas the thorn forests transition into a xerophytic shrub dominated by Euphorbia species, a cactus-like plant. Closer to the coast where the soils are more saline the plant community consists of Salvadora and Tamarix, while the areas with very high salinity lack vegetation altogether.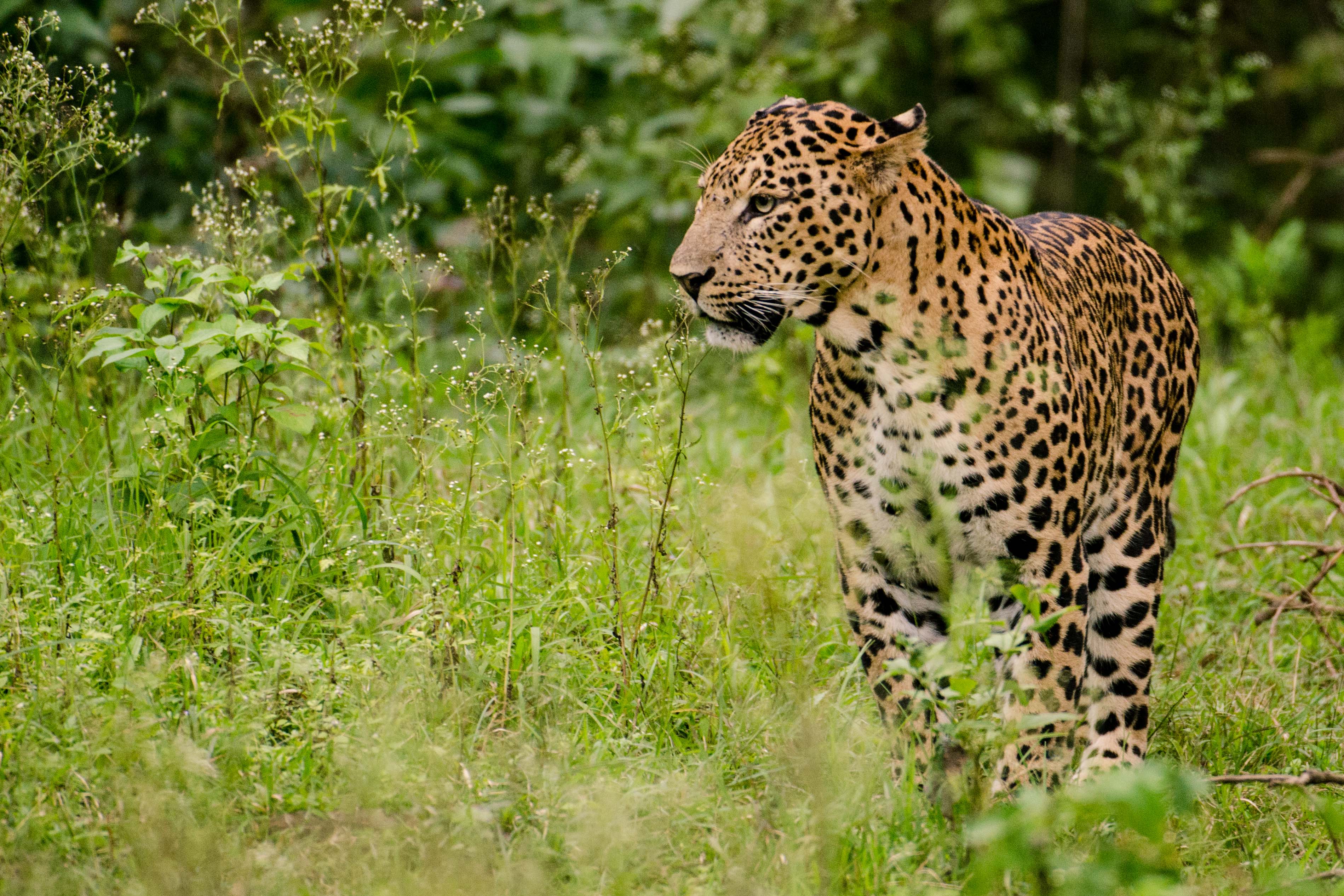 The mammal fauna consists of about 90 species. In addition to the diverse carnivore community, there are several herbivorous species. The more prominent herbivores include blue bull or nilgai, Indian gazelle or chinkara, four-horned antelope or chousingha, and blackbuck. Smaller species such as black-naped hare, Indian desert jird, Indian jerbil, and even porcupines fall prey to smaller carnivores. The Indian gerbil, also known as the antelope rat because of its long hind legs that give it a bounding gait resembling a miniature kangaroo, digs burrows in the sandy plains and grasslands, completed with chambers for food storage and sleeping.
The bird fauna has more than 400 species. The Indian bustard and lesser florican are globally threatened species, while the rest of the bird community is diverse, ranging from sparrows and sunbirds to larger species such as hornbills and peafowls. Many of them, like the Jacobin cuckoo, are migratory, arriving ahead of the monsoon rains.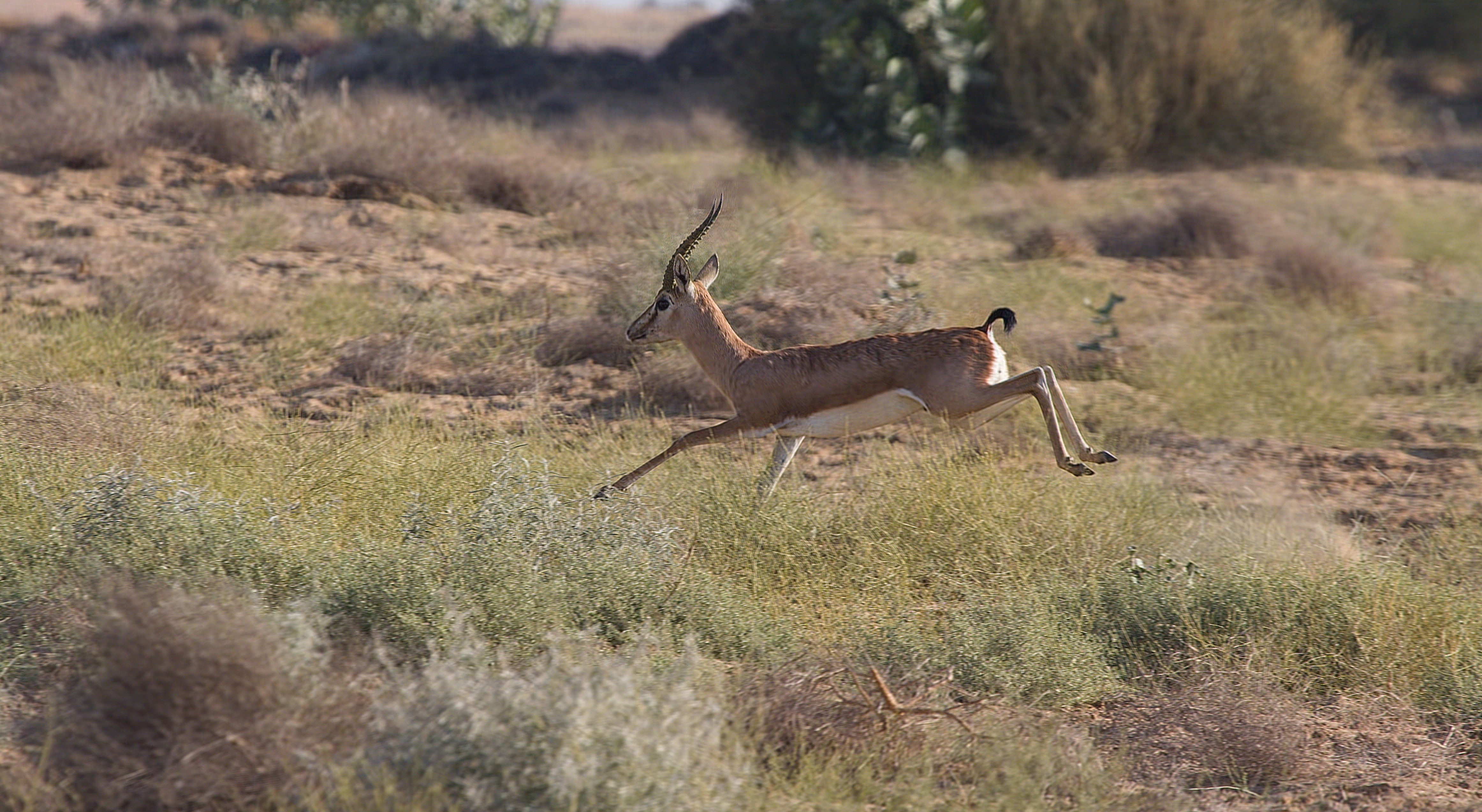 Most of the ecoregion's natural habitat has been converted, and only small, scattered fragments remain. Over the past century or so, forests have been extensively converted to agriculture. The protected areas cover about 4% of the vast ecoregion, but individual reserves are small. The local people, especially the Bishnoi communities, have a cultural reverence for wild animals, especially the blackbuck; thus wildlife have been largely spared from hunting.
However, the region is exceptionally rich in granite and marble, and mining is now threatening the ecosystems and wildlife habitat. In India, several court judgements from 1992 to 2009 have restricted mining and even banned it completely from some environmentally sensitive areas.
Thus, some of the recommended priority conservation actions are to: 1) monitor and ensure that mining operations do not resume in environmentally sensitive areas; 2) implement sound forest management practices, along with conservation awareness, research, and monitoring; and 3) engage the local communities as conservation stewards.

Citations
1. Gajera, N. and Dharaiya, N., 2011, June. Status, occurrence, distribution of some mammals of North Gujarat, India. In Proceedings of the Zoological Society (Vol. 64, No. 1, p. 46). Springer-Verlag
2. Wikramanayake, E, E. Dinerstein, et al. 2002. Terrestrial Ecoregions of the Indo-Pacific: A Conservation Assessment. Island Press.
3. Gaury, P.K. and Devi, R., 2017. Plant Species Composition and Diversity at the Aravalli Mountain Range in Haryana, India. Journal of Biodiversity, 8(1), pp.34-43.