Bahamian-Antillean Mangroves
Bioregion: Caribbean Islands (NT26)
Realm: Central America
Ecoregion Size (1000 ha):
2,201
States: Cuba, The Bahamas, United States of America, Dominican Republic, Haiti, Jamaica, Puerto Rico, France, Saint Kitts and Nevis, Turks and Caicos Islands, Cayman Islands, Saint Vincent and the Grenadines, Saint Barthelemy, United States Virgin Islands
Northern Bahamian rock iguanas were once widespread but are now limited to the coastal habitats of Andros Island and the Exuma Islands in the Bahamas. These prehistoric looking black iguanas are at home in the mangrove wetlands, feeding among the stilt roots of red mangroves during low tide. At high tide they head up to the beaches or neighboring pine forests, while juveniles will bask in the upper branches of the mangrove forest.
These iguanas are great swimmers and take advantage of the many limestone outcrops emerging from the mangroves and coastline to establish and defend their territories. Being herbivores, they also benefit from the many plants that are also adapted to liming in and among the Bahamian-Antillean mangroves. The Bahamian mangroves are highly important for its ecological productivity, providing nutrients and nursing shelter for many species of fish, as well as for migratory birds during their stopover.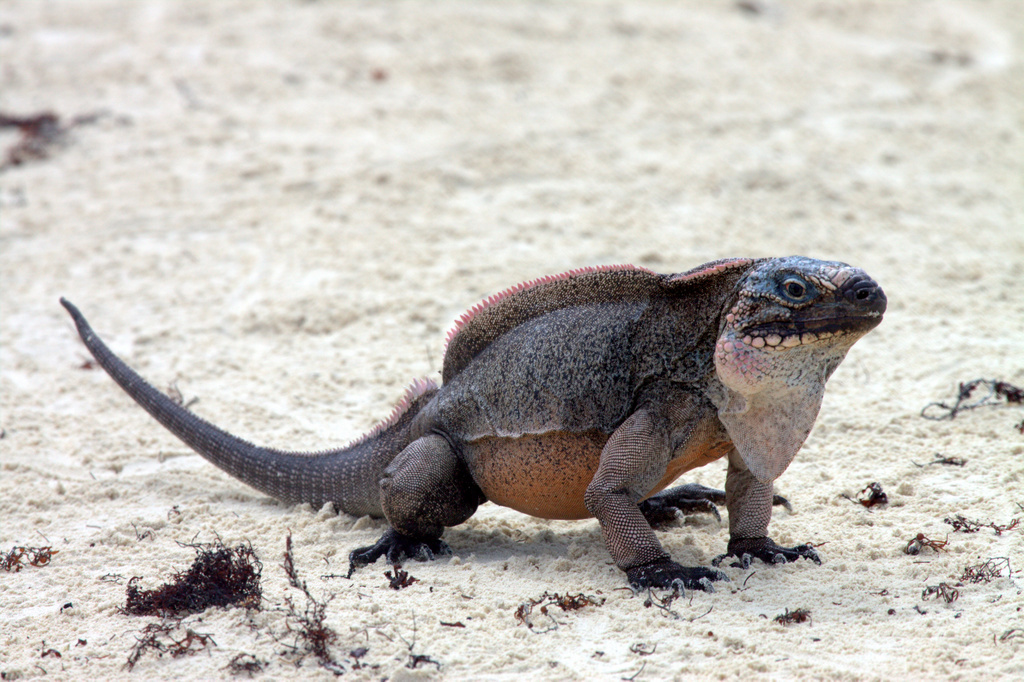 The Bahamas islands ecoregion consist of over 3,000 low-lying islands with a maximum elevation of 60 m. Only 29 islands have human settlements, while most others are no more than rocky islets. These mangroves are found in shallow water and are also situated between two warm ocean currents—the constant Gulf Stream, and the Antilles current from across the Atlantic that shift its flow between the northern and southern part of the Bahamas islands in summer and winter.
This creates a north to south variation in water temperatures with cold periods sufficient to reduce species diversity and coral reef development. The climate is sub-tropical, with a range of temperatures, north to south, between mean maximums of 27 and 29°C, and mean minimums of 20 and 25°C. The annual average precipitation ranges from 1,400 mm in the north to 700 mm in the south. These islands are also among those most exposed to hurricanes in the Caribbean region because they are along a frequent path of hurricanes originating in the Atlantic.
Depending on localized conditions, various types of mangrove species may be found as part of a complex transition from terrestrial to marine habitats. They include red mangrove (Rhizopora mangle), black mangrove (Avicennia germinans), white mangrove (Laguncularia racemosa), and buttonwood mangrove (Conocarpus erectus).
Mangroves provide important habitats to terrestrial and aquatic residents, including sea-turtles, parrots, Cuban crocodile, upside-down jelly fish, starfish, mangrove oyster, and sea cucumber. Marine mammals such as the West Indian manatee use the mangroves, while it is the calving ground for humpback whales in the Grenadines and between Antigua and Anguilla.
It also supports a breeding colony of American flamingos. There are at least four bird species endemic to the Bahamas islands which may utilize mangrove habitats at times including the Bahama woodstar, white-cheeked pintail, Bahamas swallow, and Bahama yellowthroat.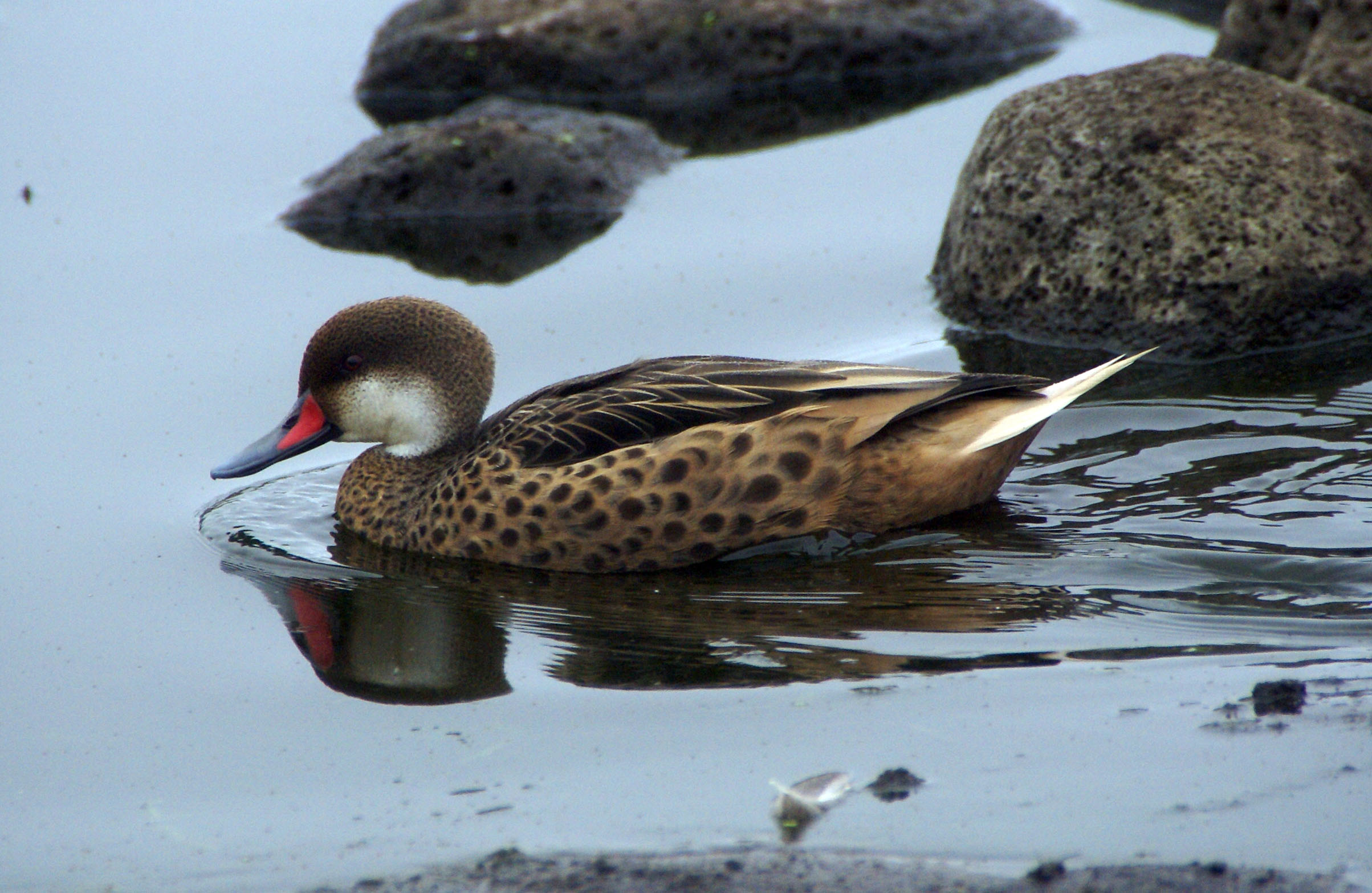 The mangroves in this ecoregion are exploited for the extraction of timber, fuelwood and charcoal, shrimp and lobsters for exporting markets, and oysters and other fish for the domestic market. Mangrove bark is also in demand for leather tanning.
More general environmental problems include the expansion of tourism facilities in the coastal areas; development of ports, harbors, and power stations; and the damming and diversion of rivers which decreases freshwater inputs to mangroves. Climate change, sea-level rise, and increasing frequency of extreme weather events will likely impact these mangrove ecosystems.
The priority conservation actions for the next decade will be to: 1) expand protection of and stabilize mangrove forests that remain in the ecoregion; 2) restrict mangrove harvesting and disturbance; and 3) facilitate the regeneration of mangrove forests to improve habitat and to provide ecosystem services such as defense of coastline communities against extreme weather in the future.

Citations
1. Tognetti, S. and C. Burdette. 2018. Caribbean Islands: Bahamas and the Turks and Caicos islands. https://www.worldwildlife.org/ecoregions/nt1403 Accessed October 15, 2018
2. BirdLife International 2017. Amazona leucocephala (amended version of 2016 assessment). The IUCN Red List of Threatened Species 2017: e.T22686201A110628050. http://dx.doi.org/10.2305/IUCN.UK.2017-1.RLTS.T22686201A110628050.en. Downloaded on 14 October 2018.
3. Bacon P.R. 1993. Mangroves in the Lesser Antilles, Jamaica and Trinidad and Tobago. L.D. Lacerda, editor. Conservation and sustainable utilization of mangrove forests in Latin America and Africa Regions. Part I: Latin America. International Society for Mangrove Ecosystems and the International Tropical Timber Organization