Central American Dry Forests
The Guanacaste tree is a unique and emblematic dry forest species, not only for its predominant size and umbrella shape, but also its evolutionary history. Also known as the monkey-ear tree, they bear tough-coated seedpods that resembles the ears of monkeys. They were once dispersed by Pleistocene megafauna such as giant ground sloths and bison, all of which were extinct more than 10,000 years ago. No living native animals in the ecoregion consume or disperse the seeds anymore. Nevertheless, because of the species' ornamental and shade-giving value, human has helped to dispersed the Guanacaste tree far and wide across the Central American Dry Forests.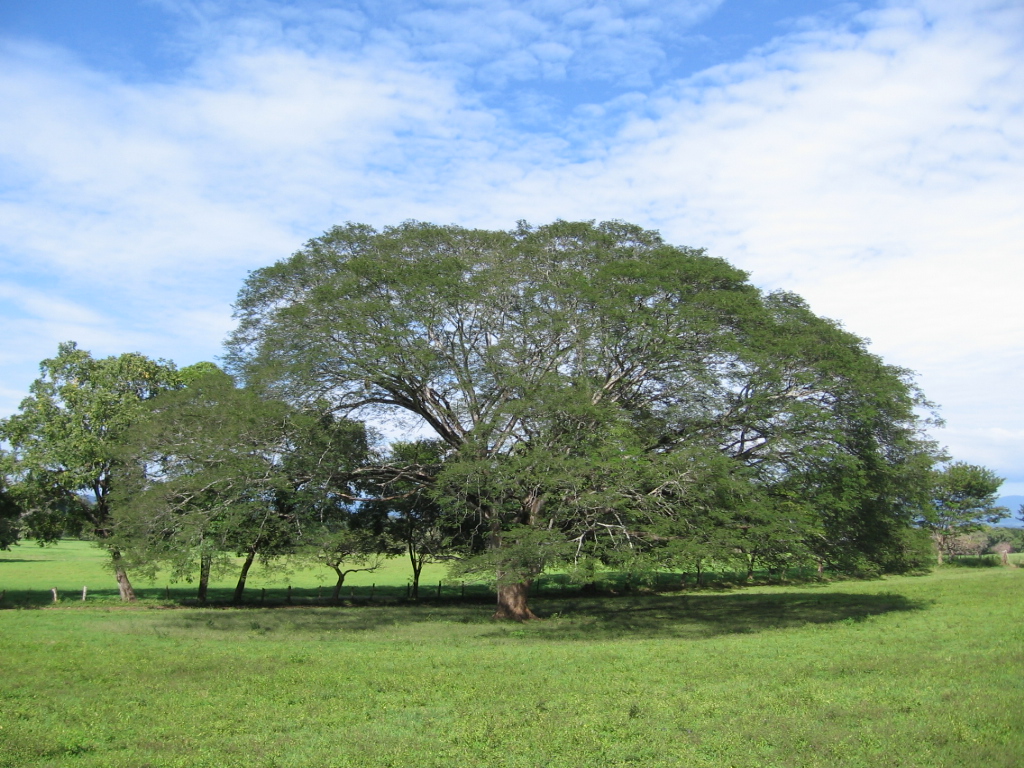 The Central American Dry forest ecoregion stretches along the Pacific Coast of southern Chiapas, Mexico to Guanacaste, Costa Rica. It is found in lowland and premontane areas from 0–800 m but can also be found at higher elevations along the mountain system up to 2,000 m. Additionally, there are fragments scattered in low altitude areas removed from the coast, including relatively large fragments close to the Caribbean Sea in Honduras.
The climate of the region is tropical with a prolonged dry season of 5 to 8 months and average annual precipitation between 1,000 and 2,000 mm. The forests are characterized by a low stature semi-deciduous forest with two tree stories. The trees of the canopy can measure about 30 m tall and usually have fine, compound leaves that fall seasonally. Many tree species are associated with nitrogen-fixing bacteria and various species of ants. The trees in the lower story usually include more evergreen species and members of the Madder family. Thorny trees make up the understory of the forest, where woody lianas and epiphytes are also common.
In this ecoregion, a large percentage of endemic species can be found. At least 50 plant species are endemic , and high-density stands of endemic ensino tesmosl and Mexican calabash can be found. This ecoregion falls within the North Central American Pacific Slope Endemic Bird Area and is considered an area of interest due to high endemism of avifauna. It has four restricted-range bird species, three of which (white-bellied chachalaca, blue-tailed hummingbird, and giant wren) are endemic.
The Pacific parakeet, although not endemic, has part of its restricted range within this ecoregion. Jaguar, puma, ocelot, margay, jaguarundi, tapir, and anteaters rely on rivers as corridors through the dry forest. The endangered Geoffrey's spider monkey can also be found within this ecoregion. Additionally, the Pacific coast is home to as many as five different species of marine turtles, numerous fish, amphibians, and some endangered reptiles.
Relicts of this dry forest can be found in Monterrico-Hawaii Biotope, Sipacate-El Naranjo National Park, María Linda Reserve, and the proposed Manchón-Huamuchal Biological Reserve. These areas, unfortunately, are very separated from each other and very small. Río Escalante-Chacocente Biological Reserve has some coastal dry forests that are important to turtles, while higher elevation dry forests are found in the Volcán Masaya National Park.
Other altered fragments of the dry forest are found in Palo Verde and Barra Honda National Parks, Lomas Barbudal Biological Reserve, Estero Real Biological Reserve, Volcán Cosigüina Natural Reserve, and Archipiélago de Zapatera National Park. Guanacaste National Park in Costa Rica is the largest patch and the only example of dry tropical forest with a nearly absolute level of protection in the entire ecoregion.
Due to deforestation for firewood, extraction of precious woods, migratory agriculture, cattle-raising, and urban development, habitat destruction and fragmentation are very extensive. About 80% of the ecoregion has been converted into cities, cattle ranches, and fruit and vegetable plantations.
The priority conservation actions for the next decade will be to: 1) rehabilitate and formulate management strategies across country borders; 2) establish an action plan for the conservation of the last patches of dry forests and for the recovery of contiguous areas; and 3) limit land conversion practices in an effort to preserve dry forest fragments.

Citations
1. Bullock, S., H. Mooney, and E. Medina, editors. 1995. Seasonally dry tropical forests. Cambridge University Press, Cambridge, U.K.
2. Carrillo, E., and C. Vaughan, editors. 1994. La vida silvestre de mesoamérica: Diagnóstico y estrategia para su conservación. Editorial Universidad Nacional, Heredia, Costa Rica.
3. Stattersfield, A.J., M.J. Crosby, A.J. Long, and D.C. Wege. 1998. Endemic bird areas of the world: priorities for conservation. BirdLife International, Cambridge, UK.