Eastern Panamanian Montane Forests
The endangered horned marsupial frog, named for its horn-like skin protrusions above its eyes, is an incredible example of adaptive evolution. Inhabiting the tropical and montane forests of South and Central America, they are nocturnal, arboreal, and carnivorous. Not only does it have the largest eggs of any amphibian species, these eggs are carried by the females in her brood pouch on her back until they are hatched after 60–80 days, skipping the development stage as free-swimming tadpoles. This avoids predation and greatly increases the chances of the offspring's survival.
Males on the other hand produce calls that sound like the opening of champagne bottles to attract mates in the high forest canopy. The horned marsupial frogs are threatened by habitat loss as well as the infectious disease Chytridiomycosis.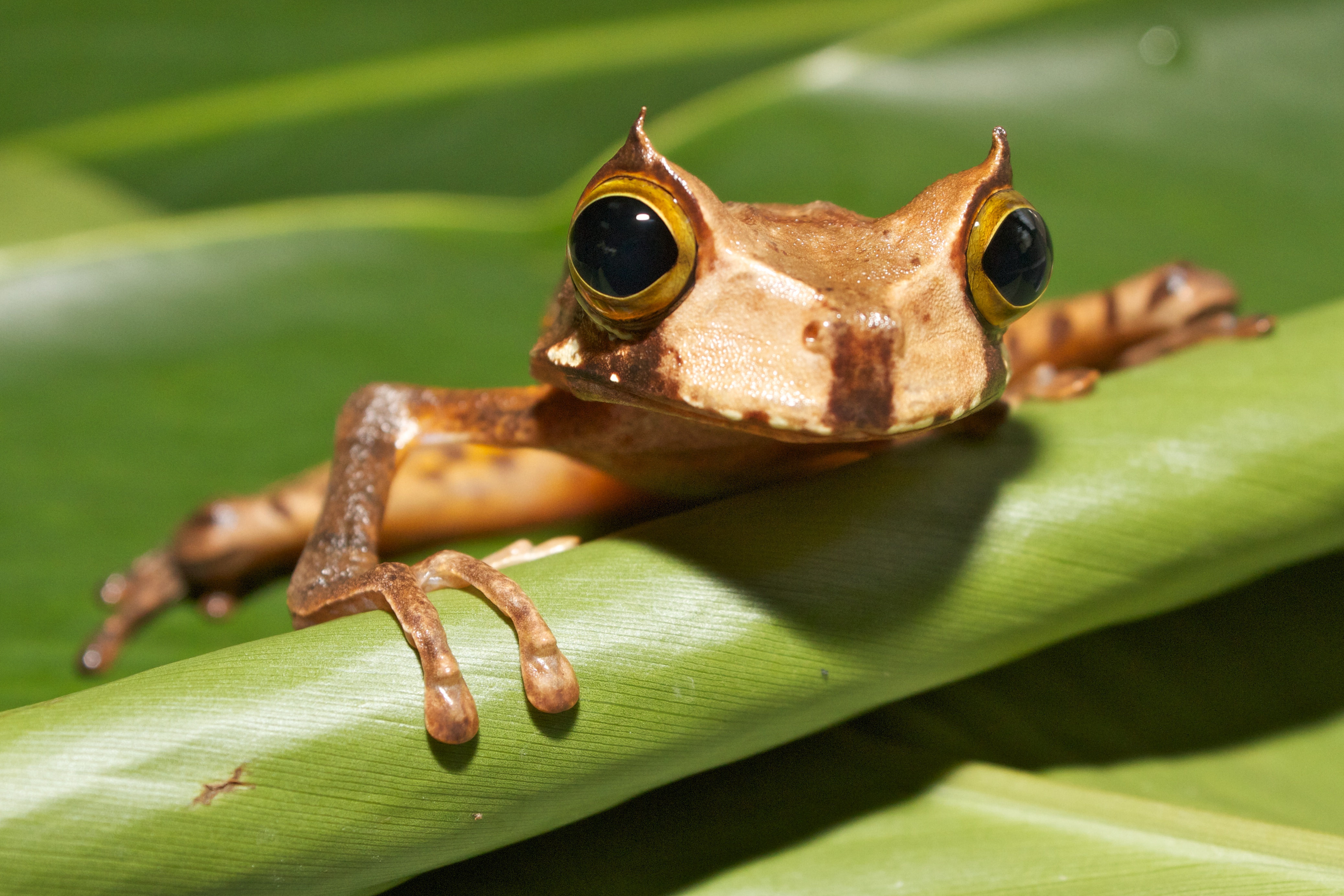 The eastern Panamanian Montane Forests are located in the southeastern portion of Panama, in the Darién Province. In the highlands of eastern Panama, these montane forests occur from 500 m to approximately 1,800 m, where they grade into grasslands. Precipitation on the mountains ranges between 3,000 and 4,000 mm/year. On the Caribbean Coast the rainfall is higher, between 4,000 and 5,000 mm, while the central mountains range from 1,700 to 2,800 mm.
The ecoregion includes various vegetation types, including marshes and swamp forests, semi-deciduous tropical moist forests, premontane wet forest, cloud forests, and elfin forests. Semi-deciduous tropical moist forest are the most widespread; canopy trees include the vulnerable pochote, the elephant-ear tree (known for its shade relief), and the Panama tree, among others. The premontane and montane wet forests contain the wild cashew as the dominant canopy tree. The dominant subcanopy tree is Oenocarpus panamanus, and Mabea occidentalis is the dominant understory shrub. Cloud forest can be found above 750 m, with Oenocarpus panamanus as the dominant species. Elfin forests are found at the highest elevations, containing mostly Clusia spp.
This ecoregion's combination of significant elevational changes, climatic variations, and its location on the land bridge between North and South America provide it with tremendous biological diversity and endemism. There are approximately 770 vertebrate species in the Darien Province. Among the mammals are six primates and five felids. The primates include the western night monkey, Central American spider monkey, brown-headed spider monkey, Geoffroy's tamarin, mantled howler monkey, and white-faced capuchin. The cat species are puma, jaguar, ocelot, margay, jaguarundi, and oncilla.
Endemic bird species are also shared with the Choco/Darién Moist Forests ecoregion and include the Tacarcuna wood quail, bare-shanked screech owl, violet-capped hummingbird, and the beautiful treerunner, among many other species. Other endemic species include two snakes, a lizard, a salamander, and five frogs.
Much of the ecoregion is protected predominantly by Parque Nacional Darién (5,790 km2), a World Heritage Site and Central America's largest national park. This park harbors 13 endangered amphibians and 11 endangered reptiles. Other protected areas in the ecoregion include Indigenous Reserves such as the Kuna de Walá Mortí and Nurrá; the Canglon Forest Reserve (316 km2); Chepigana Forest Reserve (1,460 km2); and the Choco homelands Comarca Emberá No. 1 (1,826 km2).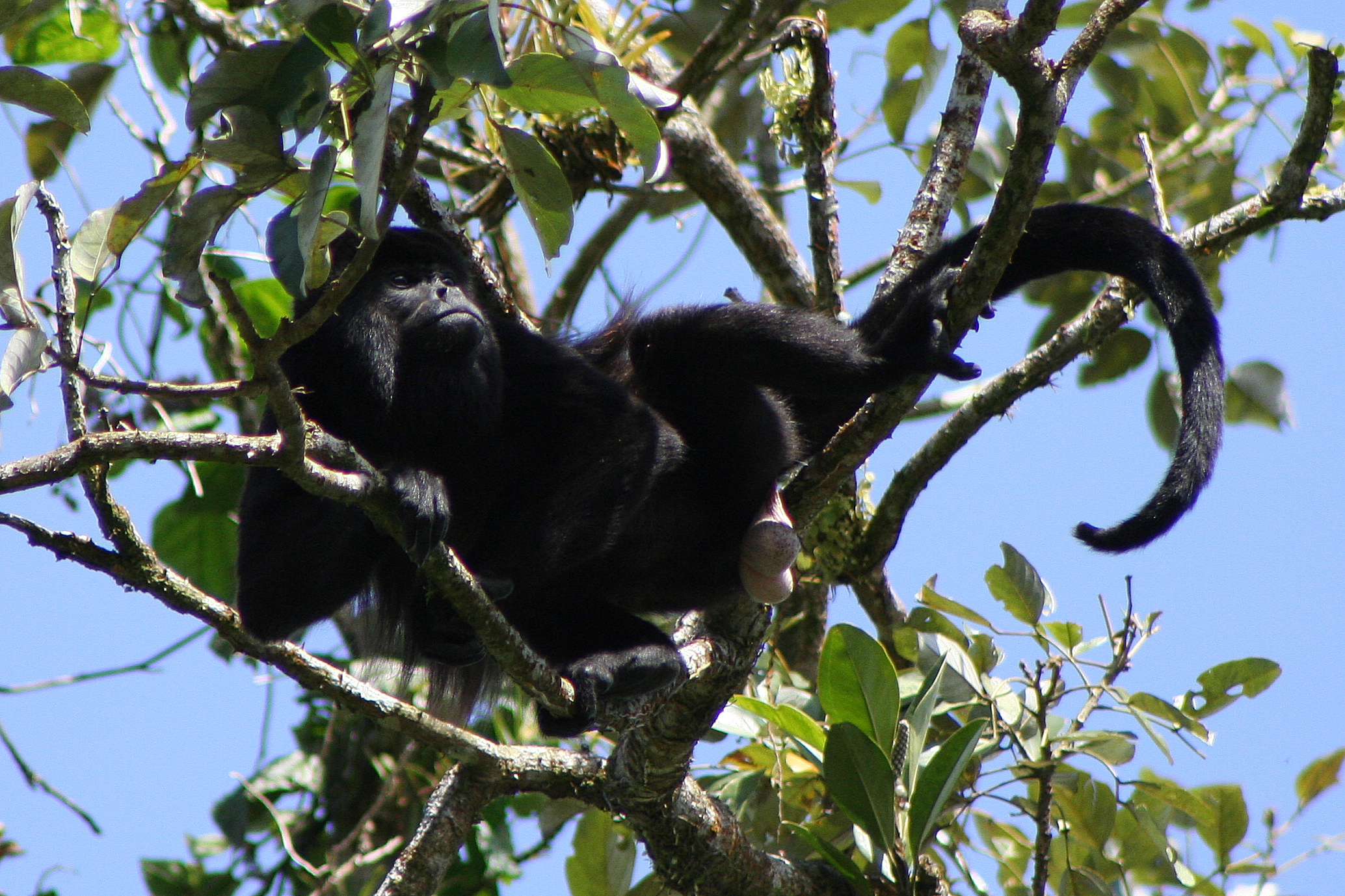 The construction of the Pan-American Highway through this region has caused rapid development into central Panama and subsequent intensive deforestation. Forest on the foothills and hilltops will likely be the last portions eliminated, but will be isolated by the fragmentation associated with lowland deforestation. Even where protection of these montane forests is enforced, the increasing destruction of middle and lower
elevation habitats in surrounding ecoregions has isolated the highland forests and made their populations vulnerable to genetic degradation. Traditional indigenous practices have preserved substantial forest cover, but recent socio-economic pressures from the extension of the Pan-American Highway, forestry exploitation, and selling of illegally-caught wildlife are changing their ancestral attitudes toward nature.
The priority conservation actions for the next decade will be to: 1) delineate environmental corridors to reduce impacts of fragmentation; 2) increase park capacity to enforce meaningful conservation measures in response to logging and illegal wildlife trade; and 3) appeal to developing communities to maintain their ancestral attitudes and conservation of nature.

Citations
1. Powell,G., S. Palminteri, J. Schipper. 2018. Central America: Panama and Colombia. https://www.worldwildlife.org/ ecoregions/nt0122. Accessed July 9, 2018.
2. Herrera-MacBryde, Olga and ANCON. 1997. Darien Provience. In S. D. Davis, V. H. Heywood, O. Herrera-MacBryde, J. Villa-Lobos, and A. C. Hamilton (editors), Centres of Plant Diversity: A Guide and Strategy for their Conservation, Vol. 3 The America. IUCN, WWF, Oxford, U.K.
3. Méndez, E. 1994. Estado de la Conservación de Biodiversidad en Panamá. In A. Vega (editor), Corredores Conservacionistas en la Región Centroamericana: Memorias de una Conferencia Regional auspiciada por el Proyecto Paseo Pantera. Tropical Research and Development, Inc. Florida.