Ile Europa and Bassas Da India Xeric Scrub
Europa Island is considered one of the most important nesting sites for the endangered green turtle globally. It is the third largest atoll nesting site in the world and the largest in the Indian Ocean. Between 8,000 and 15,000 females nest on the islands beaches each year, and 0.7 to 2.4 million juvenile turtles hatch annually. Only about a dozen such large populations of nesting females are known to persist worldwide, and only Europa and Raine Island (Australia) appear to have stable populations that are not heavily exploited by human.
The islands of Europa and Bassas da India lie in the Mozambique Channel near the southern end of Madagascar. Both are coralline islands, or atolls, and Europa is about 100 km southeast of Bassas da India. Europa, with 30 km2 of land area, is 6–7 km in diameter with a maximum altitude of 6 m. Its shallow lagoon (generally 1 m deep) is open to the sea at one side, and covers about 9 km2, including some 700 km2 of mangrove swamp that is particularly extensive to the south. The mangrove stands are important nursery grounds for sea turtles and sharks.
Bassas da India atoll is an almost perfectly circular atoll with less than 1 km2 of permanently dry land area. The reef is 12–13 km in diameter, although it is almost entirely submerged at high tide, and therefore, does not support any vegetation. Bassas da India's coral structure is still forming. These islands are subject to the Agulhas Current and experience occasional cyclones. Water temperatures are usually above 30°C, and southeast trade winds dominate during the austral winter. Annual rainfall averages 600 mm.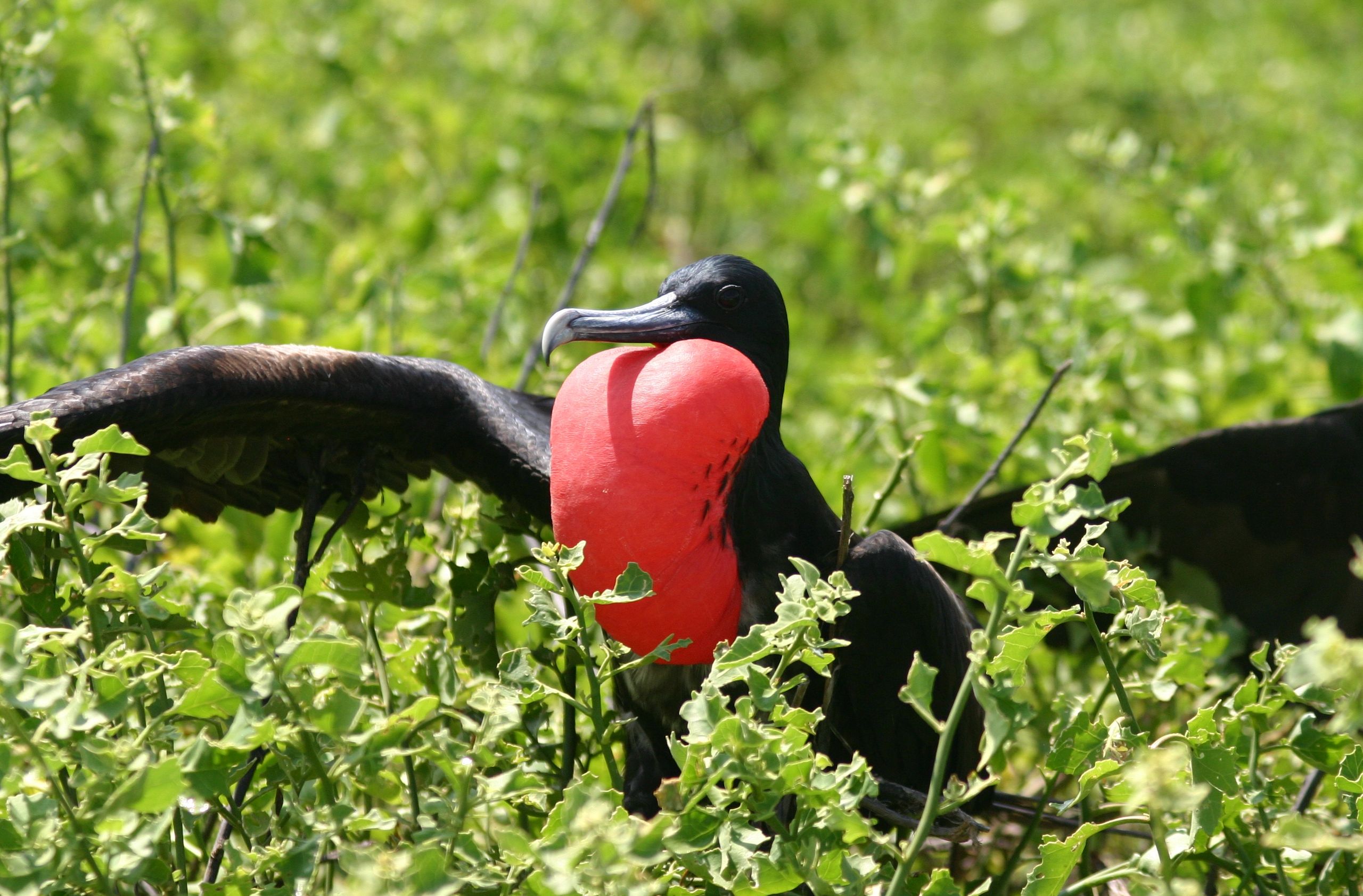 Four vegetation types are identified on the island of Europa. These include a dry forest of silver thicket (Euphorbia stenoclada), a dry herbaceous formation dominated by a grass, Sclerodactylon macrostachyum, mangrove swamps of Rhizophora mucronata, and a coastal shrub formation that includes bay cedar, Suriana maritima. An abandoned plantation of introduced sisal growing with Mauritius hemp is found on the northern end of the island.
Europa Island functions as an important nesting ground for sea turtles and seabirds, and also claims an endemic subspecies of land bird as well as two endemic subspecies of lizard. While Bassas da India is of scientific and biogeographical interest due to its relatively undisturbed reef system, the limited area of permanently dry land is not sufficient to support significant terrestrial life. The hawksbill turtle is fairly common on the island.
Europa Island is used as a stopover point for numerous bird species migrating between Africa and Madagascar. It is a breeding ground for 8 seabird species and approximately 760,000 breeding pairs of seabirds are found here including the endemic white-tailed tropicbird. Europa is significant as it hosts some of the last colonies of frigatebirds, red-footed boobies, and red-tailed tropicbirds which have experienced severe declines on most other West Indian Ocean islands. Other resident seabird populations include: brown booby, Caspian tern, sooty tern, and Audubon's shearwater.
A few of Europa's seabird populations appear to be genetically isolated from other populations of the Indian Ocean. White-tailed tropicbird occurs as a distinctive morph on Europa Island. Its size is smaller than those of other populations within the Indian Ocean. Other species of interest on Europa Island are two endemic subspecies of lizard, Mabuya comorensis infralineata and snake-eyed skink.
Despite the geographic isolation and historically limited human occupation preserving these islands, the fragile ecosystems of these small islands face threats common to most isolated islands. There are no permanent human inhabitants on the islands except military detachments and researchers periodically on Europa. Europa Island and surrounding waters are protected as a Ramsar site (1,058 km2).
The main threat to terrestrial ecosystems on Europa are introduced species of plants and animals which have had a significant effect on the island's ecology including sisal which has the ability to outcompete native vegetation. Goats were introduced from Madagascar and are capable of dramatically altering vegetation, thereby destroying habitat vital to the island's native bird population. Their presence is particularly damaging to the native silver thickets as well as to the rare portia tree that grows in association with mangroves.
Black rats have been on the island since the 16th century and are efficient predators of the eggs and young of seabirds. Furthermore, the Mozambique Channel is becoming polluted due to heavy vessel traffic, and egg collection on these remote islands is also problematic. Future threats include climate change with associated rising sea levels and temperatures and the potential exploitation of the oil and gas reserves in the Mozambique Channel.
The priority conservation actions for the next decade will be to: 1) implement biosecurity measures to prevent further invasion of species on to the islands; 2) initiate new measures to eradicate current invasive species; and 3) implement long term monitoring plans to inform on the state of the islands.

Citations
1. WWF. 2018. Southern Africa: Islands about half-way between southern Madagascar and southern Mozambique. [Online]. [Accessed 18 April 2018]. Available from: https://www.worldwildlife.org/ecoregions/at1308
2. de Bettencourt, J. and Imminga-Berends, H. 2015. Overseas Countries and Territories: Environmental Profiles. Final Report. Brussels, Belgium: European Commission.
3. Quétel, C., Marinesque, S., Ringler, D., Fillinger, L., Changeux, T., Marteau, C. and Troussellier, M. 2016. Iles Eparses (SW Indian Ocean) as reference ecosystems for environmental research. Acta oecologica. 72, pp.1-8.
4. Obura, D.O., Church, J.E. and Gabrié, C. 2012. Assessing Marine World Heritage from an Ecosystem Perspective: The Western Indian Ocean. Paris: World Heritage Centre, United Nations Education, Science and Cultural Organization (UNESCO).