The only endemic land mammal left in Jamaica, the endangered Jamaican hutia is found only in remote mountainous regions. The hutia is a exclusively nocturnal rodent that uses its large front incisors not only to forage for roots and foliage but for grip and leverage. The hutia is a very social rodent: mutual grooming, play, soft vocalization, and other social interactions are often observed within their family groups at night. Their forage only at night for fruits, bark, and exposed roots, leading to the belief that they were extremely rare. They are excellent hoppers and climbers which often comes in handy when escaping feral dogs and cats.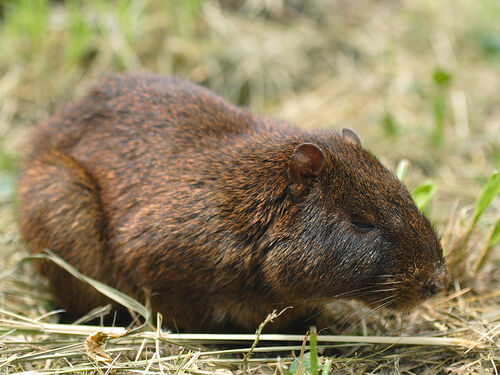 This ecoregion comprises approximately 85% of Jamaica's land area covering most of the island except coastal areas and lowland dry forests. The island of Jamaica, which emerged from the ocean in the mid-Miocene, has never been connected to another landmass. Of all the world's islands, Jamaica ranks fifth for its percentage of endemic flora. The island has two main mountain ranges: the John Crow Mountains in the East, which are limestone outcroppings reaching a maximum height of 1,000 m; and the Blue Mountains, which are igneous shale reaching 2,290 m.
Mean annual rainfall varies from less than 750 mm to more than 7,000 mm, increasing with elevation. Together the mountains contain more than 600 species of flowering plants; 87 vascular plant species are endemic to the Blue and John Crow Mountain ranges. Another notable area is Cockpit Country, Jamaica's largest contiguous forest, estimated to contain 1,500 vascular plant species, of which 400 are endemic to Jamaica. In total 28% of the 3,003 species of flowering plant and 14% of the 579 species of fern found in Jamaica are endemic.
More than 20 species of bird are endemic to Jamaica (more than any other island in the world). Many other bird species migrate to Jamaica for the winter as well, most making their habitat in the forests. An exception is the black-billed streamertail, recently separated as a distinct species from the red-billed streamertail; it inhabits the Blue Mountains in eastern Jamaica.
The endemic Jamaican pauraque is considered extinct, although undiscovered population may still exist. Jamaica boasts 27 endemic reptile species, 20 endemic amphibian species, and close to 500 endemic snails within the ecoregion. There are also three species of endemic bat.
Jamaica has a protected area network with 40 parks and reserves. Nonetheless, these are largely unmanaged and unmonitored, and neither hunting nor habitat encroachment are effectively controlled. Staff shortages in relevant agencies are acute and fines for violators of environmental legislation, even after successful prosecution, are minimal.
Leading environmental concerns in the ecoregion include deforestation, soil erosion, population pressures, and lack of public awareness concerning conservation. Mining for a variety of minerals, chiefly limestone, is a serious threat to many of the forests in central Jamaica, many of which have never been scientifically assessed. Mining has had a major impact, with bauxite (aluminium ore) mining being particularly significant.
Perhaps the most immediate threat is the deforestation for large and small-scale cultivation, principally on the southern slopes of the Blue Mountains, but also in other areas. Interior forests were very inaccessible until recently, and continued road construction into these areas will inevitably lead to increased rate and expanse of deforestation and selective logging.
The priority conservation actions for the next decade will be to: 1) improve effective management and staffing in protected area network; 2) promote public awareness with conservation campaigns in response to deforestation and mining; and 3) create strict-use protection areas within the Blue and John Crow mountain ranges and the Cockpit Country region, all of which are critical havens for endemic flora and fauna.

Citations
1. Armstrong, S. 2018. Island of Jamaica in the Caribbean. https://www.worldwildlife.org/ecoregions/nt0131 Accessed July 2, 2018.
2. Davis, S. D., S. J. M. Droop, P. Gregerson, L. Henson, C. J. Leon, J. Villa-Lobos, H. Synge, and J. Zantovska. 1986. Plants in danger. What do we know? Gland, Switzerland and Cambridge, U.K.: IUCN.
3. Downer A. and R. Sutton. 1990. Birds of Jamaica: a photographic field guide. Cambridge University Press. Cambridge.
4. Stattersfield, A.J., M.J. Crosby, A.J. Long, and D.C. Wege. (1998). A global directory of Endemic Bird Areas. BirdLife Conservation Series. BirdLife International, Cambridge, U.K.