Northern California Coastal Forests
The Northern California Coastal Forests ecoregion is often called the Redwood Region because it encompasses most of the range of one of the truly spectacular forests on Earth—the coast redwood forest. These forests have the largest recorded biomass (live and dead wood volume) of any forests in the world, rivaled only by giant sequoia groves of the Sierra Nevada, Sitka spruce and Douglas-fir forests of the Pacific Northwest, and Alerce forests of southern Chile. From the north, in the vicinity of Brookings, Oregon, just north of the California state line, the ecoregion proceeds southward as a long, narrow, contiguous swath to the vicinity of Timber Cove.
Two disjunct patches, a small one around Bodega Bay and a larger one encompassing Point Reyes National Seashore, occur north of San Francisco Bay, and finally a larger patch south of San Francisco Bay, from Pacifica to just north of Santa Cruz. Within this region, coast redwood trees are typically found within 65 km of the Pacific Ocean.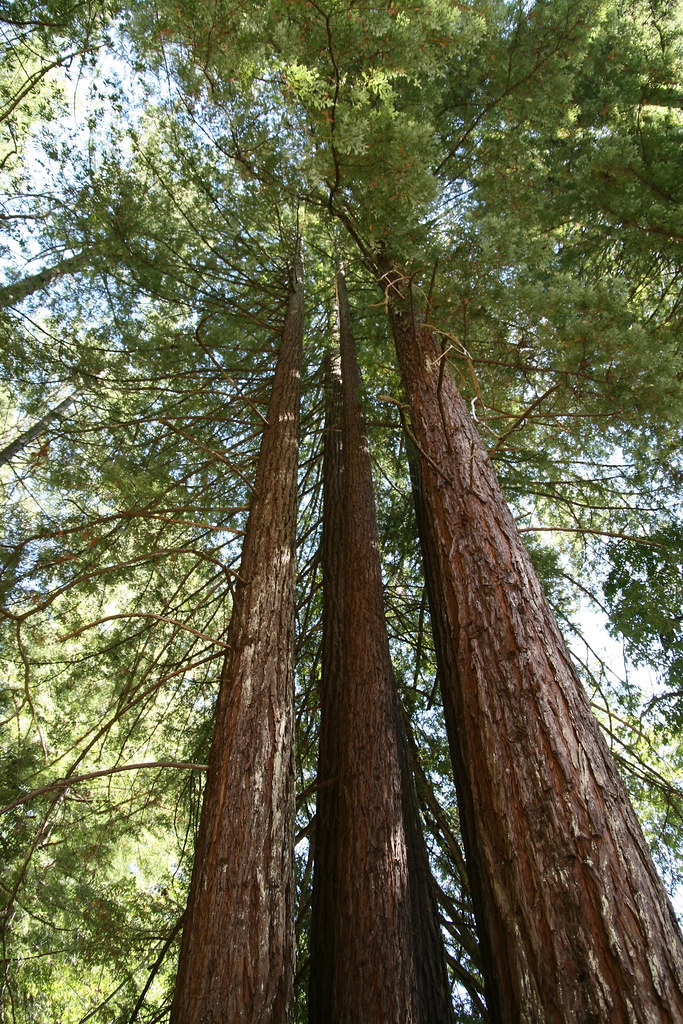 This ecoregion can be considered a southern extension of the coastal temperate rainforests of the Pacific Northwest. The Central Pacific Northwest Coastal Forests ecoregion lies to the north, and the Klamath-Siskiyou Forests ecoregion to the northeast and to the east southward to the vicinity of Ukiah. From here, the California Interior Chaparral and Woodlands ecoregion forms the eastern as well as the southern boundary of the Northern California Coastal Forests ecoregion.
This ecoregion has a famously mild climate, with temperatures largely in the range of 4–20ºC across the year, cooler near the ocean and warmer inland. Average annual precipitation declines from north to south, but is mostly in the range of 700-2,500 mm. Winters are rainy, whereas summers are much drier. Like elsewhere within the California Floristic Province, the climate of this ecoregion has been relatively stable for long periods of time, which has allowed ancient species to persist. In addition, the rugged terrain produces abundant climatic microrefugia such as north-facing slopes, valley bottoms, steep canyons, sinks, and basins, which should help protect species from global warming.
Fog is an especially important component of the climate here. The most massive and strongly redwood-dominated forests occur in the fog belt 8–56 km from the coast at elevations of 30 to 600 m. Especially in warmer months, fog is drawn in from the ocean and condenses on foliage in the tree canopy. Fog-drip from the canopy is an important source of moisture during times of low rainfall and may be the key factor allowing redwoods and some other plants to persist through the summer drought. Fog inputs on a per-tree basis can exceed 100 mm per day during summer when rainfall is essentially absent but the plants' demand for water peaks. Input of water to the ecosystem may decline by 30% when large trees are absent.
Redwoods are most dominant in near-coastal and valley bottom forests, but other trees become more common on uplands and further from the coast, where conditions are drier and fire is more frequent. These trees include Douglas-fir, grand fir, western hemlock, Sitka spruce, western red cedar, tanoak, bigleaf maple, California bay, and Port Orford cedar. Drier slopes are dominated by Douglas-fir and tanoak, with Garry (Oregon white) oak, California black oak, coast live oak, interior live oak, and madrone.
Eight conifer species are endemic to the ecoregion. Other important communities are coastal headlands and other grasslands, bogs, pygmy forests of pygmy cypress and Bolander pine, and streams. One of the more remarkable features of old-growth redwood forests is the communities of plants and animals that live in the tree canopies, including species of salamanders where individuals never leave the canopy.
Tragically, some 97% of the virgin old-growth redwood forests have been logged. Agriculture has altered valleys. Some urban areas are growing, but fortunately urban sprawl is not yet a major threat. Priority conservation actions for the next decade are to: 1) increase federal, state, and local acquisition of conservation lands, with particular focus on old-growth forests, local hotspots of endemic species occurrences (such as serpentine areas), and climatic microrefugia; 2) improve forest management on public and private lands, with no more logging of old-growth or naturally disturbed early-seral forest; and 3) when possible, reintroduce populations of locally extirpated species such as the wolf, grizzly bear, and wolverine.

Citations
1. Noss, R.F., editor. 2000. The Redwood Forest: History, Ecology, and Conservation of the Coast Redwoods. Island Press, Washington, D.C.
2. Ricketts, T.H. et al. 1999. Terrestrial Ecoregions of North America: A Conservation Assessment. Island Press, Washington, D.C.
3. DellaSala, D.A., F. Moola, P. Alaback, P.C. Paquet, J.W. Schoen, and R.F. Noss. 2011. Temperate and boreal rainforests of the Pacific Coast of North America. Pages 42-81 in D.A. DellaSala, editor. Temperate and Boreal Rainforests of the World. Island Press, Washington, D.C.