How the solar energy revolution is taking off in Brazil
During the day, the lighting in Morro da Babilônia favela, a lower-income community in Rio de Janeiro, came from the sun. At night, it came from the moon. When Ronaldo Batista's mother arrived, that was how the place was lit.
Sixty-seven years after arriving in the favela, Batista and other neighbors are starting a movement to change this story. Their mission is to set up the first solar energy cooperative in a favela in Brazil.
A community-led cooperative
Thirty four families from Babilônia and the neighboring periphery, Chapéu Mangueira, formed the Percília e Lúcio solar cooperative. After six months of preparations, the cooperative started operations in September 2021.
Around 3,900 residents live in these two territories, near affluent communities such as Botafogo, Urca, Leme, and Copacabana neighborhoods. These are some of the most expensive square meters in the country (of up to USD $333,000 for a flat), and residents enjoy stable electricity and water. But in the favelas beside them, things are different.
When Batista arrived in Babilônia, there were no public services. Instead, the community had to push for water and electricity. They now say the solar energy cooperative opens a path to sustainable, reliable energy in the favelas.
"I like to be very correct, pay my bills on time, but (paying for) energy was becoming more and more impossible," Batista says of his reasons for starting the solar energy cooperative initiative.
Teaching new technology
Shared economy models such as solar cooperatives are very recent in the country, explains Andrigo Antoniolli, a researcher in distributed energy generation from the Strategic Research Group in Solar Energy of the Federal University of Santa Catarina (UFSC).
As this business model became more popular, some barriers emerged, Antoniolli added. For example, potential users in poor neighborhoods still don't understand the technology very well. In Brazil, this kind of technology is more common in wealthy communities or big companies, the researcher said.
Cooperatives like Percília e Lúcio have training programs that can expand renewables to other favelas. But a large-scale expansion of solar will be complex, experts say, as companies have to overcome several barriers such as Brazilian bureaucracy and lack of investments.
For residents, the cooperative has helped to strengthen joint work between residents, reduce energy bills, and expand the debate on renewable energy for low-income people. It has also been a source of income, as residents are trained to install solar panels.
Solar energy, according to specialists, can contribute to cleaning Brazil's dirty energy matrix. Not only is this a cleaner energy source, but it has also become a viable alternative for marginalized communities, who face a historical lag in services.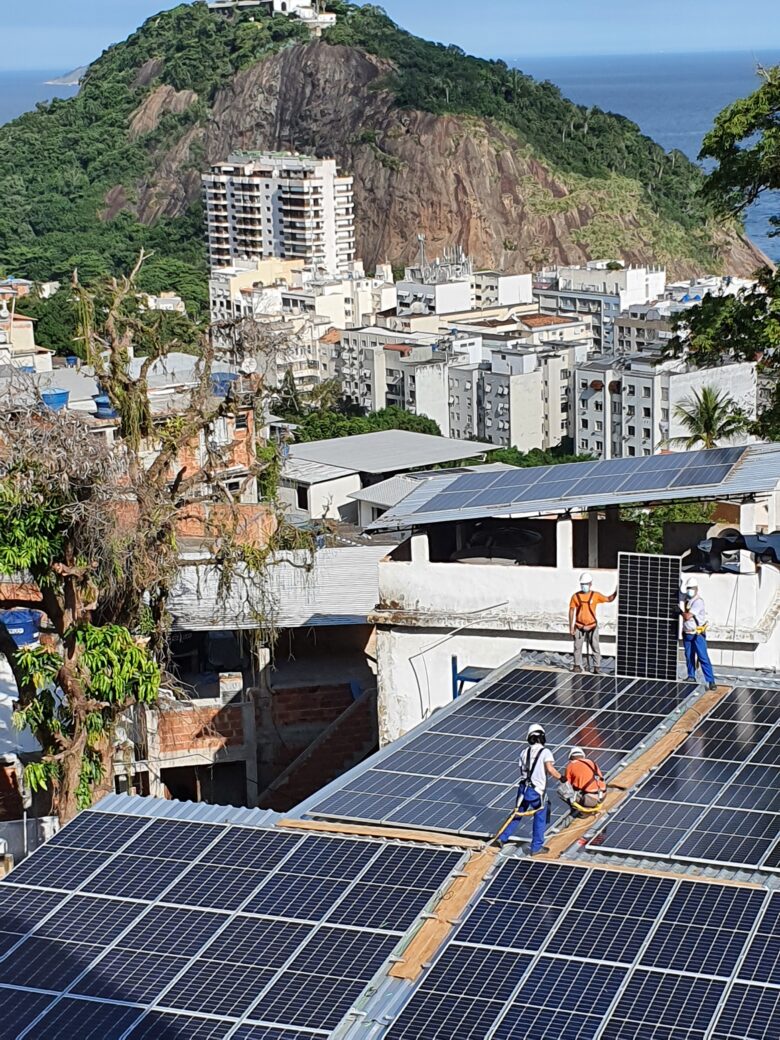 A broken system
The first houses on Morro da Babilônia appeared in Brazil's colonial period in the mid-16th century. But it was not until the 1920s that favelas gained ground in Rio de Janeiro, with around 60 residences. Only in the 1980s did the state begin guaranteeing energy, among other essential services, to the city's favelas, including Babilônia.
Power outages were frequent and often damaged the locals' electronic devices such as TVs and fans, said social worker Márcia Campos. "They say it's a place of difficult access, an area of risk," she laments.
Solar arrives
In 2020, without even having enough money to pay an electric bill, the Chapéu Mangueira and Babilônia favelas residents launched a coordinated funding campaign. They raised R $90,000 (US $19,000) to set up a solar energy plant in the community.
The plant is composed of 58 solar panels placed on the 177-square-meter roof of the Residents Association of Babilônia. The solar roof can generate 35,000 kWh annually, about enough electricity to light 35 houses.
The residents pay a monthly subsidy to the cooperative to cover the running and installation costs of the plant, but they still manage to cut their energy bills by around half. Batista, who lives in a house with his wife, saw his bill drop from R $300 to R $150.
"It's a little bit, but it's enough for the poor. The surplus is enough to buy rice and beans. It gives an extra helping hand inside my house," he says.
Stefano Motta, a resident of Babilonia, has dreamed of the cooperative since he arrived in the favela in 2013. He recognizes the challenges ahead but says there are equally as many opportunities.
"We know that in our country there is no lack of sunshine and that there are several people without their basic needs met. People who come to me not knowing whether to buy food or pay an electricity bill. At the same time, there is the environmental dimension, which makes us proud to run the cooperative," says Motta.
"The favela in Brazil is a space of historical resistance. Such an initiative arising here has a symbolic value. It is putting our legacy alive. We want to show residents from other favelas that we can."
Support Renewable Energy Projects
June 27, 2022