"Agriculture doesn't equate to poverty. You can build a business in the agricultural space and be successful at doing that." These are the words of Onyeka Akumah, the Co-founder and CEO of Farmcrowdy, a Nigerian Agri-tech platform focused on providing structured finance and insurance, as well as the necessary tools for farmers and agribusinesses to boost food production with better yields, lower costs, and smarter marketing. He founded the organization with the aim of using technology to provide solutions to the problems that most farmers are facing in Nigeria by "not just creating value … as a business owner" but by "creating impact in the lives of people."
Despite being oil-rich, Nigeria, the largest economy in Africa, has been unable to translate its oil-wealth to development due to decades of mismanagement and corruption. Currently, about 82.9 million people in Nigeria (40.1% of the population) are living below the poverty line according to the country's bureau of statistics. The unemployment rate is projected to reach 33.5% by the end of 2020 with the impacts of COVID-19 and estimated 2.6 million people face severe food insecurity in the states of Adamawa, Borno and Yobe, due to frequent terrorist attacks and the subsequent displacement of people.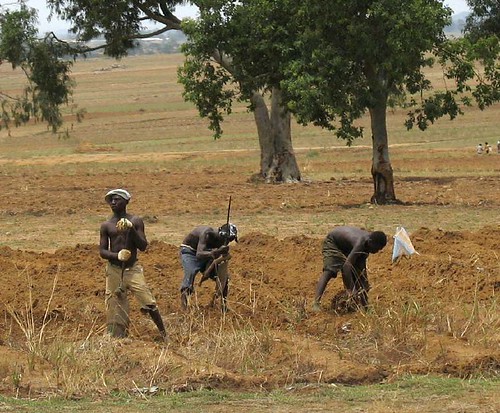 In 2016, the PWC and the Lagos Chamber of Commerce and Industry projected that the country's economy could rise to the top 10 in the world in 2050 with a projected GDP of $6.4 USD trillion, surpassing Germany, the UK, France, and Saudi Arabia. To achieve this, however, they said diversification from the over-reliance on crude oil was required. Considering the fluctuation in oil prices and the environmental impacts of fossil fuel as well as the urgent need to raise the quality of living, Nigeria has to look beyond oil in the long term and focus on diverse sources for revenue generation to build a stronger economy.
Prior to the discovery of crude oil in Nigeria, agriculture was the main source of the country's revenue. It accounted for at least 60% of its GDP. However, since fuel was found, the performance of the sector has dropped greatly due to a myriad of challenges such as the lack of access to markets and inadequate capital resources.
Enter Agri-fintech startups. To solve the challenge of funding, emerging agri-tech startups are now creating platforms to source investment opportunities to support local farmers in the country. With a focus on optimizing financial performance while increasing local food production and securing farmers' jobs, these startups set out to fight hunger and poverty in Nigeria. Two of such startups are Akumah's Farmcrowdy and Groupfarma.
As a country, "we never should have left agriculture," Niyi Ogungbade, the Founder and CEO of Groupfarma who left his banking job to start the organization, said as he told his story. He added that "agriculture has the greatest potential to lift a large number of people out of poverty" because unlike the proceeds of oil and gas which has "revolved around the elites...agriculture directly impacts rural dwellers."
According to Ogungbade, Groupfarma is able to minimize wastage because the farmers produce to demand. He added that they work with research institutes as well to keep data on trends of rain and floods, they advise and educate, and the structured insurance helps to ensure the security of the farmers.
Ashindi Boniface (60) is a Benue man living in Imeko, Ogun State, who has been farming for over 30 years. He cultivates Nigeria's current biggest agricultural export, benniseed (sesame seed), maize, and has recently started farming rice with support from Groupfarma. He said that their support helps to increase production, "They have assisted and motivated us to make higher than we have been making."
Since its launch in 2016, Farmcrowdy has raised $15M USD and currently has a network of 116,000 farmers. One of the farmers who has benefited from their investment program is Abdulbasit Idris (23), a rice farmer in Kwara state, who left school after his secondary education because he didn't have the money to continue. He says that capital from Farmcrowdy sponsors has helped him to start farming early and made him able to support his siblings' schooling through increased production.
Yusuf Ogunbiyi, a Commodity Trading and Pricing Specialist at Cellulant Nigeria said this model of financing can be leveraged to drive food production and increase farmers' income if added services like monitoring and extension, insurance, and access to market are in place.
However, he urged the companies, especially the ones with "humongous returns," to be more transparent. "The benefits are clear, the risks are there, but you can't be promising people huge returns that have so many risks and not mention them," he said. Nevertheless, he noted that all stakeholders across the food value chain have a part to play, adding that the government plays the most crucial role in terms of ensuring ease of doing business and adequate infrastructure among others.
October 25, 2021