How Mumbai locals astoundingly saved fallen trees from the dead
In May 2021, in the wake of cyclone Tauktae that ravaged Mumbai and uprooted over 800 trees, a citizen-led initiative saved the city's green cover. Locals either transplanted the trees to a nearby spot or moved them to a greener patch of the city.
"We started this initiative out of necessity because no one else, including authorities, was willing to do anything to save the fallen trees," said Sanjiv Valsan, who is head of the community-led conservation initiative Rewilding Aarey.
Proving city officials wrong
Following a cost-effective and scientific method of transplantation, the volunteers saw a 90% success rate in the trees that they had replanted. While government agencies have assumed that tree transplantation does not work, this community-led movement showed that it could succeed.
Initially, they started a crowdfunding campaign to finance their activities. They transplanted over 35 trees found in ravaged conditions in different parts of the city in the next few months. They have also undertaken new plantations, tree repairings, and post-transplantation care.
As of late March 2022, Valsan has been catering to several transplanted trees. His team negotiated to transplant a 100-year-old tree that would otherwise be cut down to leave space for real estate construction in the city.
City-wide deforestation
Development projects across cities of India have resulted in trees being cut down, including in Mumbai. The city has a per capita tree cover of 0.28, or one tree for every four persons, according to a 2017 report by the Mumbai-based NGO Praja.
A study published in Springer Nature in July 2020 found a 42.5% drop in Mumbai's green cover due to development activities over 30 years. The ratio of green spaces to total geographical area dropped from 46.7% in 1988 to 26.67% in 2018.
"Tree transplantation is a story of ecology, not about one tree," said Sasirekha Sureshkumar, an Associate Professor and Head of the Department of Botany at Mumbai-based Mithibai College. "We risk losing that ecosystem when we cut down a tree."
Tree transplantation is a measure to counter deforestation and is vital to cities. Trees have a cooling effect that counters heat islands, support biodiversity, and fight air pollution. Experts said tree transplantation should not be the first step but the last resort when trees are being chopped. The first step is to save the tree.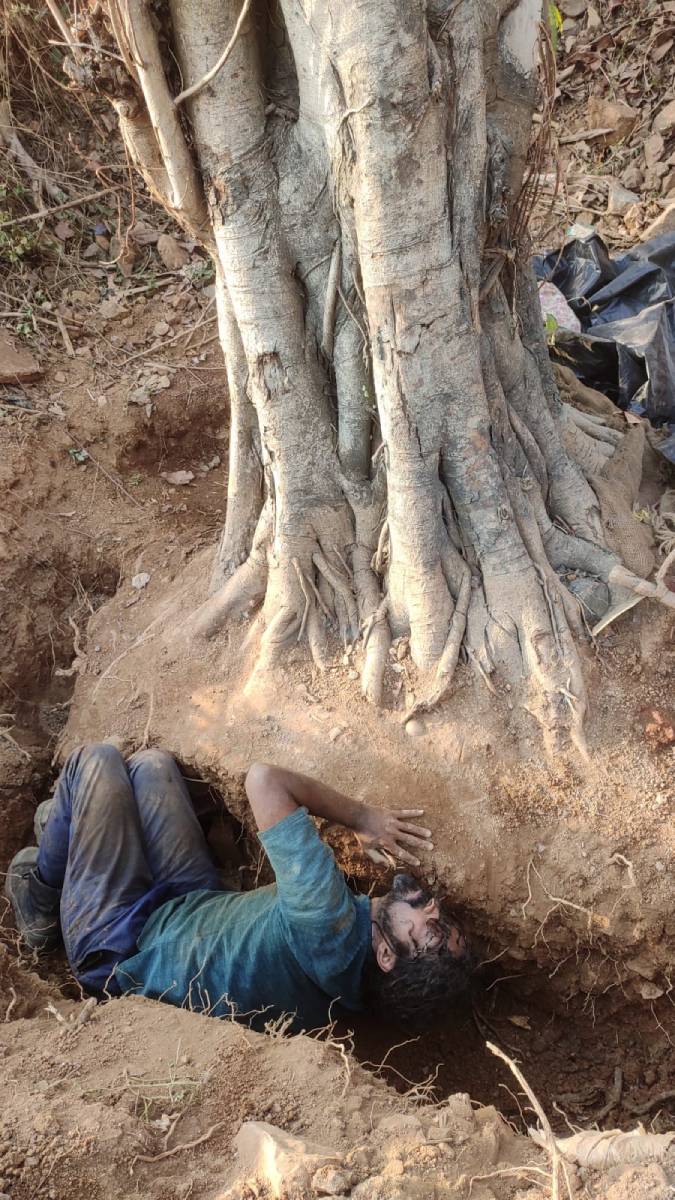 How to transplant a tree
Without exactly knowing where to start, Valsan decided to team up with a horticulturist and a few arborists, who would guide them free of charge throughout the process. "It was a struggle initially," said Valsan, "since tree transplantation is a technical process."
Despite his lack of technical knowledge, he still decided to move forward with the project. "While people moaned and exchanged emojis over the loss of green cover, we decided to actually do something," he said.
Essentially, Valsan went through trial and error to find the best ways to ensure tree survival. The process for transplanting varied from tree to tree. For some trees, the entire root ball had to be taken out and the canopy trimmed to fit the width of the trailer truck used for transportation.
For damaged trees, the process included giving medication to keep them alive. "First step is to apply fungicide to the torn, rotten places that can be prone to fungal rot," said Valsan. Other medicines include rooting hormone powder to encourage regrowth of roots after replanting and termiticide to prevent termite infestation of the dead roots.
In 2017, in the Aarey forests of Mumbai, over 1,072 trees were approved for transplantation. But, a Bombay High Court-appointed committee found in a 2019 report that over 60% of these trees had died due to inadequate care and lack of scientific transplanting methods.
After-care is a mandatory part of transplantation for Valsan. Several of his volunteers do spot-checks on trees that have been transplanted. However, according to Valsan, post-transplantation care has become unfeasible due to the growing number of trees and limited volunteers.
Saving fallen trees
For Valsan and his co-volunteers, the process has not always been smooth. Properly restoring the trees came with some unexpected challenges.
In the first place, many of the transplanted trees fell in areas causing inconvenience to the locals. "We had to transplant it before the authorities would come to chop off the tree to get out of the way," said Valsan.
Finding an alternative space in Mumbai's densely populated streets was also tricky. "We had to negotiate with the locals as well as the authorities to obtain free space. Our experience was varied. In some places, people readily agreed, in others not so much," said Valsan.
Transplanting trees is also not cheap. But operations can be more cost-effective if they take care of multiple trees. Based on Valsan's experience, single tree transplantation can cost as little as 6000 Indian rupees or go as high as 300,000 Indian rupees (from 80 to 4,000 USD approximately).
The benefits, however, are worth the effort, professor Sureshkumar said. Restoring the fallen trees affects the entire ecosystem, as it supports wildlife and microorganisms, recharges groundwater, and provides clean oxygen. "The value of a single tree is much beyond any number of saplings," said the botanist.
While government agencies under the Bombay Municipal corporation have been asked to undertake transplantation, no uniform process has been set yet. Furthermore, with frequent and intense cyclonic conditions and heavy monsoon rains, many more trees have fallen and suffered damage.
"We have no illusion that we would be able to save all the trees in Mumbai. Our intention is just to foster the narrative that fallen trees can be saved," said Valsan. "Our next step is to advocate for policy measures supporting tree transplantation," he added.
May 24, 2022