Oil stains a cultural institution in Britain, but artists are fighting back
On a Sunday afternoon in October, visitors were moseying around artworks in London's National Portrait Gallery, when a group of semi-naked people dropped to the floor and drenched themselves in fake oil.
Wearing just underwear, the group lay in the fetal position in the middle of the gallery's main hall, while others poured a black liquid onto their bodies.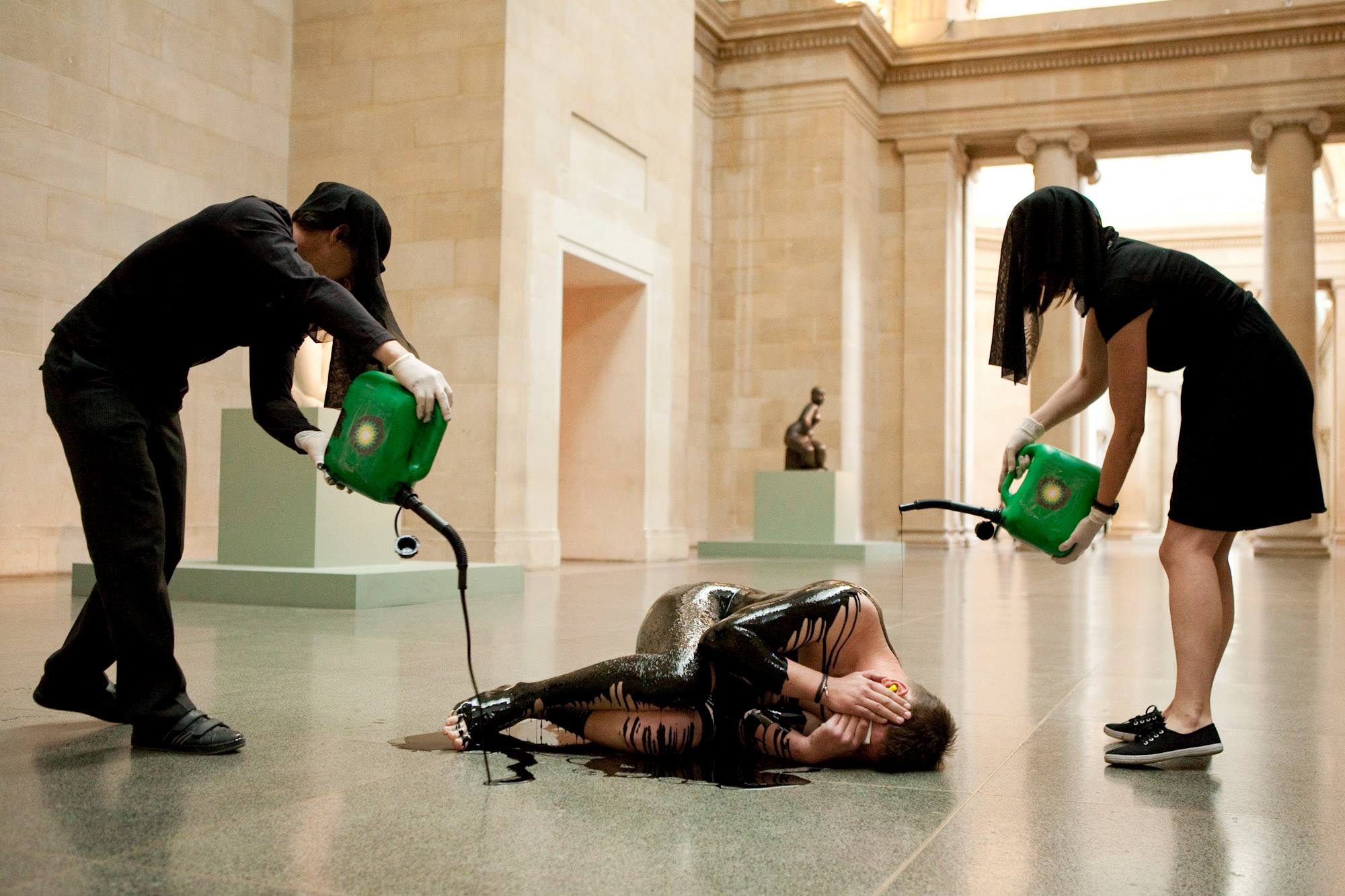 This wasn't part of a performance art, it was a protest against oil giant BP's partnership with the gallery.
For years, Britain's arts and culture institutions have been financially supported by fossil fuel companies – despite fossil fuels being the primary contributors to global warming and climate change.
When fossil fuels are burned, they release carbon dioxide and other greenhouse gases, which in turn trap heat into the atmosphere.
Yet BP's name and logo are found on the posters supporting blockbuster exhibitions at the British Museum in London, to ballet screenings at the Royal Opera House.
Over the years activists and artists have been fighting against fossil fuel sponsorship, and the oil industry's stain on culture is slowly beginning to fade.
Three years ago, the Tate, a prominent arts institution in the capital, became the first to distance itself from the energy giant. It had followed six years of work from activist group Liberate Tate, in which they had organised an ongoing series of protest art performances at the gallery.
In 2010, for example, they poured black treacle in front of the museum's entrance so guests to the Tate summer party were welcomed by what looked like an oil spill.
In another event five years later, 75 members of the group scrawled messages in charcoal along the floor of the main hall, urging the institution to end its partnership with BP.
Later that year they occupied a room in the building and tattooed each other with the numbers of the CO2 concentrations in the atmosphere in the year they were born.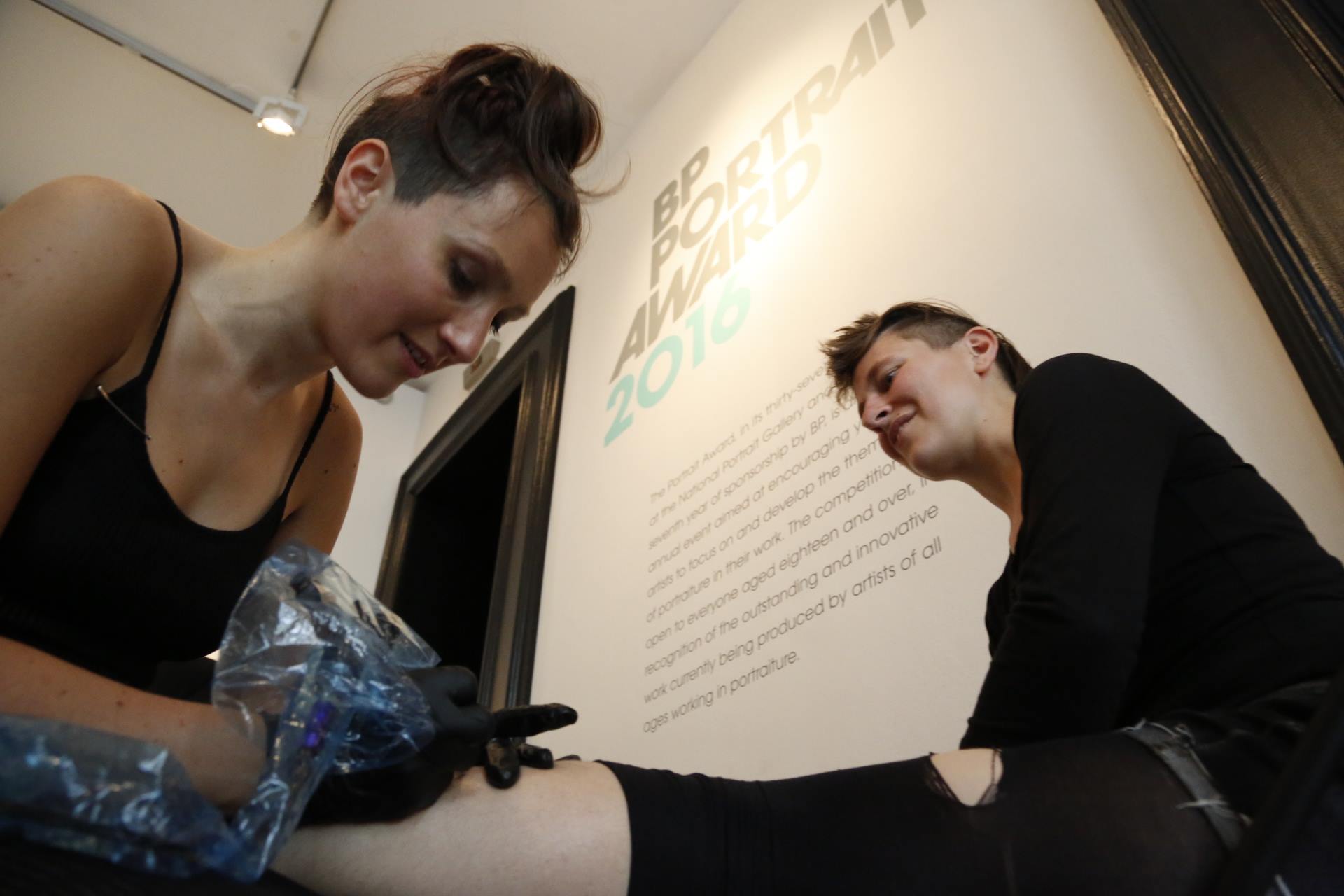 This artistic form of protest is "complicated and interesting", says Mel Evans, co-founder of Liberate Tate and author of Artwash. "These are performances and people want to watch them. There's something to work out what's going on, it intrigues people and draws them in in a totally different way. That really changes the way that people relate to it and the way people appreciate it, or take notice. In the context of oil sponsorship of the arts, protest performances speak in the language of institutions themselves."
Most recently, the Royal Shakespeare Company broke its 8-year relationship with BP after facing mounting pressure from artists and environmental campaigners.
Over the years, performance artists as part of campaign group "BP or not BP" – a play on words from Hamlet's famous speech – would organise "stage invasions", where they acted out a Shakespearean-inspired performance before the show started to raise awareness of the partnership and the damage of fossil fuels.
"We were always really careful not to disrupt any performances. Our quarrel wasn't with performers, it was with the managers and the board who decided to make this corporate partnership with BP," says Worth, who was part of the group.
In June, Academy Award and Tony-winning actor Mark Rylance resigned from an honorary position at the RSC because the oil giant subsidised tickets for young people.
"I do not wish to be associated with BP any more than I would with an arms dealers," Mr. Rylance wrote in his resignation letter. "Nor, I believe, would William Shakespeare."
Although the RSC recently dropped its deal with BP, and the National Theatre with Shell, may cultural institutions are still linked with fossil fuel.
"It's really huge and really important especially at this time as the climate emergency gains momentum globally. It's about the social legitimacy that the oil companies have so far enjoyed and have so far used to sustain themselves despite what has been decades of criticism for ecological harm of their operations," says Evans.
"For a company like BP, when it's getting so much negative press it needs something to make it seem like it's a civil contributor to society – that's what arts sponsorship helps them do.
"By removing that leg of the core, you deny them the very thing that they depend on to survive the intense criticism and kind of intense criticism they're facing at the moment in terms of climate change."
December 1, 2023