Developing a New Regenerative School and Community Farm in Southwest Chicago
Founded in 2005, the Academy for Global Citizenship (AGC) is addressing Chicago's educational, health, and social inequities in a part of the city that has been impacted by decades of environmental injustice. Founded in 2005, AGC utilizes an innovative, whole-child learning model that delivers environmental education, social justice, entrepreneurship, and extended learning.
Throughout collaboration with our community, neighborhood voices have joined to develop a holistic, regenerative, and systemic solution to the underlying injustices and disparities, which has led to our collective vision for Catalyst Southwest (CSW).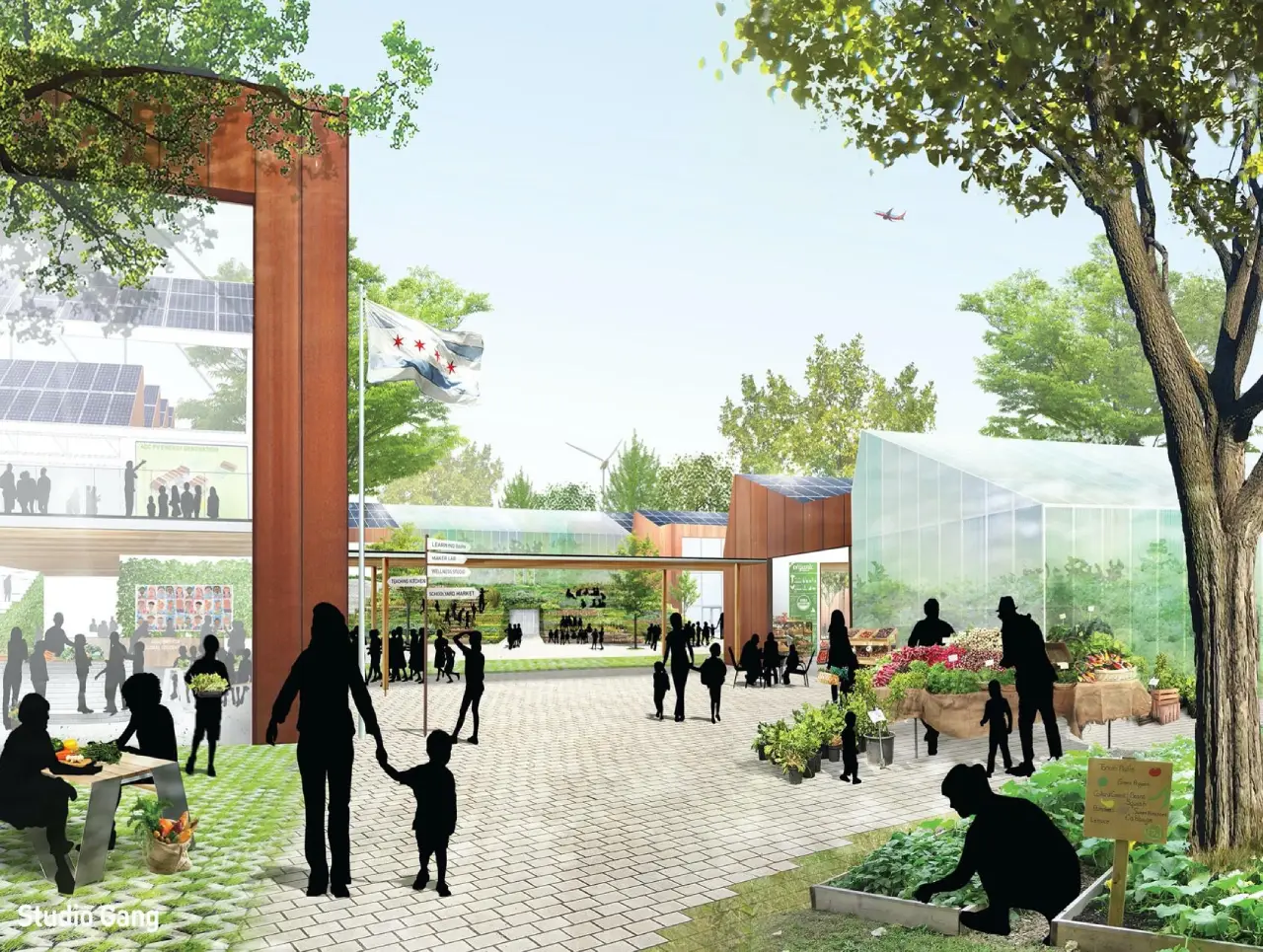 The decades of environmental injustices in this community cannot be undone overnight. In Southwest Chicago, members of the community are devoid of many elements found in a healthy community, such as green spaces, nature, access to healthy food, and clean air. This project will create a new school and community center powered by renewable energy and nourished by regeneratively produced fresh food.
It will establish nature-based community gathering places, neighborhood gardens, wellness facilities, health resources, and will educate the next generation of environmental leaders through an on-site, tuition-free, early childhood and K-8 public school.
Three acres of land will be turned into a regenerative urban agriculture demonstration site, where an estimated 180 tons of carbon will be sequestered within a 10-year period.
Funding for CSW will:
Achieve net positive energy (sharing the anticipated energy surplus with the surrounding community) through a 450-kW solar array, wind turbine, and geothermal wells, and create a 100% fossil-fuel-free building, with an estimated 4,250 metric tons of greenhouse gas emissions eliminated.
Establish robust net-zero water standards through employing a series of nature-based stormwater management and other sustainable strategies.
Create 1,000 green jobs throughout the course of construction with priority given to the hiring of women, minorities, and local members.
Employ 10% apprenticeship positions who will be trained in sustainable technology and green construction methods, providing a pathway toward long-term employment.
Educate 620 children annually in an education model which is rooted in environmental sustainability, wellness, social entrepreneurship, and social justice.
Host 10,000 annual visitors who will be equipped with the tools and inspiration to drive change in their respective communities.
Only $3.5 million remains of the $50 million Phase One goal. CSW is slated to break ground in February 2022. This funding will enable the completion of the community sustainability and wellness hub, three-acre urban farm, and the environmentally focused Pre-K through 8th-grade public school. Funding over the amount will be attributed to Phase Two, which will support the construction of the Environmental Learning Lab and Institute.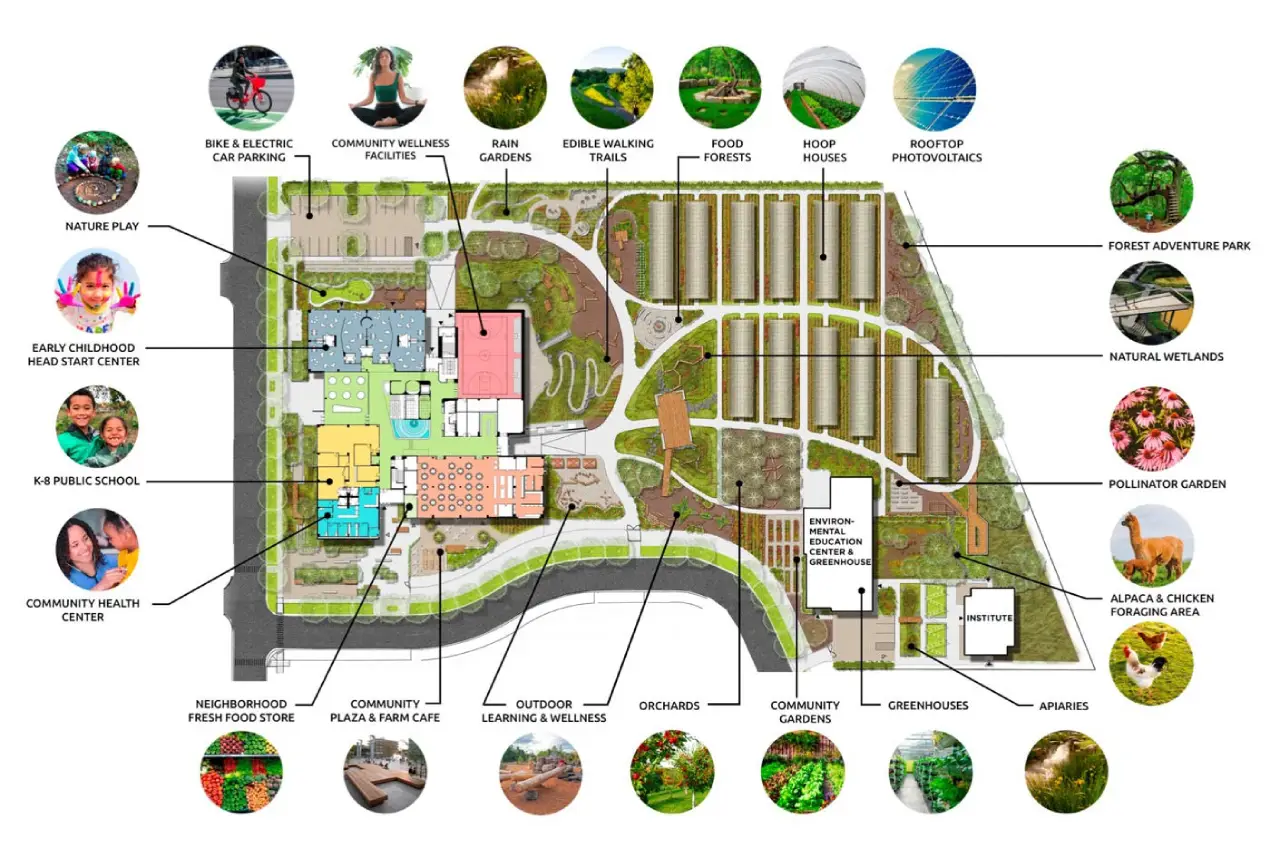 Project success is not only defined by meeting net-positive energy and water levels to ensure LBC certification, but also will be determined by how many communities are impacted and the individuals reached through the Environmental Education Center programs, fresh foods café, community gardens, and Health Care Center and Institute. Long-term, success will be measured by community members' health and wellness using benchmarks in relation to obesity, diet-related disease, health care access, and access to fresh produce, in addition to the carbon sequestered and emissions eliminated.
Catalyst Southwest is rooted in three core areas: (1) Environmental & Economic Sustainability, (2) Health & Wellness, and (3) Community Learning. These areas will come to life on the six-acre learning and sustainable innovation hub, which will house the existing environmental K-8 public school, fresh foods store and café, health clinic, teaching kitchen, community garden, walking trails, green spaces, three-acre urban farm, and a nature-based Head Start early education center. It will enable a cradle-to-college pipeline and wellness resources that are fundamental to ending intergenerational poverty and cultivating sustainable, regenerative communities.
The community-based nonprofit organization has been at the forefront of innovation in environmental education and community sustainability since 2005.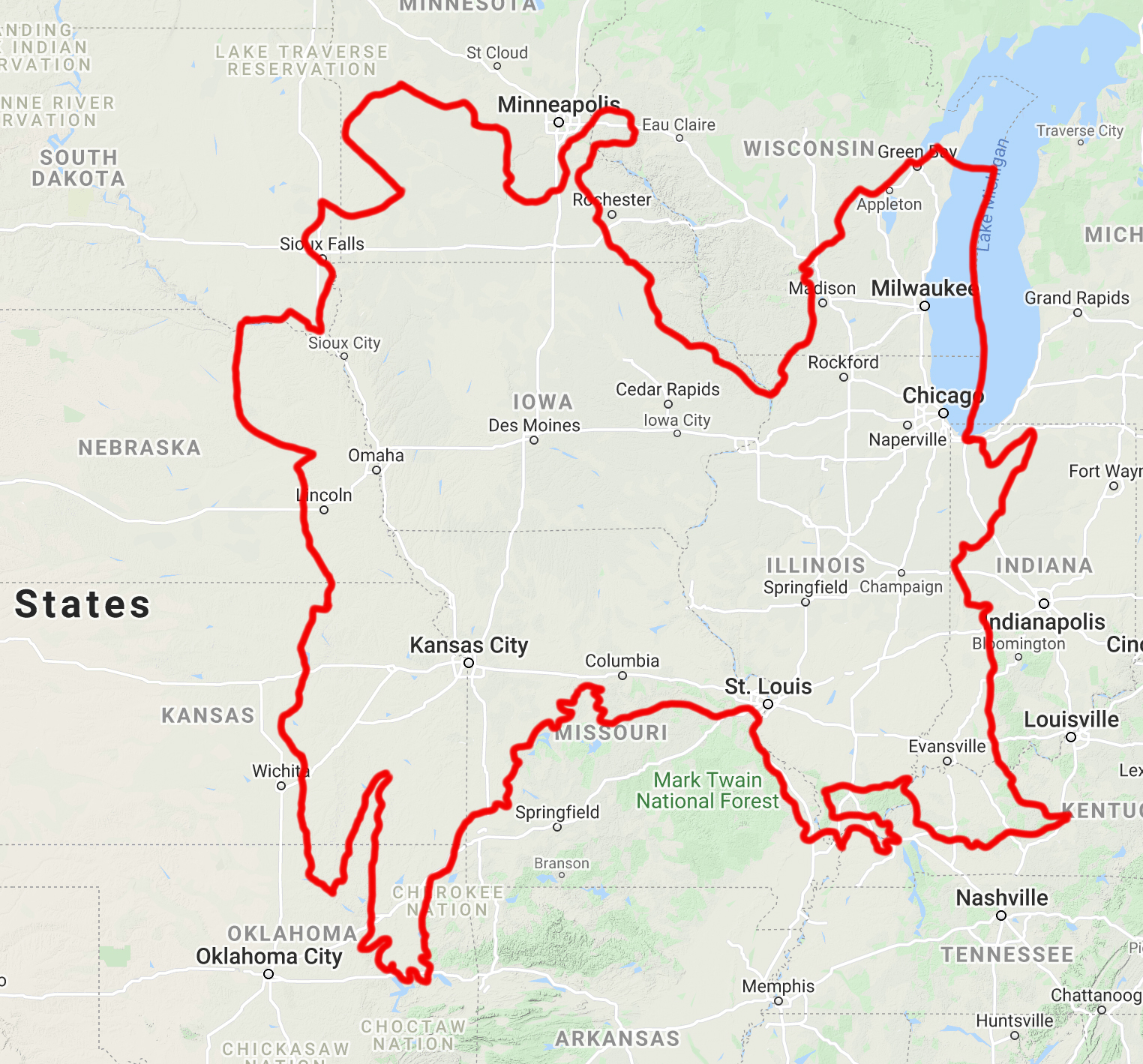 In addition to providing services to children and families, CSW has also utilized its learning laboratory to share its evidence-based strategies with schools, districts, and communities throughout the country to improve the local and national educational systems and communities. To date, the model has been shared with over 10,000 educators who have in turn impacted over five million children. Catalyst Southwest will serve as a national demonstration site that provides opportunities for educators, policymakers, and community leaders to study the holistic community revitalization model.
These trainings, symposiums, and fellowships will be housed on-site which will have eight residences and conference space to allow visitors to stay on campus and immerse themselves in day-to-day operations in addition to serving as a center for community engagement and transformation.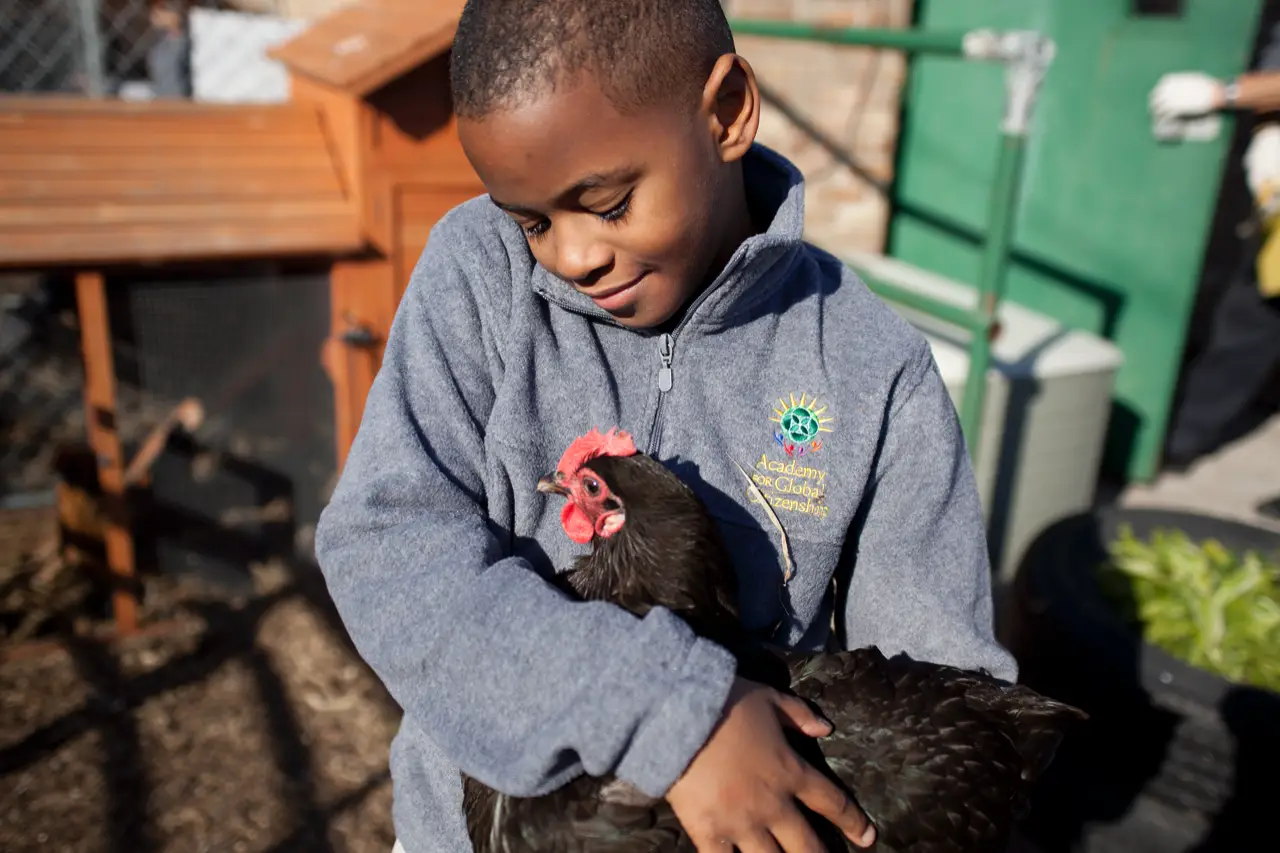 Rooted in the Purpose-Built Communities model, CSW is a firm believer that addressing the underlying contributors to poverty and racial injustice are directly linked to climate justice as minority communities are often disproportionately impacted by environmental pollution and lesser access to nature. To address environmental injustice and air pollution in the local neighborhood, Catalyst Southwest is on track to meet the world's most ambitious sustainability standards through the Living Building Challenge.
CSW will produce more energy through clean renewable resources than it uses in addition to restoring over three urban acres to nature-based parks, gardens, and public green spaces.
The project will significantly expand AGC's longstanding school gardens, resulting in increased community food security, through a new three-acre urban farm that will be operated by Urban Growers Collective, a Black and female-led nonprofit. It will provide year-round garden education and neighborhood engagement opportunities via learning greenhouses, community gardens, apiaries, orchards, and edible food walking trails, as well as a Learning Barn and Environmental Education Center that will host field trips of students from across the city.
A variety of spaces will support culinary arts and positive nutrition, including six on-site teaching kitchens, and all student meals will be prepared using organic foods grown on the campus. Additional fresh produce will be provided to the community through the social enterprise-run Community Farm Café and Fresh Foods Store and Esperanza Health Center's on-site Food Pharmacy program.