Rehabilitating desertifying ecosystems in arid places in Spain
Ecosystem Restoration Camps is a growing grassroots movement of everyday people coming together across the world to rehabilitate degraded ecosystems. Born from thousands of people pledging their support for this viral idea, camps have sprung up in rapidly desertifying areas such as Spain, Mexico, and California. The first camp in southern Spain, once a dry and degraded industrially farmed wheat field, is now a thriving regenerative settlement with accommodation and facilities for people who come to learn how to restore the land around them.
Multiple techniques have been implemented to transform this barren landscape, put in place by people from all walks of life, advised by regenerative experts. These techniques include shaping the land to capture water, creating a large wetland habitat, decompacting the soil, spreading compost, planting a cover crop, making and applying compost tea, holistic grazing, and the planting out of an agroforestry system. The camp also supports farmers and other landowners in the surrounding area to implement similar techniques as they transition to more regenerative forms of agriculture and natural land management.
The people who come to support the restoration of this area gain valuable learning experiences from the work that they help to implement. Some are already keen on ecosystem restoration, with others coming to it for the first time.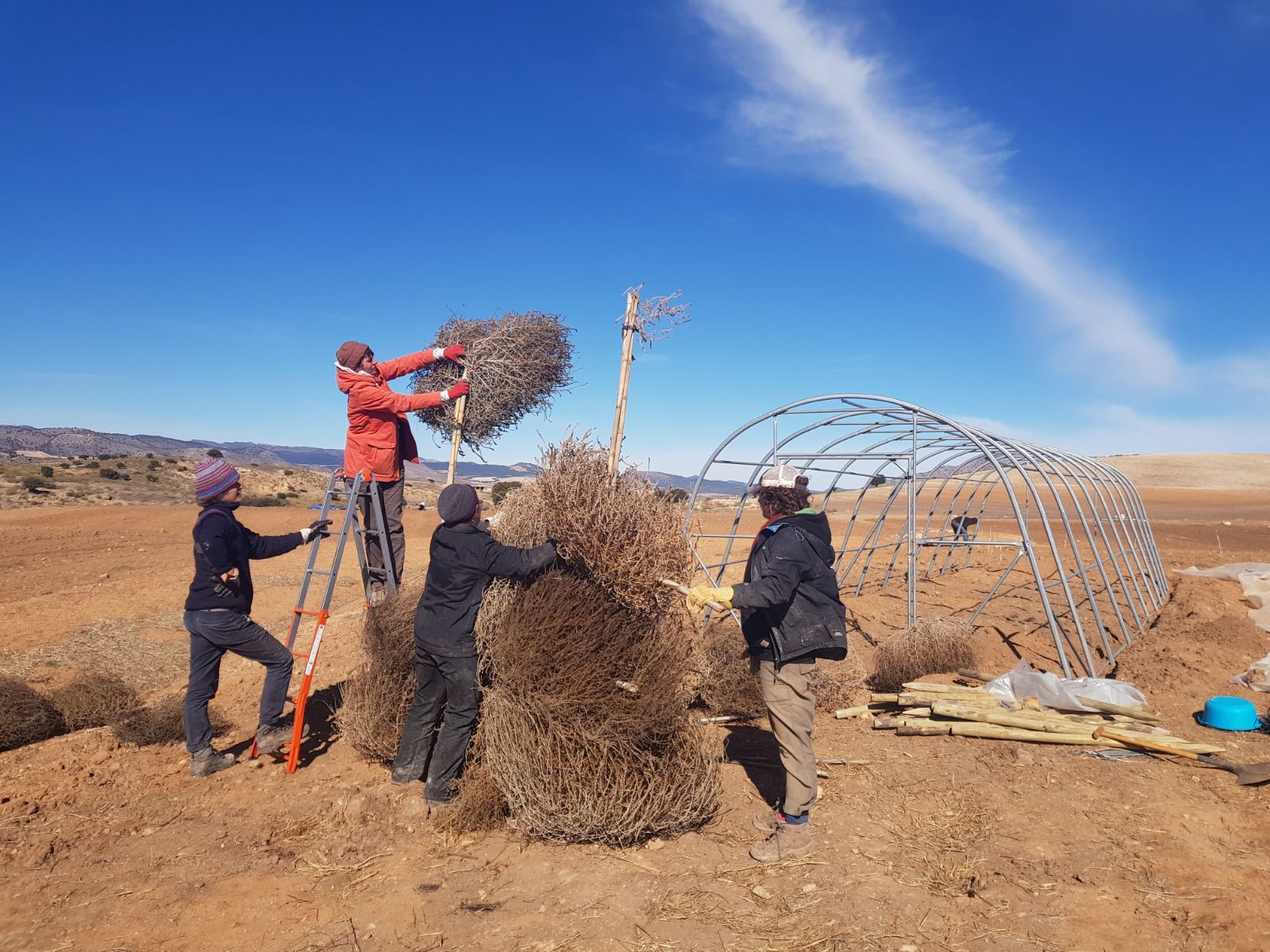 The camp exists to support this wider regional work which is managed by a local Spanish association of 60 farmers and landowners called Alvelal. Alvelal's ambition is to rehabilitate 620,000 hectares of degraded natural and agricultural ecosystems, an area so large that if it is revegetated successfully, it could restart the broken water cycle, breaking the pattern of droughts and floods. Campers have already supported several Alvelal projects The camp acts as a bridge between people who want to restore damaged land with those who have land but not the labour needed to make the transition to regenerative land use.
The popularity of this concept is reflected in the demand for attending the camp, which is regularly sold out months in advance. Campers can choose from a series of different experiences, such as short intensive courses in ecosystem restoration, regenerative agriculture, the restoration of the soil and the soul, foraging, as well as other longer experiences such as internships in various areas. You can also join for a weekend of regenerative partying with the Re-Generation Festival, where hundreds of people gather and plant out pioneer species across the land whilst dancing, playing, performing and sharing together.
Since this camp began, several others have organically emerged as communities have been inspired by the concept. A partnership with Regeneration International has birthed a camp in Mexico, and a community has gathered around restoring the land that had been burnt in the latest Californian wildfire.
Ecosystem Restoration Camps is an idea whose time has come.
August 25, 2022