Surf City El Salvador: world-class surfers ride waves to raise awareness on ocean warming
Although due to recent circumstances - caused by the COVID-19 outbreak - the Tokyo Olympics and the ISA World Surfing Games have been postponed, surfing could still help to increase ambition towards dealing with water pollution across the globe. With 'SurfCity', El Salvador would like to show that it is the ideal place for riding waves in order to bring awareness on ocean acidification, one of the most urgent aspects of the climate crisis.
The oceans represent over 70% of the planet's surface, they absorb 90% of the excess heat caused by global warming, and since even small increases in ocean temperature can affect marine life, scientists are already using smartfins (sensors that can measure the variability of the water temperature) on surfboards to gather data to support studies of coastal zones. This year, surfing will make its debut at the Tokyo Olympic Games, which could help to increase ambition towards dealing with water pollution across the globe. How is the international community gearing up at El Salvador for its debut in this prestigious competition?
Concerns for climate impacts on oceans is also high in the agenda of El Salvador's young president, Nayib Bukele. He has embarked on a quest to achieve sustainable development by hosting the International Surfing Association (ISA) 2020 World Surfing Games, as the next step in the five-year '' strategy to promote the tourism opportunities at the country's beautiful beaches.
This project was designed as a baseline for a long-term sustainable tourism program. To find out more about this, One Earth fellow Julian Reingold interviewed the Minister of Tourism of El Salvador, , who shared her vision that surfing is a tourism activity with high economic potential for this developing nation, and that promoting it goes hand-in-hand with nature conservation, which is why they want to avoid a repetition of what has happened in other countries where tourism has saturated the natural environment, resulting in beach resorts shutting down for massive rehabilitation.
The ISA 2020 World Surfing Games will be the last chance to qualify for this year's Olympics, creating great expectation for surfing fans as world-class surfers come to Central America. Hosting a world competition is one of the ways El Salvador desires to establish a mark as a country that supported surfing in its transition towards becoming an olympic sport.
The main include , at La Libertad, just 37 kilometers from San Salvador, which has become a favorite destination spot for those looking for fun, sun, sea, nightlife and some of the best waves for surfing; and El Sunzal Beach, and "world famous" , located on kilometer 44 along the coastal road, is considered by professional surfers as of the best surf breaks in the world. It's also good for snorkeling and shallow scuba diving. Other key locations of this circuit are , El and . A surf depicts waves' characteristics of each spot.
Their objective is to attract the visitors and convince tourists from all around the globe to go and visit El Salvador and discover its natural beauties. Surf City presents three fundamental advantages for El Salvador: over-70 surf spots with great waves and suitable for tourism development, warm waters without sharks for the surfers, and good weather throughout the year.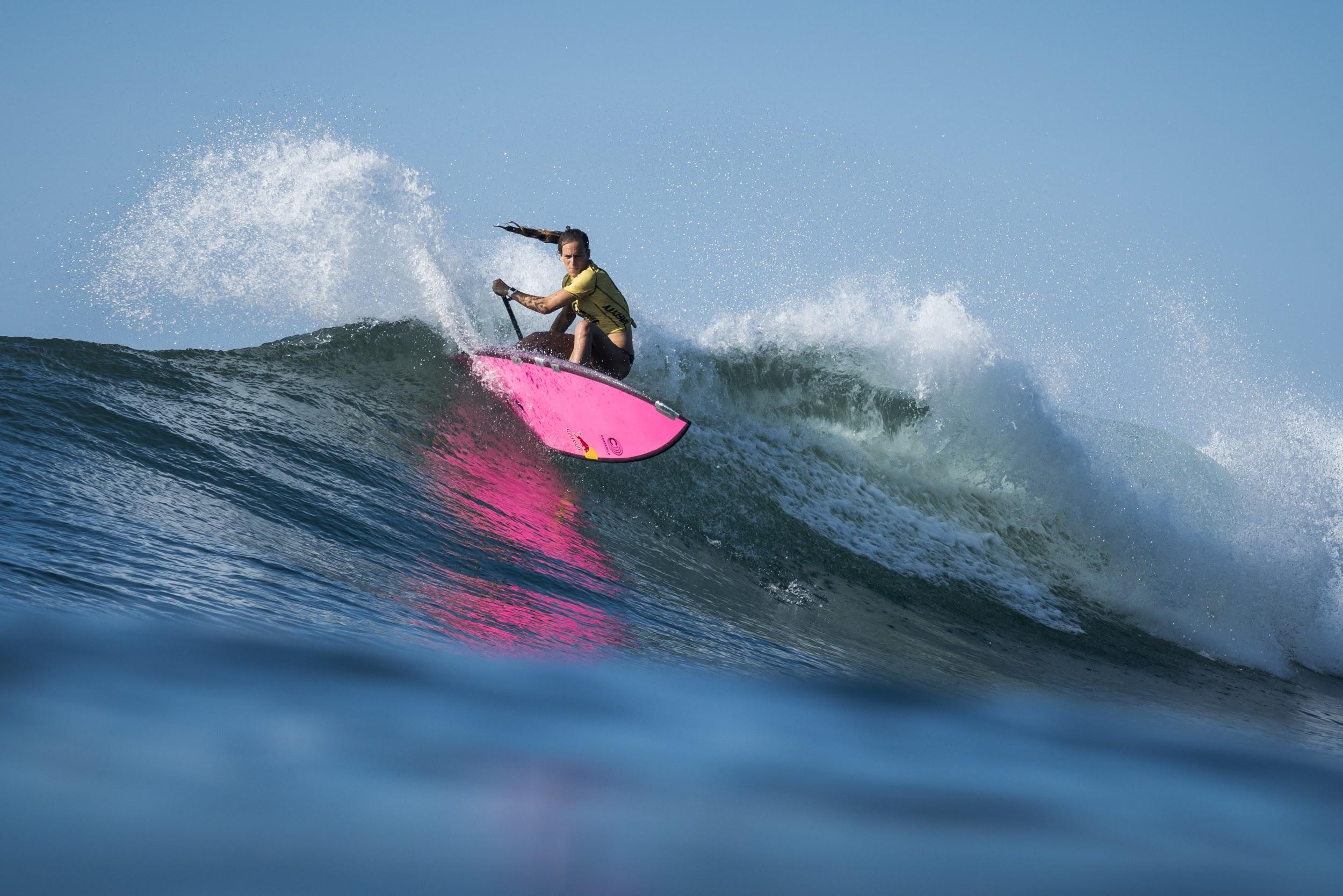 During the two big international surfing events that took place in El Salvador in 2019 -ISA and the Latin American Surfing Association (ALAS)- they implemented environmental actions such as setting up a water oasis in the beach with multiple fountains for refilling of personal water containers to avoid the massive consumption of single-use plastic bottles. Also, along with the Ministry of Environment, they organised release of turtle hatchlings as part of the project titled to create awareness on the conservation of this species. This would support local micro economies on the coastal zones by drawing more tourism to this new biodiversity hotspots.
Bukele's government believes in the potential of surfing to attract approximately 16,000 people for the competition, and another 30,000 during the season. Expecting over 90 delegations, El Salvador will be an accessible destination, particularly for the surfers coming from the US and Latam region. Hence, the ISA games in May will bring an unprecedented level of global attention to the nation and its beaches, where they would like to be seen as a good place to visit, invest and live.
"Tourism nowadays is about living the experience of sharing with the locals, and then to share those good memories on social media. This will be a breakthrough for us, as we will be able to show travellers around the world that the reality here is quite different from what is broadcasted in the news. In this manner, El Salvador will be known because we have waves the 365 days of the year and almost no cloudy or rainy days, which allows for the feeling of endless holidays", expresses joyfully Valdez from a beach near San Salvador.
In order to respect the spirit of each surf spot, the Ministry of Tourism is working with the local communities to preserve the natural landscapes and the original spirit of each surf spot, as some of them are bohemian, while others more modern. A well-managed tourism will achieve these goals to facilitate the creation of the boutique hotels, necessary for the wellbeing and performance of the athletes with all the basic services, but mostly having the wave spot right next to them.
World-renowned surfing figures speak up on ocean protection
In a break from his training sessions, Galicia-based surfer described to One Earth his experience riding waves in this Central American nation last year: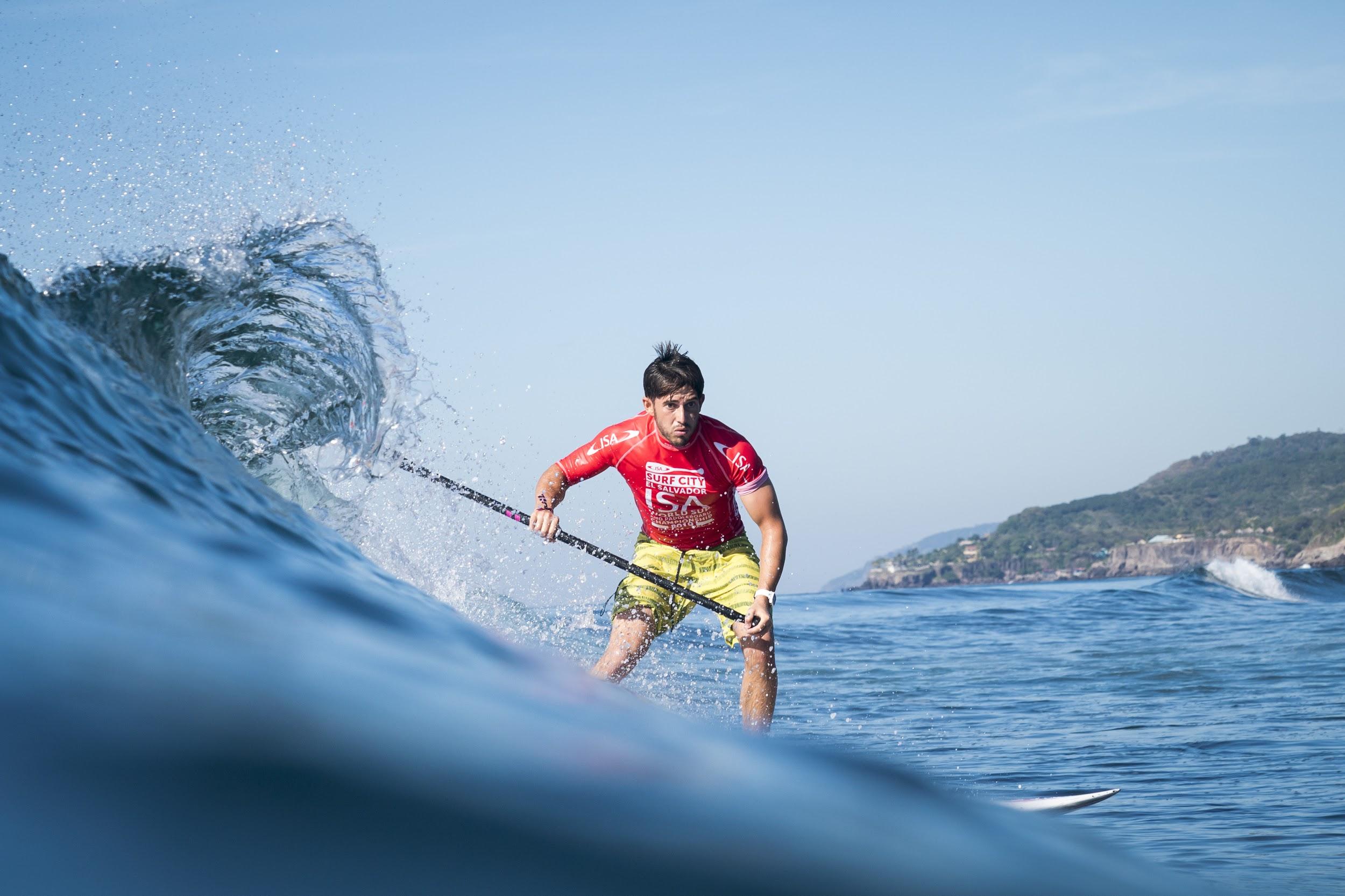 Guillermo Carracedo at the 2019 ISA World SUP and Paddleboard Championship in El Salvador. Photography copyright granted by ISA.
The 2019 special on the Ocean and Cryosphere in a Changing Climate by the Intergovernmental Panel on Climate Change (IPCC) reveals that ambitious and effective adaptation for sustainable development is possible, but the escalating costs and risks of delayed action is turning the ocean warmer, more acidic and less productive.
is an authority on touristic development through surfing, and on a Skype call from Madrid, where he teaches at Ostelea (The School of Tourism and Hospitality), he explained to One Earth how surf and climate change are deeply intertwined:
"Looking at it from the coral reefs perspective, these ecosystems are dying due to ocean acidification. And as we know, some of the best waves break over coral reefs. Climate change would affect the morphology of the waves, but also sea life, which is the reason for shark migration: let's take the case of the Reunion Islands for example, where surfing has been forbidden for the last five years to avoid possible shark attacks to surfers."
is the President of ISA, whose motto, "A Better World Through Surfing", represents the role of surfing today. He believes that most of the surfers are also environmentalists and ambassadors of the sea, as they live in it and every wave tells them something new: the sea never ceases to speak, the problem is that the majority of people are not listening to what it is saying.
Up until a few years ago, it seemed unthinkable that surfing would become an olympic sport, but people like Fernando to achieve that dream. When in 2013 the International Olympic Committee (IOC) elected Thomas Bach as its new president he said "". Aguerre quotes those same words to explain why this is an incredible moment for surfing.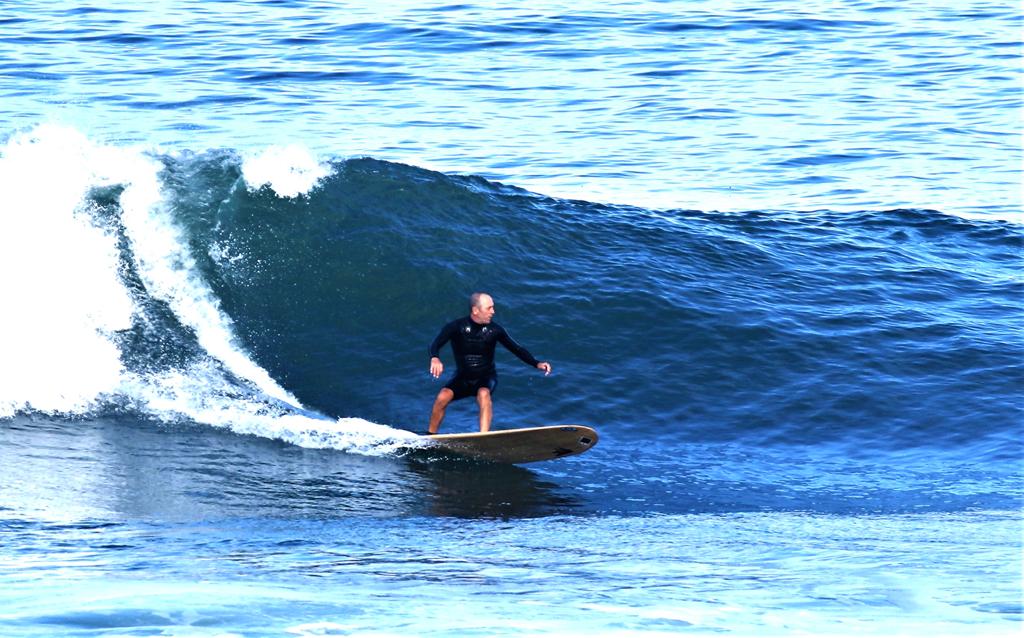 Fernando Aguerre surfing in the waters of La Jolla, California. Photography copyright granted by ISA.
In conversation with One Earth from his hometown Mar del Plata, on the seaside of Argentina, he points out that the IOC took a big step in the 2016 voting session in Rio de Janeiro towards that direction, to finally change what was once impossible into inevitable: including surf in the list of new sports for Tokyo 2020.
"Olympic surfing will give us an increase of the volume for the voice of surfers, especially when talking about the sea by putting us in another level of communication: now we will be heard by billions, not just hundreds of thousands. This means that an environmental message by the future gold medal in surfing will be listened differently in his or her home country and around the world", affirms Aguerre with pride.
For Aguerre, El Salvador understood that this sport is useful for socioeconomic development and decided to turn Surf City into a public policy which seeks to become a tool for an image and paradigm change of the country. In his opinion, the 'playground' of waves is already there, with 500 km of coast. Now what is needed is investment in infrastructure, and mostly proper environmental management.
He brings to the conversation a statement made by President Bukele, who said: "We don't need another Miami Beach full of buildings on the sand, what we need is freer and healthier wilderness areas.".
Recalling the Hawaiian legend Duke Kahanamoku, Aguerre's activism is taking his surf philosophy to the next level by showing how wave riders find themselves on the frontline against the climate crisis:
"The sea belongs to all of us and makes no distinctions: people only defend what they understand as their own. People will not defend what they do not love, and nobody loves what they do not know. My deepest wish is for the people to get to know the sea, so they can begin to love it, which would make them protect it".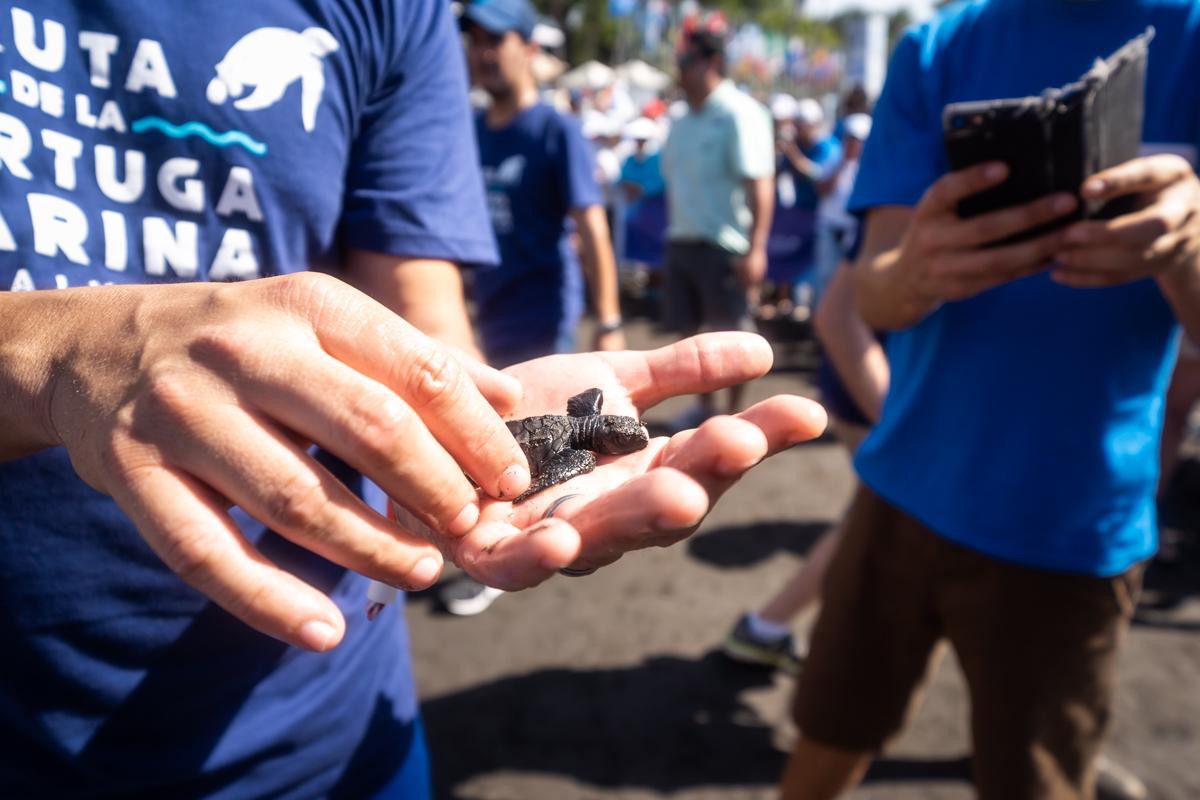 October 25, 2021