Elephants are a matriarchal species. Maybe that means that the people best prepared to protect them are matriarchs, too.
Meet Vimbai Kumire, a 33-year old single mother of two. But she oversees far more than just her two children. She is the sergeant and squad leader of Akashinga, a gutsy, all-female ranger unit in Zimbabwe. Akashinga means "the Brave Ones" in the Shona language of Zimbabwe, and indeed the members of Akashinga are brave enough to tackle not only poachers and dangerous animals, but also the traditional and cultural biases against women in their native country and region.
"In Africa, being a ranger was a job meant only for a man and not a woman," recalls Kumire, "as we women were seen and taken as the most weakest people. Our job was only to be home, to give birth to children, and cooking, washing, and to go to the fields and do all house chores. And those were the same mocking words we received from men when they saw us walking to work. Being brave and strong enough, we manage to prove them wrong — that there is no job meant for man only, but we as women — we can also do the same."
The job that Kumire and her female colleagues — many of whom are former victims of domestic abuse — have is an incredibly dangerous one. They are on the front lines of the global poaching crisis, which has seen an average of 35,000 African elephants killed every year. Poachers slay elephants primarily for their tusks, which are as valuable on the illegal ivory market as cocaine, and harming or killing rangers to get to their prey is not uncommon.
(If you are thinking to yourself, what does this story have to do with the environment, note that, in addition to being a species generally beloved by people, elephants also play a critical role in the ecosystem, as a keystone species. Depriving ecosystems of elephants can have a deleterious effect on the overall environment, as elephants and other megaherbivores actually play a role in fighting climate change. So saving elephants is saving the environment. And all of the UN's SDGs play an interconnected role in the environment. SDG15, Life on Land, has specific targets regarding elephants, anti-poaching efforts, biodiversity campaigns, and job creation among communities that border game reserves.)
Despite the dangers of the job, the women of Akashinga have come together with purpose, to protect animals. That is something that impressed Damien Mander, the founder of the International Anti-Poaching Foundation (IAPF), which launched Akashinga in the summer of 2017.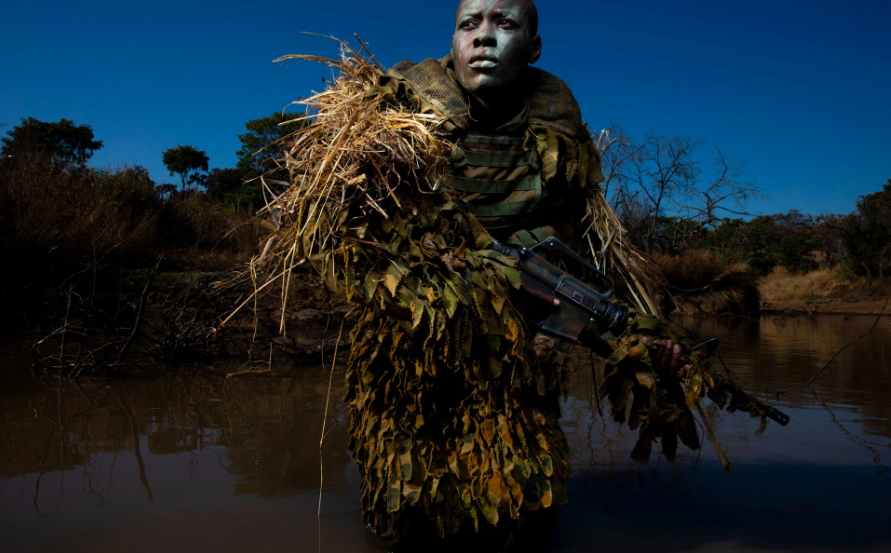 "These women are as tough as they come," says Mander, "and they are willing and able to fight to the end. Akashinga is purpose that seeks out the toughest of the tough to be nature's fiercest protectors. When spirit and character meet purpose, nothing can stand in your way."
Mander is an expert on judging toughness in recruits. He was an Australian Navy special-ops sniper who served 12 tours of duty in Iraq over three years. Ten years ago, he re-settled to southern Africa, where he founded the IAPF. Mander believes that empowering women is the key to success in these kinds of operations. "The primary strategy of Akashinga is female empowerment," he says. "This generates the greatest leverage in family and community development, and conservation becomes a direct beneficiary. The Nature Conservancy states, 'A growing body of evidence suggests that empowering women is the single biggest force for positive change in the world today.' Also, the United Nations says: 'When women work, they invest 90 percent of their income back into their families, compared with 35 percent for men.' "
Protecting animals is a full-time job for Mander and the members of Akashinga — and that includes adopting a vegan diet. "I was someone who doesn't even know the value and importance of animals as I grew up," notes Kumire. "My love was only for kids because my mind was telling me that animals are only important when you kill and eat them. We Africans used to eat meat a lot. When I was in the training, I will admit that I cheated and had meat! But now I couldn't eat meat again. I was heartbroken when I heard about the death of Cecil the lion — I cried for him and my heart was beating so fast. After I calmed down, l asked myself why am I so touched about this, why am I crying for an animal? And I couldn't find answers. Soon after I joined Akashinga, that is when I realized that I have a heart and passion for animals — I gained that everlasting love that I didn't have all those past years."
What began as one conservation unit in 2017 — that in two years made 130 arrests — has expanded to five units throughout Zimbabwe, as the IAPF has acquired one million acres of land.
"Being brave enough to fight for my animals," says Kumire, "it will prove the meaning of our name that we are the true Akashinga. We as women are managing to overcome and win our battle in fighting for our wildlife because women have a motherly heart, and we join hands to be one. When a woman commits herself in what she wants to do, she can fight until she wins. We have our own families, but animals became our second family."

This article originally appeared on Earth's Call.
October 25, 2021