Conservation Hero: Alexandra Narvaez
Each week One Earth is proud to feature an environmental activist and hero from around the globe who is working to create a world where humanity and nature can coexist in harmony.
In Ecuador's northern Amazon region is the community of Sinangoe. Here, the Indigenous Kofán have lived and been the natural caretakers of the rainforest for centuries.
Alexandra Narvaez is the first women Kofán member of Sinangoe's land patrol, pushing back against patriarchal structures to advocate for women's leadership and the role women can, and should, play in struggles for Indigenous autonomy and protection of their lands and cultures.
A typical day in the life of a Kofán woman, or A'I as they refer to themselves, is one of tradition. Rising before dawn, women are the primary caretakers of children, fruit and seed collectors, cooks, and makers of handicrafts. Men have the fixed role of being hunters, fishers, and community protectors.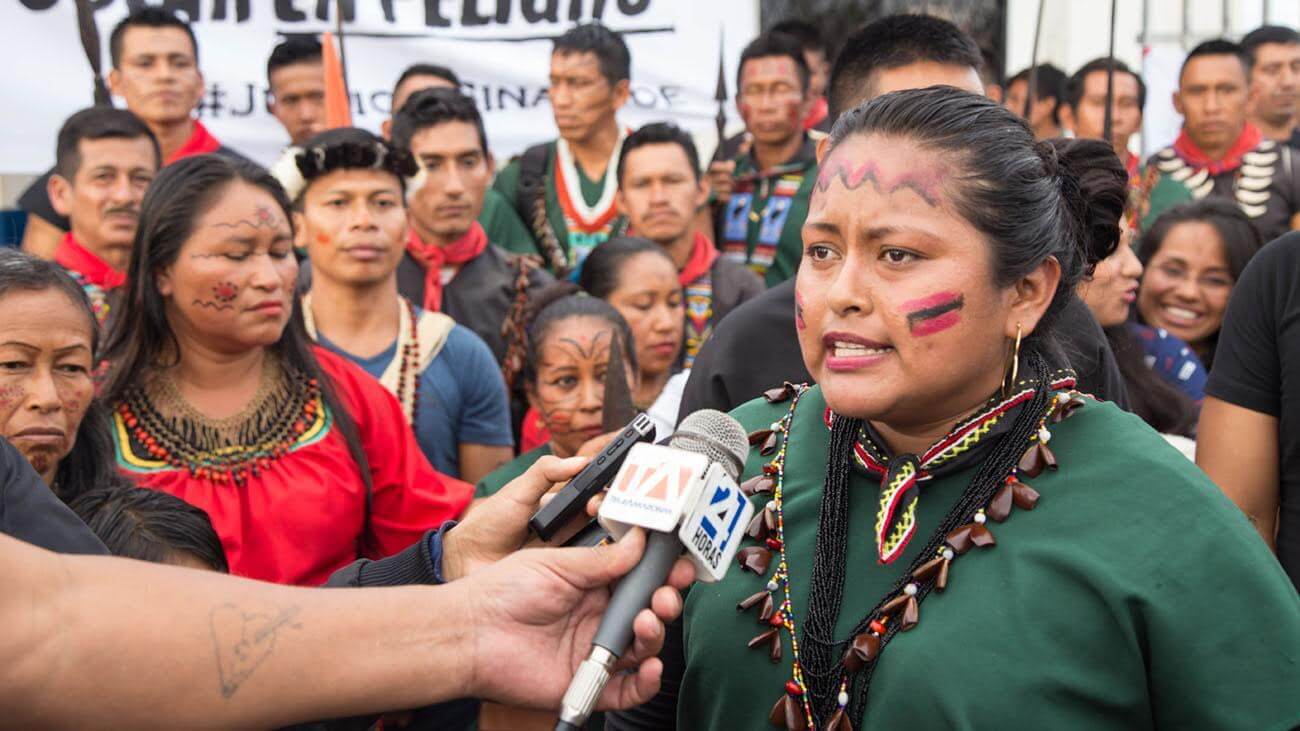 As large-scale mining and oil drilling encroached into the region without permission, damaging rivers, biodiversity, and livelihoods, the Kofán established a land patrol to protect their territory. Narvaez wanted to join the fight to defend her home, and after much aversion from the men in her community, she became a part of the patrol's monitoring team.
Narvaez's passion comes from her desire to ensure a healthy future for her two daughters and the other children of Sinangoe, to keep their culture alive so that they can grow up as Kofán and become strong leaders themselves. Her dedication as a parent, community leader, member of Sinangoe's land patrol, spokesperson for her people, and role model for other Indigenous women and youth is exceptional.
She played a key leadership role in her people's lawsuit against the Ecuadorian government, which in 2018 resulted in a historic victory that canceled 52 gold mining concessions. This achievement protected 79,000 acres of biodiverse rainforest and a pristine headwaters region of one of the most important rivers in the Ecuadorian Amazon.
This legal victory set a precedent that the Kofán then used to bring a case before Ecuador's Constitutional (Supreme) Court. In February 2022, the Court ruled in favor of the Kofán people, establishing the nation's first constitutional guarantee for the Indigenous right to "free, prior, and informed consent" over any extractive activities that may impact their lands. In other words, the right to say "no" to resource extraction across almost 23 million acres of rainforest in Ecuador.
As a trailblazer, Narvaez has tirelessly poured her heart into the movement to protect her people and their lands. Her success as a community leader is owed to her refusal to never to give up, no matter the obstacles.
A friend and ally of the Goldman Environmental 2020 Prize winner Nemonte Nenquimo, Narvaez works with Amazon Frontlines. Together, this organization, these women leaders, and many others support the struggles of Indigenous peoples to defend their rights to land, life, and cultural survival in the Amazon Rainforest.
Support Indigenous-led Conservation
March 16, 2023