The ecoregion is dominated by monospecific stands of the winter-deciduous mopane tree, which has butterfly-shaped leaves and seeds that produce resin enabling the seeds to stick to the hooves of passing animals. Elephants engineer the ecosystem by browsing on the mopane tree, which involves breaking branches, uprooting trees, and stripping bark. The bushveld also supports the threatened black rhinoceros and cheetah as well as the near-endemic mammal: Juliana's golden mole.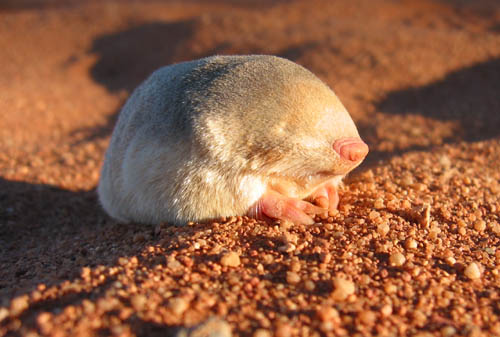 The ecoregion covers the southeast corner of Botswana and northern South Africa. It has a well-defined southern boundary, the Highveld Grassland which is a cool, high-elevation (1,500 to 2,000 m) grassland. The most distinctive topographical feature is the rugged Waterberg Mountains which rises up from the extensive undulating plateau to between 1,200 and 1,500m. An unusual soil type characterizes this plain – black or red vertic clay, derived from basalt.
The climate is tropical and seasonal with hot, wet summers and cool, dry winters. It has an average annual rainfall between 350 mm to 750 mm, with a slightly higher average (650 mm to 900 mm) in the Waterberg Mountains. The highveld plateau forms a ridge running east to west to the south, and provides shelter against cooler air masses. As a result, the temperatures in the bushveld are higher than on the more elevated highveld and range from -3°C to 40°C, with an average of 21°C.
The ecoregion is dominated by often monospecific stands of the winder deciduous mopane tree, Colophospermum mopane, in the subfamily Caesalpinoideae. Towards the northern part of the ecoregion, the vegetation grades into woodland savanna, with Hyparrhenia filipendula and H. dissolute being the most common grass species. The silver clusterleaf is the dominant tree, intermixed with varying populations of Burkea africana. In the southern part of the ecoregion, clay thorn bushveld occurs on the Springbok Flats. It is an open savanna dominated by many Acacia species, such as Acacia tortillis, A. nilotica, and A. nigrescens. The savanna surrounding the Waterberg Mountains is characterized by Afircan beachwood, common hookthorn, red seringa, Terminalia sericea, and Peltophorum africanum.
Compared with other neighboring ecoregions, the Central Bushveld do not supports exceptional plant species richness and has few endemics, with the exception of the Waterberg Mountains. Nonetheless, there is a relatively high faunal species richness including many of the charismatic large mammals associated with African savannas. While these species are not endemic, some are threatened, including black rhinoceros, cheetah, and elephant. For example, elephant populations were estimated at 211 in 2013 in Pilanesberg National Park.
There are also diverse communities of ungulates including giraffe, Burchell's Zebra, blue wildebeest, greater kudu as well as carnivores including brown hyena, black-backed jackal, and caracal. Leopard populations are high in both protected and non-protected areas and recent increases in the Waterberg Biosphere Reserve could be due to the rise in the number of game farms.
Many of the strict reptile endemics in this ecoregion - such as the Waterberg girdled lizard, the Waterberg dwarf gecko, and the Waterberg flat lizard - are endemic to the Waterberg Mountains. Other endemic reptiles include Loboatse hinged tortoise, Muller's velvet gecko and dwarf flat lizard. In addition to the Juliana's golden mole, another near-endemics in this ecoregion is the boulder chat.
The conservation status of the ecoregion is relatively good, with many areas of natural habitat conserved in the form of provincial nature reserves, conservation areas, and private game farms. Pilanesberg National Park is one of the most important reserves. This 503 km2 national park encompasses an isolated ring complex of volcanic hills. In the Limpopo Province of South Africa there has been a recent trend to restock privately owned savanna areas with indigenous herbivores.
Other protected areas include Waterberg Biosphere Reserve, Vhembe Biosphere Reserve, Borakalalo National Park, Madikwe Nature Reserve, and Capricorn Private Nature Reserve. These private game farms contribute significantly to conservation for species such as the re-introduced white rhinoceros. In Botswana, human population density is low and is restricted to small settlements, hence large areas of continuous habitat remain. No protected areas are found within this ecoregion in Botswana.
The major land-use practices in the Limpopo Province of South Africa are game and cattle farming. Whereas game farming better preserves the natural habitat, cattle farming can lead to overgrazing, contributing to erosion, bush encroachment, and altered fire frequency. In addition, the predatory and scavenging fauna of the bushveld are perceived as pests by farmers, and routinely exterminated. Black-backed jackal, caracal, and Cape griffon are common target species, although non-target species such as bat-eared fox, aardwolf, and aardvark are often killed.
Direct habitat loss, from agricultural encroachment as the fertile clay soils are ideal for crops, is prevalent on the Springbok Flats, the most-threatened habitat within the ecoregion. There are fewer threats in Botswana. Poaching of rhino is escalating in this ecoregion. Four exotic plant species have invaded the ecoregion which are blue jacaranda, tickberry, syringa, and white mulberry. Intentional fires are essential in this region in maintaining plant diversity and to reduce woody plant encroachment. However, uncontrolled fires are a major threat, particularly in hot dry conditions during August and September.
The priority conservation actions for the next decade will be to: 1) reduce poaching and enhance law enforcement measures to ensure successful convictions; 2) implement control and eradication of invasive species measures in protected area management plans; and 3) implement effective pollution control measures.
Citations
1. Burgess, N., Hales, J.A., Underwood, E., Dinerstein, E., Olson, D., Itoua, I., Schipper, J., Ricketts, T. and Newman, K. 2004. Terrestrial ecoregions of Africa and Madagascar: a conservation assessment. Island Press.
2. North West Parks & Toursim Board. 2015. Pilanesberg National Park Management Plan. [Online]. [Accessed 7 March 2018]. Available from: http://www.tourismnorthwest.co.za/wp-content/uploads/2015/02/1502-PNP-Management-Plan-Draft1.pdf
3. Government of South Africa. 2015. South Africa's 2nd National Biodiversity Strategy and Action Plan 2015-2025. Pretoria, South Africa: Department of Environmental Affairs.
4. Swanepoel, L.H., Somers, M.J. and Dalerum, F. 2015. Density of leopards Panthera pardus on protected and non-protected land in the Waterberg Biosphere, South Africa. Wildlife Biology. 21(5), pp.263-268.