The Limpopo Lowveld ecoregion is one of the world's key strongholds for southern white and south-central black rhinos. Over half of the total population of south-central black rhinos—384 individuals in 2015—are protected in Kruger National Park, together with 8,875 white rhinos, the majority of which individuals were found south of the Olifants River. In face of mounting poaching pressure for their horn, Kruger National Park still remains the most important contributor to conservation of the wild rhinos in South Africa and possibly the world.
The ecoregion is a low-lying landscape extending from just south of Swaziland up to the Mozambique-South African border with the foot slopes of the Drakensberg Great Escarpment to the west and the Mozambique coastal plain to the east. The ecoregion falls largely within the tropical summer-rainfall zone, with precipitation largely confined to summer, from October to May (wet season), and the annual average rainfall is approximately 630 mm, with the most rainfall falling during convective thunderstorms. The mean annual temperature is 22°C.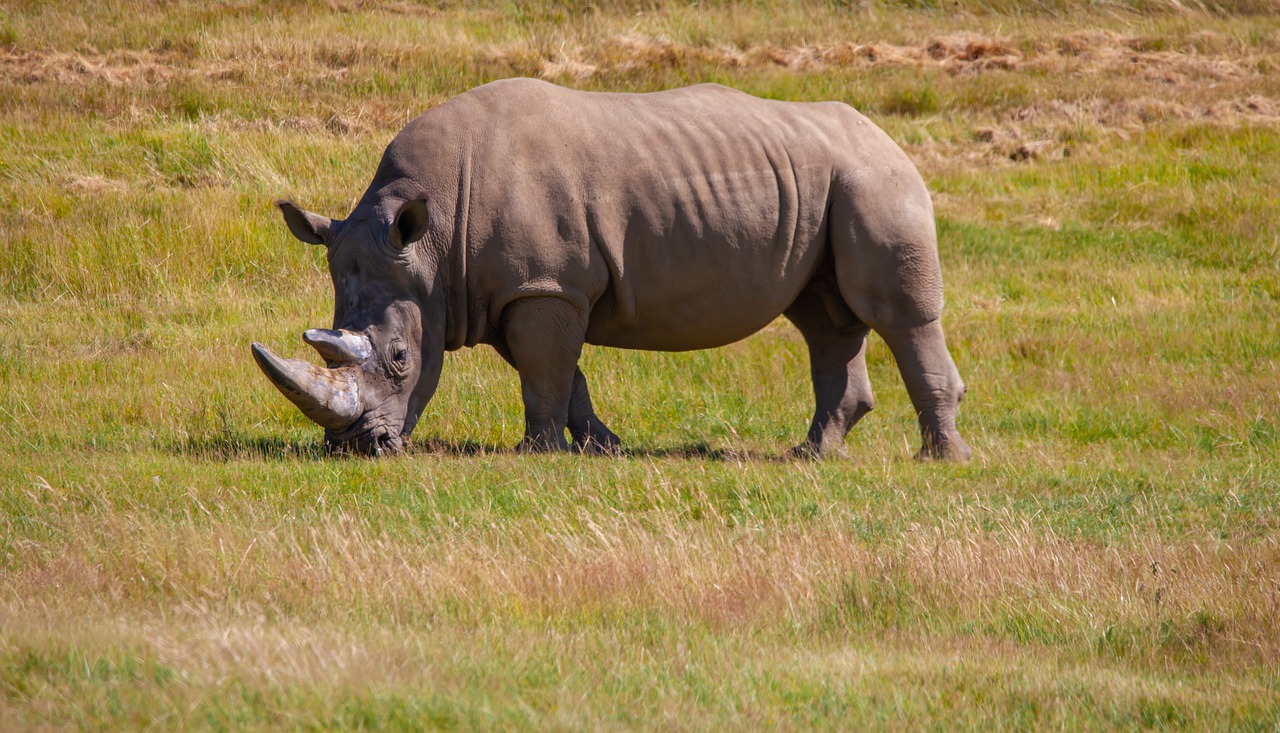 The terrain is generally flat or gently undulating along the floors of the major river valleys, with average elevations of 450 m and decreasing elevations to the east. The dominant geology includes granite and gneiss with local intrusions of gabbro. The ecoregion is made up of a continuous herbaceous layer interspersed with woody stratum. The distribution of woody vegetation is determined by elephant browsing activity and fire as well as the rainfall, topography, and geologic substrate.
The dominant vegetation is a mix of the winder-deciduous mopane tree and other species such as Acacia tortillis and A. mellifera. In the Springbok Flats, clay thorn bushveld also occur, with an open savannah dominated by many Acacia species, such as A. tortillis, A. nilotica, A. nigrescenes. A. gerrardii, and A. karoo. The grasses are dense, tall, and coarsely tugged. Turf grass, deck grass and canary millet are the dominant species.
This ecoregion is one of the most important areas for large mammal diversity and biomass in southern Africa. Vegetation here is more nutritive than surrounding ecoregions with higher rainfall, and as a result, the area is well known for supporting large concentrations of ungulates. This includes some of the most significant remaining populations of black rhinoceros, elephant, white rhinoceros, hippopotamus, buffalo, blue wildebeest, giraffe, greater kudu, and nyala.
Predators are also abundant—lion, cheetah, African wild dog, spotted hyena, and leopard are found in a number of the ecoregion's large protected areas. There are few if any endemic mammals but there is one near-endemic mammal species, Juliana's golden mole. The ecoregion also contains a number of near-endemic reptiles, such as the two-toed burrowing skink, bluetail scrub lizard, and Sabi quill-snouted snake.
Much of the land has been changed by agriculture and settlement, while livestock grazing and resource-use activities heavily impact the bulk of the remaining habitat. The most significant national parks are Kruger National Park and Vhembe Biosphere Reserve in South Africa. Other protected areas include Kruger to Canyons Biosphere Reserve, Hluhluwe- Imfolozi National Park, and Manyoni, Mkuzi, and Mkhaya Game Reserves.
The most widespread threats to the ecoregion are poaching and the exploitation of wildlife. Black rhinos are still threatened by poaching for their horn, and farmers kill the endangered African wild dogs as pests. Poaching is common in poorly funded parks as well as in well- funded parks, particularly Kruger National Park. Subsistence rain-fed agriculture, for example maize, peanut, watermelon, and Bambara nut, is increasing near expanding settlements. Additionally, livestock farming is widespread near these growing settlements which is resulting in overgrazing and consequently, soil erosion and acidification. Lastly, excessive wood harvesting for timber and fire wood is a common threat in this region.
The priority conservation actions for the next decade will be to: 1) encourage alternative resource-based livelihoods to enable adaptation to economic and climatic fluctuations; 2) improve law enforcement and anti-poaching monitoring effort; and 3) engage public and private sectors to coordinate larger scale conservation campaigns, such as private game ranches and conservancies.

Citations
1. Burgess, N., Hales, J.A., Underwood, E., Dinerstein, E., Olson, D., Itoua, I., Schipper, J., Ricketts, T. and Newman, K. 2004. Terrestrial ecoregions of Africa and Madagascar: a conservation assessment. Island Press.
2. Wessels, K.J., Mathieu, R., Erasmus, B.F.N., Asner, G.P., Smit, I.P.J., Van Aardt, J.A.N., Main, R., Fisher, J., Marais, W., Kennedy-Bowdoin, T. and Knapp, D.E. 2011. Impact of communal land use and conservation on woody vegetation structure in the Lowveld savannas of South Africa. Forest Ecology and Management. 261(1), pp.19-29.
3. Burgoyne, C., Kelso, C. and Ahmed, F. 2016. Human activity and vegetation change around mkuze game reserve, South Africa. South African Geographical Journal. 98(2), pp.217-234.
4. Ferreira, S.M., Bissett, C., Cowell, C.R., Gaylard, A., Greaver, C., Hayes, J., Hofmeyr, M., Moolman-van der Vyver, L. and Zimmermann, D. 2017. The status of rhinoceroses in South African National Parks. Koedoe. 59(1), pp.11-pages.