Mulanje Montane Forest-Grassland
The national tree of Malawi, Mulanje cedar, endemic to Mount Mulanje, is critically endangered after being heavily exploited for over 100 years. These highly valuable trees remain severely under threat from illegal logging, increased frequency of fires, over collection of firewood, invasive pests including Giant Cypress Aphid, and bauxite mining. If these threats continue the cedar, currently covering only 8.45 km2, will have declined by more than 80% by 2030. The introduced Mexican Pine is highly invasive to the cedar. As a conservation effort, the Government of Malawi eradicated over 3 km2 of the pine in 2012.
The ecoregion is situated at the southern end of Malawi about 100 km south of Lake Malawi. The ecoregion is made up of Mount Mulanje and some lower altitude mountains to the northwest. Mount Mulanje rises sharply from the surrounding Phalombe Plain to more than 3,000 m covering an area of 650 km2 with high plateaus about 2,000 m above sea-level, incised by several deep ravines. The ecoregion experiences a single, austral summer rainy season, extending from November to April.
The remainder of the year is drier, but maritime air from the Mozambique Channel brings occasional mist and rain to southeast-facing slopes (termed Chiperone weather). The average annual rainfall ranges from 1,600 mm at the foot of Mount Mulanje to 2,800 mm at higher elevations. At moderate altitudes average maximum temperatures are 24°C in summer and 12°C in winter, and minimum temperatures are 15°C and 9°C in summer and winter respectively. At higher altitudes temperatures drop to -3°C in winter and frosts are common on the lower slopes and on the tea estates at the foothills.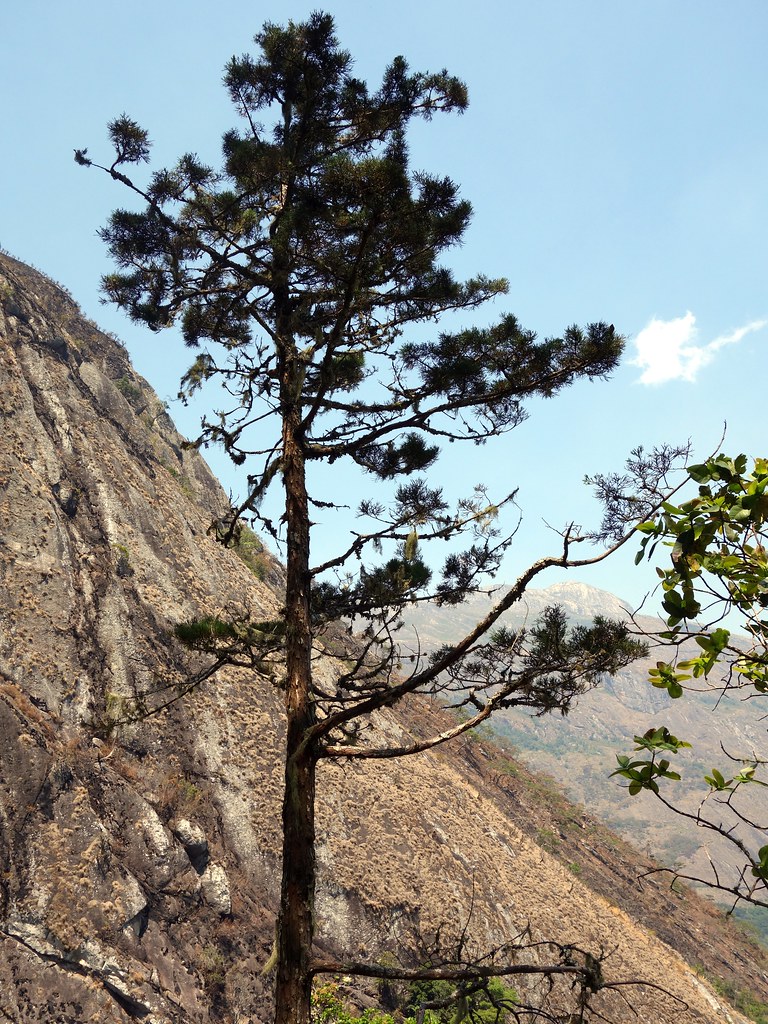 The ecoregion forms part of the Afromontane archipelago-like regional center of endemism. It has a relatively low level of specific endemism when compared to other Afromontane forest islands in the region, but has a high level of species richness. A few species of trees and large shrubs, however, appear to be endemic to Mount Mulanje, such as Mulanje Cedar, Rawsonia burtt-davyi, Ficus modesta, and Mulanje Cycad.
The highest rate of faunal endemism is found in the reptiles and amphibians. Strict endemics include Mulanje mountain chameleon, Malawi stumptail chameleon, king dwarf gecko, and Mitchell's flat lizard. Among amphibians, Tshiromo frog, Ruo River screeching frog, and Broadley's grassland frog are strictly endemic. Tshiromo frog and the Ruo River screeching frog are restricted to Mount Mulanje, while Broadley's grassland frog is found on Mulanje and on the Zomba Plateau. The only antelopes remaining are bushbuck, red duiker, and blue duiker, which live in dense vegetation. Yellow baboon is common in the woodlands and the blue monkey and vervet monkey occur along forest edges.
Much of the ecoregion is protected in government forest reserves, however, some of these reserves have been converted to pine and eucalyptus plantations, with fragments of indigenous vegetation remaining in more inaccessible areas. Zomba Mountain has been degraded by Pinus plantations, although small patches of mid-altitude and montane forest remain.
The adjacent Malosa Mountain is in much better condition, as the reserve was never altered by plantations. At Mulanje, the situation is critical. All of the southeastern slopes of the mountain have been deforested, mainly by tea estate workers short of land. The Mulanje forest reserve was established to protect water catchments and to control the logging of Mulanje cedar.
The most serious threat is the acute shortage of land due to large tea plantations in the foothills between Mulanje and Thyolo Mountains. Tea plantation workers are obliged to grow their annual maize crops within forest reserves, thus deforesting the lower slopes of Mulanje Forest Reserve. Forestry is another major threat, with large areas converted to pine and eucalyptus plantations.
Nearly all of the indigenous vegetation on the Zomba Plateau has been supplanted by Mexican pine. The Mulanje cedar is under serious threat from over-exploitation. Other serious threats include the uncontrolled invasion by the exotic Himalayan raspberry and Mexican pine as well as the cypress aphid, the hunting of large mammals, uncontrolled fires, and bauxite mining. A growing threat is from climate change, which has already resulted in changes in species composition.
The priority conservation actions for the next decade will be to: 1) eradicate and prevent the introduction of invasive species; 2) support reforestation programs by establishing more cedar nurseries and enforce illegal logging; and 3) promote the establishment of community led firefighting groups as well as promoting bushfire awareness programs.
Citations
1. Burgess, N., Hales, J.A., Underwood, E., Dinerstein, E., Olson, D., Itoua, I., Schipper, J., Ricketts, T. and Newman, K. 2004. Terrestrial ecoregions of Africa and Madagascar: a conservation assessment. Island Press.
2. CEPF. 2012. Ecosystem profile: Eastern Afromontane biodiversity hotspot. [Online]. [Accessed 12 March 2018]. Available from: https://www.cepf.net/sites/default/files/eastern_afromontane_ecosystem_profile_final.pdf
3. Government of Malawi. 2015. National Biodiversity Strategy and Action Plan II (2015-2025). Malawi: Environmental Affairs Department, Ministry of Natural Resources, Energy and Mining.
4. Bayliss, J., Makungwa, S., Hecht, J., Nangoma, D. and Bruessow, C. 2007. Saving the Island in the sky: the plight of the Mount Mulanje cedar Widdringtonia whytei in Malawi. Oryx. 41(4), pp64-69.