Expanding Diverse and Resilient Food Systems for Landless Farmers in Zimbabwe
One Earth's Project Marketplace funds on-the-ground climate solutions that are key to solving the climate crisis through three pillars of collective action — renewable energy, nature conservation, and regenerative agriculture.
The COVID-19 pandemic underscored the need to protect and strengthen the capacities of peasant movements to feed people and hasten the transformation towards a just and sustainable food system. Peasants, or landless farmers, feed more than 70% of the world, but they bear the brunt of the impacts of industrial agriculture, climate change, and health epidemics. It's time to expand localized, diverse, and resilient food systems.
La Via Campesina (LVC) for years has been promoting a rapid agroecological transition as is integral to the full realization of peasants' rights. Created in 1993 by small farmers seeking to protect their rights in the face of an increasingly globalized food system, LVC has grown to 182 affiliates in 81 countries across Africa, Asia, Europe and the Americas. It represents 200 million small-and mid-sized farmers, landless people, rural women and youth, Indigenous peoples and agricultural workers.
Communities have been particularly hard hit in the Sub-Equatorial Afrotropics, and LVC is seeking funding to expand its work across Zimbabwe and neighboring countries. Funds will help farmers and advocates promote social transformation, agrarian reform, guarantee of rights to seeds and accessible markets agroecological practices, and the recognition of peasant solutions in the face of climate change.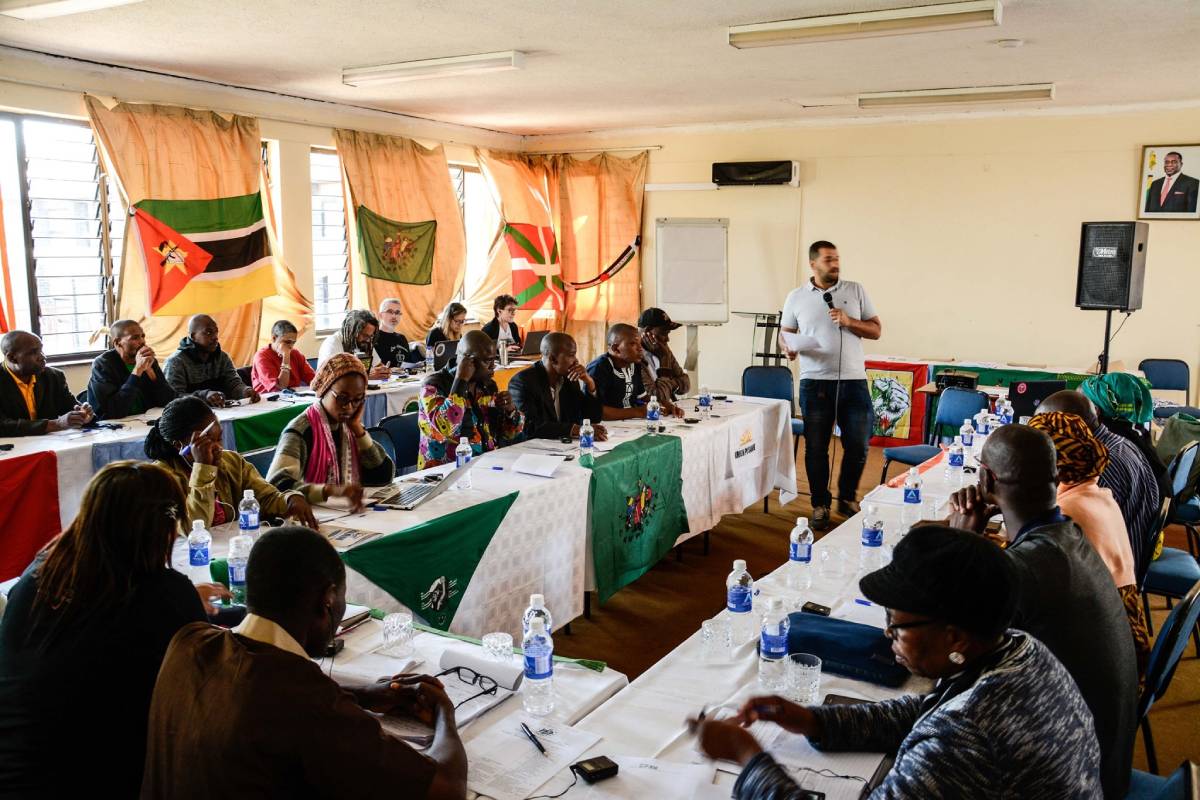 LVC's Africa program, with allies GRAIN and ETC Group, supports agroecology as the cornerstone of a fair and sustainable food system and a key form of resistance to an industrial farming model that puts profit before nutrition, soil and water health, and farming families' secure livelihoods. The LVC's grassroots network lifts up farmers, peasants, and Indigenous by increasing public support for family farming and facilitates farmer to farmer learning.
Covid-19 and the Decade of Family Farming, which began in 2019, are both opportunities to advocate for public policies that support the rights of small-scale food producers.
As part pf the LVC project in Africa, GRAIN and ETC Group will bring research, analysis, and legal expertise to the region with three major goals:
Educate a new generation of farmer leaders through a global network of agroecology schools.
Produce and disseminate vitally important studies and learning tools on agroecology, seeds, biodiversity, GMOs, and climate change.
Organize continent-wide training workshops for peasant organizations on threats posed by seed laws and treaties.
Direct training and support from these efforts have been showing concrete results in other regions, for example, enabling the women farmers' organization, Anamuri, to play a pivotal role in stopping a Chilean bill—dubbed the Monsanto Law—that would have given agribusinesses the right to patent seeds they discovered, developed or modified, illegalizing informal exchanges between peasant farmers.
The project centered in Zimbabwe will seek to strengthen the capacities of hundreds of thousands of peasants, family farmers, landless people, rural women, youth, Indigenous peoples, migrants, and farmworkers and their organizations, worldwide. The LVC-Grain-ETC global network will focus on expanding peasant agroecology schools in Africa and deepening the territorial agroecology processes of their members and allies.
Civil society organizations involved in the struggle for food sovereignty and the general public will also be positively impacted by the expansion of this holistic strategy for change in Africa. Collectively, this collaboration plays a pivotal role in the global movement for agroecological food systems.