Growing Trees and Supporting Women farmers in Burundi
One Earth's Project Marketplace funds on-the-ground climate solutions that are key to solving the climate crisis through three pillars of collective action — renewable energy, nature conservation, and regenerative agriculture.
Families in Burundi have been faced with many challenges. Only 3.4% of homes in rural areas have access to electricity, and over 55% of children experience some form of stunted growth. Additionally, from 1990 to 2005, the country experienced dramatic deforestation, with its forest area decreasing by 37%.
This region in East Africa is particularly hilly, where valuable topsoil is frequently lost to erosion. Although local smallholders are, therefore, among the most vulnerable to the changing climate, they are also the most overlooked Indigenous group which can and must participate in reversing climate change.
Tree planting programs are the most effective asset-building intervention for the world's rural poor. Burundian women farmers who are empowered with reforestation tools can invest in erosion control and soil health, be resilient to the impacts of climate change, and help increase the quality of life and health of their families.
This community-led tree planting project from One Acre Fund will reach over 109,000 Burundian women farmers, who will plant 2.5 million new trees. These trees will sequester carbon, aid in erosion control, and improve soil quality. A blend of exotic and native species and a mix of timber, fruit, and nut varieties will be planted to strengthen biodiversity.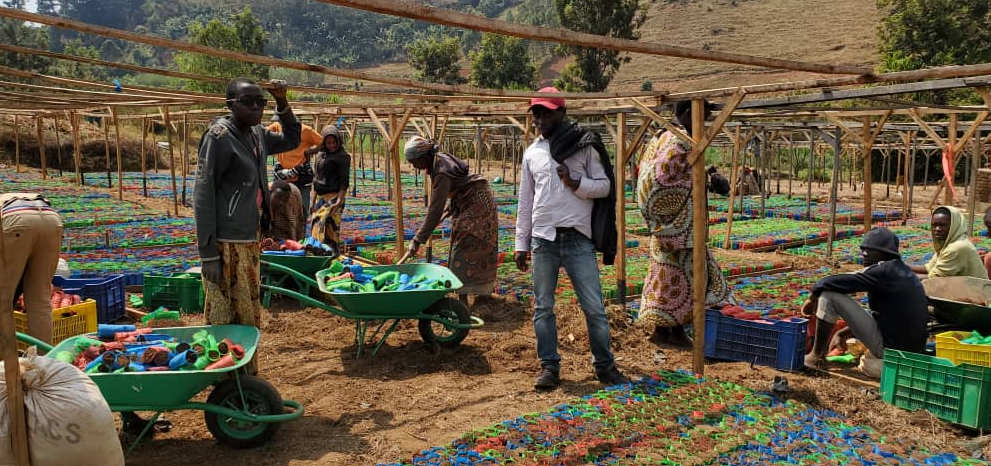 The program will also be incredibly impactful for the farmers. For every $1 of donor investment, farming families will generate $14 in additional profit. This makes tree planting one of the most cost-effective poverty alleviation interventions in Africa. The woman farmers in the program will earn an average of $81 in additional annual income.
Unlike most tree-planting projects, this effort is community-led. The trees are planted in farmers' fields, and the benefits accrue directly to their families. It also improves the quality of the land through erosion control and nitrogen-fixing in the soil, which makes farmers more resilient to climate change and enables better harvests.
"Thanks to the tree distribution program, we now have good stakes for our beans, and we have excellent harvests. At first, we didn't know how trees would help our crops or how they could bring revenue, but now we are starting to benefit from the impact by having easy access to stakes and firewood." — Sylvie Nahimana, Burundi Farmer
Presently, women in Africa have less access to agricultural resources, training, and services than their male counterparts and less control over household decisions. One Acre Fund has optimized its programs for women's participation to address this. For example, training on tree planting and stewardship are group-based, pictorial, and often led by women staff.
As a result, nearly 80% of the training participants are women. This figure is conservative, as in many community contexts, women are not the family members who sign formal paperwork to enroll in programs, even though they are the driving force behind the decision to participate.
This project is also a part of One Acre Fund's greater goal to partner with four million farmers to plant 250 million trees across several countries in sub-Saharan Africa by 2024. This represents the first stage in its initiative to plant one billion trees over 15 years.