Northern Pacific Alaskan Coastal Forests
The Northern Pacific Alaskan Coastal Forests ecoregion is one of the wildest and best-protected regions of North America outside of arctic tundra and northern taiga zones. Much of the ecoregion lies within Tongass National Forest, Chugach National Forest, and Glacier Bay National Park. From just north of the international border (with British Columbia) in southeastern Alaska, where it borders the Central Pacific Northwest Coastal Forests, this ecoregion sweeps northward and then westward and southward in an arc, surrounding Prince William Sound and terminating in the northeastern portion of Kodiak Island.
The narrow swath of islands and mainland of this ecoregion is frequently interrupted by blocks of the Pacific Coastal Mountains Icefields and Tundra ecoregion, which occurs at higher elevations. This ecoregion also contains the largest area of old-growth temperate rainforest in the world – nearly one-third of the total. These forests are some of the most outstanding globally in terms of stature and biomass, including stored carbon. Although the majority of this ecoregion is protected, continued logging of old-growth forests, especially in the Tongass National Forest, has properly become an international conservation issue.
The climate of this ecoregion is surprisingly mild for its latitude, thanks to the influence of the Alaska Current. This current also brings extreme precipitation to much of the area. Annual average precipitation is 2,450 mm, but ranges from 762 to 5,588 mm. Variability of rainfall, mostly due to rain-shadow and other topographic effects, contributes to the diversity of forest types and stand structure.
The generally high precipitation has resulted in an almost complete absence of fire as a natural disturbance, which is virtually unique among conifer forests in North America. Instead, wind is the primary agent of disturbance, supplemented by landslides, avalanches, floods, and glaciation. The dominant forest type across the ecoregion is coastal rainforest dominated by Sitka spruce and western hemlock.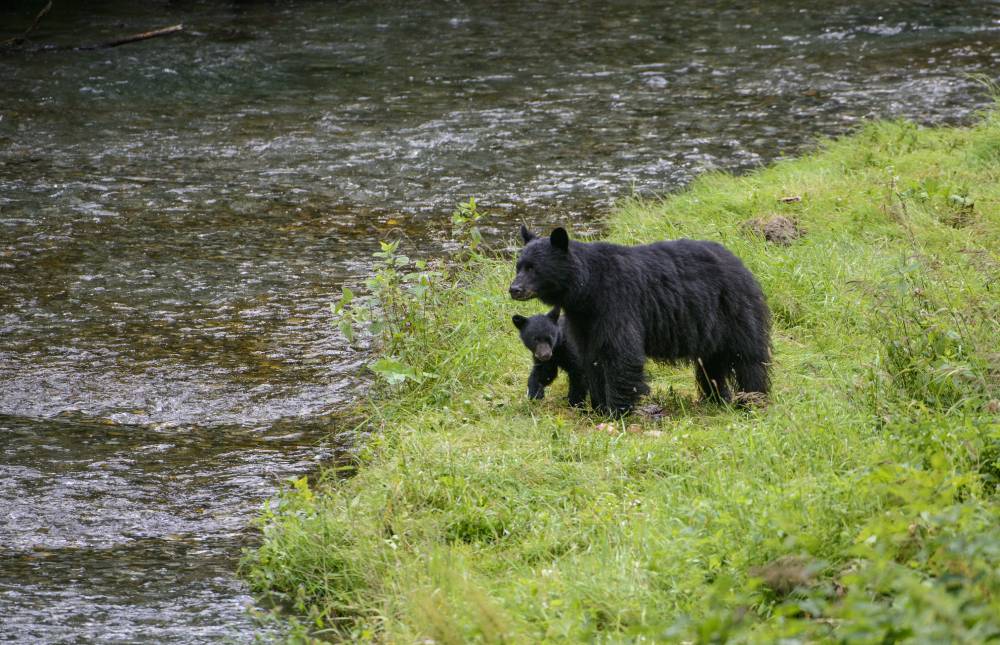 Other important forest types include shore pine (a small coastal form of lodgepole pine), mixed conifer, western hemlock-western red cedar, western hemlock-Alaska yellow cedar, and mountain hemlock. Areas along rivers or with poor drainage feature broadleaf trees, particularly alders, black cottonwood, and paper birch.
In accordance with the well-established latitudinal diversity gradient, species richness is low compared to the coastal temperate rainforests to the south. However, several portions of this ecoregion, such as Dall Island (on the southern edge of the ecoregion), the outer coast of Glacier Bay, and Kodiak Island, escaped glaciation and were therefore refugia for rainforest species—including several endemic subspecies—during glacial periods of the Pleistocene.
Fish and wildlife populations within this ecoregion are superlative. Characteristic animals include Sitka black-tailed deer (which requires old-growth habitat, especially in winter), some of the highest concentrations known of bald eagle, marbled murrelet, and brown bear. The anadromous fish (salmon and steelhead) runs are some of the healthiest globally.
The protection granted to most of this ecoregion does not extend to all of the high-volume old-growth forest on public land. The Tongass is the last national forest in the U.S. to allow large-scale clear-cutting of ancient old-growth forests. A draft plan released in early 2019 would continue this practice for another 15 years.
Priority conservation actions for the next decade are to: 1) place a permanent moratorium on all logging of old-growth or naturally disturbed early-seral forest; 2) increase protection of roadless areas, prohibiting new road-building and other large-scale development activities in the ecoregion; and 3) carefully manage cruise ships and other tourism and recreation throughout the ecoregion to sustain its wild character.

Citations
1. DellaSala, D.A., F. Moola, P. Alaback, P.C. Paquet, J.W. Schoen, and R.F. Noss. 2011. Temperate and boreal rainforests of the Pacific Coast of North America. Pages 42-81 in D.A. DellaSala, editor. Temperate and Boreal Rainforests of the World. Island Press, Washington, D.C.
2. Ricketts, T.H. et al. 1999. Terrestrial Ecoregions of North America: A Conservation Assessment. Island Press, Washington, D.C.
3. Coast Information Team. 2004. An ecosystem spatial analysis for Haida Gwai, Central Coast, and North Coast British Columbia. Coast Information Team, c/o Cortex Consultants, Victoria, BC.